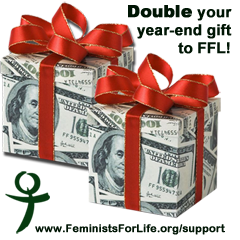 The FFL Board of Directors is pleased to announce our year-end match for single gifts through December 31, 2013.Your new or increased monthly gift will be double-matched. (Please "recurring donation" option.) This provides core support year-round - and this is what we need the most!
Corporate matching gifts mean you can double your tax-deductible gift yet again!
As you walk in the shoes of the early American feminists, please consider how best to leverage your tax-deductible, year-end gift.
Help us reach the leaders of today and tomorrow and better serve those at highest risk of abortion by demonstrating your support for our work right now. Thank you!
Feminists for Life celebrates our last 19 years of

accomplishments for women

.
Judge for yourself how we continue the work of Susan B. Anthony and Elizabeth Cady Stanton.
Latest News
• November 25, 2013 – Heralds are needed: Remembering Inez Milholland Boissevain
• October 28, 2013 – 59% of women who have abortions are college-educated…
• October 17, 2013 – FFL announces our next steps to equip today's legislators and tomorrow's leaders with "Pro-Woman Answers to Pro-Choice Questions" including the so-called "hard cases"–and how you can speak up for the most vulnerable!
• October 15, 2013 – Grants available to host FFL speakers on YOUR campus!
• September 19, 2013 – FFL Events Across the U.S. You are invited…
• September 4, 2013 – Feminists for Life Demands Abortion Advocates Stop Misusing FFL's Women Deserve Better® Slogan
• July 30, 2013 – FFL Remembers Remarkable Pro-Life Woman – Ambassador Lindy Boggs.
• July 17, 2013 – Hear FFL President Serrin Foster on NPR discussing late-term abortions–and refocusing the contentious debate on the unmet needs of women. Emmy Award-winning journalist Michel Martin hosts.
• July 16, 2013 — New series on conversion to pro-life feminism. Read and share the stories of a dozen women featured in The American Feminist entitled "Metamorphosis."
· "You can't let a snake into the house and think it won't bite," Rose Marie Jackson says about abortion in FFL's most recent issue of The American Feminist, "Metamorphosis." Read, share, and like Rose Marie's story of conversion from an abortion rights feminist to a pro-life feminist.
· "My moral code does not allow for the relative value of human beings," asserts Ellen Reich in FFL's most recent issue of The American Feminist, "Metamorphosis." Raised in a family that supported abortion, Ellen's journey of conversion to pro-life (and still a feminist) is powerful and unique.
· FFL Vice President Sally Winn wasn't always pro-life. Still a feminist, Sally explains why "abortion is a huge civil rights issue" and how an unplanned pregnancy changed her mind.
· Araminta Barlow "eventually came to see that being pro-life was more deeply feminist than being pro-choice because the pro-life position was woman-centered."
· Jewels Green, who was pressured into an abortion as a teen and subsequently worked in an abortion clinic for years before her "A-ha" moment made her realize that "children were now commodities to be created, bought, sold, or discarded at will –and I could no longer call myself pro-choice." Read and share her powerful evolution to a Feminist for Life.
· Science "smacked" fence-sitter Marybeth Hagen into certainty as she saw her own child's image on a sonogram. "The fragile life that I saw vial ultrasound astounded me and forever changed my views about abortion." Maternal loss taught her more. Read and share Marybeth's personal journey and welcome others to our movement!
· Kristen Hatten says "you can't unlearn what you've learned. Information made me pro-life." Read, like and share the story of this pro-life "New Wave Feminist" as revealed in FFL's latest issue, "Metamorphosis."
· Granddaughter of a suffragist, Maria Gallagher became a convert to pro-life feminism by asking herself "if I truly believed in the dignity of women, how could I deny the dignity of the woman in the womb? Did not that female child have just as much of a right to live as me? If I were that girl, wouldn't I want adult women to fight for my rights?" Read and share her story.
· Read and share Aimee Murphy's "Metamorphosis" to pro-life feminism: "The threat of violence helped me to recognize the value of every human life, and the importance of those voices that spoke out for the dignity of both woman and child."
· Beatrice Fedor's own experience made her a pro-life feminist: "I've heard my pro-choice sisters respond many times when recalling an abortion memory. 'You don't want to go there.'" Read, like and share her "Metamorphosis."
· When birthmother Tricia Green became pregnant the second time, she had an abortion. Prompted by grief, she began her research and determined that "abortion is harmful for women and for babies." Now she refuses to choose between women and children. Read, share and like Tricia's story to show your support women who reconsider abortion.
· Questioning abortion led Sharon Long—a liberal–to become a "reluctant pro-lifer" and then an enthusiastic Feminist for Life. "Ultimately the root cause of abortion is alienation, which sociologists define as powerlessness." Read, like and share Sharon's conversion story.
· Carla Stream didn't want an abortion, but she believed the lie we've all heard, "It's just a bunch of cells." The next time she was pregnant she welcomed it. But sadly, she miscarried and saw the baby with her own eyes, "This WASN'T 'a bunch of cells'!" Encourage Carla and show you welcome women like her by liking, sharing her story of abortion recovery. As Carla explains, "There is hope. There is healing. You can find your joy again."
• June 25, 2013 – Victory for Students! The Department of Education has come out with a definitive document to end the discrimination against pregnant students…
• May 13, 2013 – Gosnell: It is a crime in the fullest possible extent of the term…
• May 2, 2013 – New Video: Margaret Colin Says More Risky Abortions Are Not the Answer for our Daughters…
• April 19, 2013 – What makes people rethink abortion, rethink feminism? We know…
• April 12, 2013 – Serrin on FOX News: When abortion comes in first, women come in last…
• March 27, 2013 – Feminists for Life Remembers Karnamaya Mongar
• January 25, 2013 – Forty years after Roe attorney Sarah Weddington capitulated to inherently unfair practices against pregnant and parenting women, FFL President Serrin M. Foster reflects on the enormous price paid by women. Please share her opinion piece which was published by the Washington Examiner in anticipation of the March for Life in Washington DC.
• January 17, 2013 – Planned Parenthood not "pro-choice" anymore. Read FFL President Serrin Foster's response to this and reflections on how abortion advocates betrayed women as we approach the fortieth anniversary of Roe v. Wade and Doe v. Bolton.
• January 14, 2013 – About the Hard Cases: Kathryn Jean Lopez, editor-at-large for National Review Online says: Feminists for Life have a thoughtful presentation on these issues in the latest issue of their American Feminist. Read her excerpt from FFL President Serrin Foster's answer to "What about rape?"
• January 8, 2013 – Feminists for Life reveals a dozen Remarkable Pro-Life Women® who made exceptional choices when confronted by "hard cases" of rape, incest, life of the mother and fetal health issues.
• December 20, 2012 – Four women. Four inspiring stories. Forty Years FFL
• November 28, 2012 – Feminists for Life Names Remarkable Pro-Life Women®
• October 3, 2012 – This is why I'm sickened–when we have to say "no"
• September 5, 2012 – FFL Board Chair says, "Tell pro-life students, 'We have your backs!'"
• August 21, 2012 – FFL answers the tough questions: We will not trade one form of violence for another.
• July 20, 2012 – FFL Prepares for Roe Anniversary & School Year, Room at the Inn Opens
• July 16, 2012 – Remarks by FFL President Serrin M. Foster on the occasion of Room at the Inn's Grand Opening in Belmont, North Carolina.
• June 28, 2012 – Feminists for Life on the Patient Protection and Affordable Care Act
• June 14, 2012 – How do we persuade a person that it is better to have the baby conceived through rape/incest?
• June 13, 2012 – How do you handle the rhetoric?
• April 18, 2012 – Nonviolent Answers to Tough Subject: April is Sexual Assault Awareness Month
• April 5, 2012 – Child Interstate Abortion Notification Act
• February 14, 2012 – For the love of Susan B. Anthony• January 27, 2012 – "Our body, our choice" still means the same thing: Our problem. Abortion is a reflection that our society has failed to meet the needs of women. Serrin M. Foster was interviewed for this Washington Times editorial, "Another Million Dead" by Anneke E. Green.
• January 23, 2012 – Listen to President Serrin M. Foster's radio interview about feminism and abortion on "Issues, Etc.," from St. Louis.
• January 17, 2012 – All people are equal. All choices are not.
• December 13, 2011 – Prepare to Be Outraged: Hear Roe Argument
• December 2, 2011 – FFL Applauds Reauthorization of Violence Against Women Act
• September 22, 2011 – Statement by Feminists for Life of America submitted to the House Committee on Ways and Means to be included in the record of the Subcommittee on Human Resources September 8, 2011, hearing on "Improving Work and Other Welfare Reform Goals"
• September 19, 2011 – Congratulations, Minnesota!
• June 29, 2011 – Groundbreaking Effort Provides Model of Support for Pregnant Women
• May 11, 2011 – How Pro-Woman, Pro-Life, Pro-Family Is Your Employer?
• May 3, 2011 – Birthmothers Deserve Better (and recognition on their own day!)
• April 28, 2011 – Rape Survivor Speaks to Men
• April 1, 2011 – A college student staring at a positive pregnancy test has limited options. She likely has few financial resources and may find that her school offers scant help. Feminists for Life's College Outreach Program Coordinator Chaunie Brusie says pregnant college students need support, not abortion.
• March 31, 2011 – Treasures of the Schlesinger Library to include FFL's Archives
• March 15, 2011 – Untold stories of Pearl Buck and Bernard Nathanson
• March 8, 2011 – International Women's Day, Our Celebration…
• February 15, 2011 – Our Aunt Susan Turns 191 Today!
• February 3, 2011 – FFL consistently opposes rape, abortion, sex trafficking
• January 18, 2011 – FFL Remembers Robert Sargent Shriver, Strategic Advisor