After Alice Paul, the author of the original Equal Rights Amendment told FFL cofounder Pat Goltz that the early American feminists were pro-life, FFL historians were the first to research and reveal the truth to the feminist and pro-life movements:  Without known exception, our feminist foremothers opposed abortion and (like Susan B. Anthony) sought to address the root causes that drive women to abortion. Learn and share our original research and help FFL herald a better day when we fulfill the unrealized dream of Susan B. Anthony.
Herstory Worth Repeating
The early feminists, some of whose names are very familiar to you, and others whom you have yet to meet, were overwhelmingly pro-life.
The links below will take you to the PDF file of the selected issue of The American Feminist. Once you're there, you may either use the arrows at the bottom to take you to the Herstory page or click on the Bookmarks tab on the left and click on the featured feminist's name.
Jane Addams, 1860-1935 Summer/Fall 2004, p. 38
Louisa May Alcott, 1832-1888 Winter 2004-2005, p. 30
Susan B. Anthony, 1820-1906 Spring 1998, p. 19
Susan B. Anthony, 1820-1906 Spring 2007
Dr. Elizabeth Blackwell, 1821-1910 Fall 2007, p. 20
Pearl S. Buck, 1892-1973 Spring 2004, p. 22
Dorothy Day, 1897-1980 Winter 1999-2000, p. 20
Matilda Joslyn Gage, 1826-1898 Winter 1997-98
Angelina Weld Grimke, 1880-1958 Summer 2000, p. 17
Fannie Lou Hamer, 1917-1977 Spring 1999, p. 20
Dr. Charlotte Denman Lozier, 1844-1870 Fall 1997
Sarah F. Norton and Eliza Bisbee Duffey Fall 1999, p. 20
Sarah F. Norton Fall/Winter 2008, p. 9
Graciela Olivarez, 1928-1987 Summer 1998, p. 18
Alice Stokes Paul, 1885-1977 Summer 2001, p. 3
Susan LaFlesche Picotte, 1865-1915 Winter 2002-2003, p. 23
Cicely Saunders, 1918-2005 Summer 1999, p. 16
Dr. Juliet Stillman Severance Fall 1998, p. 19
Elizabeth Cady Stanton, 1815-1902 Fall/Winter 2003,p. 24
Elizabeth Cady Stanton, 1815-1902 Spring 1996
Lois Weber 1879-1939 Fall 2000, p. 21
Frances Willard, 1839-1898 Fall 2001, p. 21
Mary Wollstonecraft, 1759-1797 Winter 1998-1999, p.21
Herstory of the Week

TM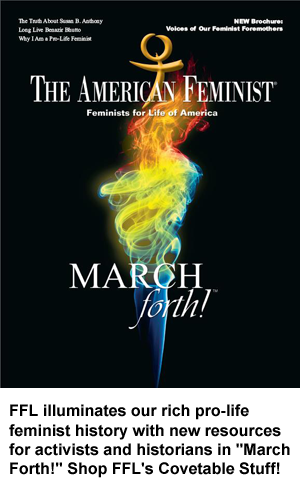 Feminist History E-Tutorial
In celebration of Women's History Month, FFL began a new e-tutorial about the feminists whose conviction, bravery and — sometimes — sheer bravado made it possible for women to vote, own property and serve as legal guardians of their own children.
The early feminists worked to protect women and children from abortion and sought to address the root causes of abortion — just as Feminists for Life of America does today.
"This is an opportunity to get to know a little better courageous women such as suffragist Victoria Woodhull, who ran for president when she didn't even have the right to vote; Elizabeth Blackwell, one of the first female physicians in the United States; and Sarah Norton, who — together with Susan B. Anthony — successfully argued for women's admission to Cornell University," notes Feminists for Life President Serrin M. Foster. "It is time that fascinating foremothers like Elizabeth Cady Stanton, who flaunted her maternity during Victorian times while starting the women's revolution, become as well known as our forefathers."
Week 1: Mary Wollstonecraft
Week 2: Sarah F. Norton
Week 3: Dr. Elizabeth Blackwell
Week 4: Mattie Brinkerhoff
Week 5: Eleanor Kirk
Week 6: Dr. Charlotte Denman Lozier
Week 7: Susan B. Anthony's Revolution
Week 8: Jane Addams
Week 9: Eliza Bisbee Duffey
Week 10: Victoria Woodhull
Week 11: Conclusion
To receive regular news, information about scheduled events, and features like this, please join FFL's email list.
March Forth!
Anna Julia Cooper
Anna Julia Cooper in her own words…
Long Live Benazir
The Schlesinger Library: A Fitting Home for FFL's Record of Advocacy on Behalf of Women and Children
Susan B. Anthony Was Born Here
The Truth About Susan B. Anthony: Did One of America's First Feminists Oppose Abortion?
Sorosis: Sisterhood is Powerful
Why I am a Feminist for Life
---
"Whatever I have done has been done because I wanted to see
better conditions, better surroundings, better circumstances for women."
Susan B. Anthony on the occasion of her 80th birthday, February 15, 1900. 
W

om

e

n Deserve Better than Abortion.