T
HE 

A

MERICAN 

F

EMINIST
®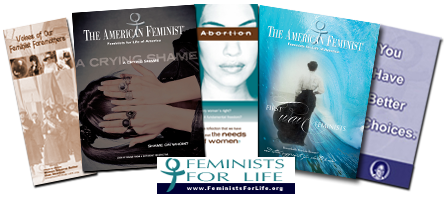 Right now LAPSED members and supporters as well as NEW members and GIFT members (including students) will receive two issues of The American Feminist. Renew or become a member of FFL now and you will ALSO receive our newest brochures: "Voices of Our Feminist Foremothers," "You Have Better Choices," and our NEW informational brochure which explains what we do and why!
Renew or become a member of FFL now and you will ALSO receive our newest brochures: "Voices of Our Feminist Foremothers," "You Have Better Choices," and our NEW informational brochure which explains what we do and why! Read more details here…
---
NEWLY UPDATED: Pro-Woman Answers to Pro-Choice Questions: Feminists for Life is dedicated to bringing peace to America's painful, decades-long abortion conflict. "Since 1973, it's been the same thing. One side of the hotly contested abortion wars yells, 'What about the woman?' Instead of yelling back, 'What about the baby?' Feminists for Life answers the question," says FFL President Serrin Foster. "It's hard to talk when there's all that distance."

"Pro-Woman Answers to Pro-Choice QuestionsTM" is included in all annual memberships. Join today!

2012: Metamorphosis"Metamorphosis", a 36-page issue of The American Feminist, gives insight into why people become pro-life feminists — after being one or neither. FFL President Serrin Foster explains why "individual evolutions can start peaceful revolutions" and provides practical tools to help welcome more people to our peaceful, holistic, solution-oriented movement. Serrin also reveals the stunning truth you need to know and share about attorney Sarah "Weddington's Betrayal of Women" when she argued in support of Roe v. Wade before the Supreme Court.Stories from a dozen women will inform you about what triggered their conversions — including FFL's own Vice President Sally Winn and Editor Jewels Green, who was pressured into an abortion as a teen and subsequently worked in an abortion clinic for years before her "A-ha" moment.

Hard Cases, Exceptional Choices: A dozen Remarkable Pro-Life Women® who faced life's toughest challenges share their firsthand accounts of their "Hard Cases, Exceptional Choices." In addition, we share answers to the most controversial and important questions of our day, including "What about rape–including statutory rape, incest and rape–disability, and life of the mother?" It includes a new thought-provoking ad in English and Spanish about children with special needs, and another of a woman conceived in rape.


Fall/Winter 2011: Forward Into Light Features forty pages of insightful articles examining coerced abortion, pornography, stalking, intimate partner violence, human trafficking, and sexual assault.

Spring 2011: Raising Expectations in the WorkplaceProvides the tools for employees to evaluate their workplaces, pregnant women to protect themselves from discrimination, and caregivers to learn how the Family and Medical Leave Act applies. FFL highlights workplace options that provide flexibility for parents and benefits to employers.

Winter 2010-2011: FFL Activists Change Campuses, Change the WorldHighlights our advocacy and initiatives on campus through FFL's flagship College Outreach Program, filled with powerful personal stories by pregnant and parenting students and birthmothers, and celebrates our recent legislative victories.

2010: March Forth!Illuminates our rich history with new resources for activists and historians.

2009-2010: Raising Kids on a Shoestring A holistic national guide filled with free and frugal resources, smart and creative solutions, and practical support that pregnant women, expectant fathers, and parents deserve.

What others are saying:
"Care Net is confident that Raising Kids on a Shoestring will prove to be an amazing resource for the thousands of women who visit Care Net pregnancy centers every year. Not only is it chock-full of ideas and practical advice on raising a family without 'breaking the bank,' it also delivers hope to women making life affirming decisions — a message that even less than ideal financial circumstances can be overcome with dignity and creativity!" —Cindy Hopkins, Vice President of Center Services, Care Net"Pro-choice and pro-life people disagree on much, but providing support to women with wanted pregnancies who are struggling financially is an area of real agreement. With Raising Kids on a Shoestring, Feminists for Life has given women vital information about support available as well as the confidence to know that, with just a little ingenuity, there are more choices. Finally, something we all can support!" —Cristina Page, author of How the Pro-Choice Movement Saved America"This booklet is what feminists who are really FOR life do! They don't just tell you how great human life is. They help you with the daily business of caring for children's lives, and of helping women to understand that it's not only possible, but creative and rewarding!" —Professor Helen Alvaré, Associate Professor of Law, George Mason School of Law; former Director of Planning and Information, USCCB Secretariat for Pro-Life Activities

"I just got my copy of Raising Kids on a Shoestring today and read it from cover to cover. I love how forthright it is — no fluffy talk — it just gets down to business! It is all good!"—Wendlyn "Wendy" R. Spencer, Director, Pregnancy Resource of Shiawassee County (MI)

Fall-Winter 2008: What does She Face on Campus? Chaunie's Journey | FFLU: Our Dream Campus | FFL unveils seven new speaker videos on YouTube

Fall 2007: Say NO to the Status QuoTM Six Remakable Pro-Life Women

Spring 2007: The Truth About Susan B. AnthonyDid One of America's First Feminists Oppose Abortion?

The American Feminist's

®

 January 2007 Activism Kit!We need you — our agent of change, as a grassroots activist — to proclaim Feminists for Life's message that Women Deserve Better® than abortion. You can help make sure FFL's message is heard and help us redirect the debate toward women-centered solutions.

Spring 2005: Pro-Woman Answers to Pro-Choice Questions 

Winter 2004: Take Care of Mom FFL offers ways we can change the culture to embrace and support mothers.

Summer-Fall 2004: FFL on Campus – The Revolution Continues Feminists for Life looks back over the many successes of our ground-breaking College Outreach Program.

Spring 2004: Our Pro-Woman, Pro-Life Legacy Feminists for Life Celebrates our Pro-Woman Pro-Life Legacy.

Fall/Winter 2003 : Rewarding Motherhood Women as mothers in all ages and stages are celebrated by Feminists for Life of America in the new issue of The American Feminist

®

.

Summer 2003: Remarkable Pro-Life Women III Feminists for Life celebrates the many accomplishments of pro-life women.

Spring 2003: Pro-Woman Answers to Pro-Choice QuestionsAn invaluable tool in helping to answer pro-choice questions from a pro-woman, pro-life perspective

Winter 2002-2003: Roe v. Wade A thirty year reflection of its impact on women

Fall 2002: Hope for the Future Help us celebrate FFL's 30th Anniversary with this issue dedicated to FFL's past, present and future!

Spring/Summer 2002: Crimes Against Women Around the World FFL examines international crimes against women in this special double issue.

Fall 2001: Raising Kids Cheap Feminists for Life provides valuable strategies to parents on how to survive on a shoestring.

Summer 2001: Women Deserve Better Feminists for Life presents women-centered solutions to systematically eliminate the reasons that drive women to abortion.

Spring 2001: Remarkable Pro-Life Men Feminists for Life honors the many contributions of pro-life men.

Winter 2000-2001: Remarkable Pro-Life Women II Feminists for Life honors the many contributions of pro-life women.

Fall 2000: Two Faces of the Internet As women have become the primary users of the Internet, accessing the benefits is as important as avoiding danger.

Summer 2000: Human Commodities for Sale One hundred and thirty-two years after slavery and indentured servitude were outlawed, people are still for sale around the world, and in the U.S.

Spring 2000: Activism 2000 Feminists for Life proudly continues 200 years of pro-life feminism.

Winter 1999-2000: Embracing All Life Feminists for Life defends life from conception until the natural end of life

Fall 1999: Back On Campus Feminists for Life alerts students, parents, alumni, faculty, and staff to potential risks on campus

Summer 1999: Is Life Always Worth Living? Feminists for Life examines assisted suicide and euthanasia

Spring 1999: Unplanned Pregnancy Feminists for Life reclaims the meaning of "choice"

Winter 1998-1999: Remarkable Pro-Life Women Feminists for Life celebrates the many accomplishments of pro-life women

Fall 1998: Victory Over Violence Feminists for Life examines how women triumph over violence

Summer 1998: Work vs. Family Women and men struggle to meet the conflicting demands of work and family

Spring 1998: The Bitter Price of Choice Twenty-five years after Roe v. Wade, millions of women and men mourn our missing children

Winter 1997-1998: She'll Ask, Don't Tell Women have a right to be informed about abortion, the most common form of surgery in America.