Membership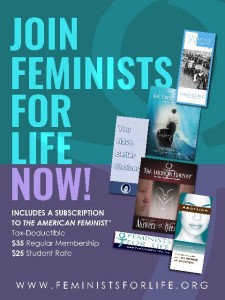 To become a member of Feminists for Life or give a gift membership to someone else, please click here. U.S. Membership is $35 per year (international membership is $45 per year) and includes a subscription to THE AMERICAN FEMINIST®. 
Student Membership
For a discounted rate of only $25 per year, students receive:
   • a subscription to our magazine, The American Feminist

   • access to online student kits

   • monthly e-newsletters with campus activism ideas

   • a bumper sticker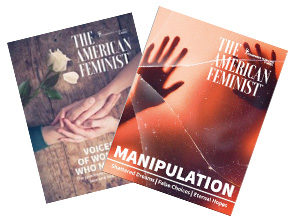 Right now new members and supporters — including gift members and students members — will receive two issues of The American Feminist: "First Wave Feminists" and "Pro-Woman Answers to Pro-Choice Questions" Returning members and supporters will receive "Voices of Women — and Men — Who Mourn" and "MANIPULATION: Shattered Dreams, False Choices, Eternal Hopes." Renew or become a member of FFL now and you will ALSO receive our brochures: "Voices of Our Feminist Foremothers," "You Have Better Choices," and our informational brochure which explains what we do and why!
Donations
Feminists for Life is a 501 (c)(3) organization – all donations are tax-deductible for IRS purposes. 

You may choose between:

   • a one-time gift

   • an annual gift

   • a quarterly gift

   • a monthly gift — Please consider providing essential support through monthly donations! This is one of the most meaningful and effective ways to give.

   • a tribute or memorial gift
To make any of these donations online, please click here.
If you would prefer to mail in your donation, you have a few choices.
To contribute by check, please print this Check Donation and/or Membership form.
To contribute by credit card, please print this Credit Card Donation and/or Membership form.
Please mail your check or credit card contribution authorization directly to:
 
FFLA
Dept. 0641
Washington, D.C. 20073
 
You may also sign up for monthly Electronic Fund Transfer (EFT) by printing out the form found here. Please mail the completed EFT form with a voided check to Feminists for Life, P.O. Box 151567, Alexandria, VA 22315.

Combined Federal Campaign & United Way Giving
If you are a federal civilian employee, employed by the postal service or in the U.S. Military, please contribute to Feminists for Life via the Combined Federal Campaign.
We are listed in the Women, Children, and Family Service Charities portion of the directory. Feminists for Life's CFC number is 10499.
Corporate employees in Washington, D.C., may participate in the United Way campaign, and those in other areas may be able to write us in. Ask your on-site campaign coordinator for more information.