October 13, 2022
Editor's Note: The contents of this email may be upsetting to those who have suffered reproductive loss.
It is some of the most horrific news any expectant parent could receive: Your baby is due in just a few months. The nursery is almost completely furnished. Perhaps you've already had the baby shower.
And then one day, it all comes to a crashing halt.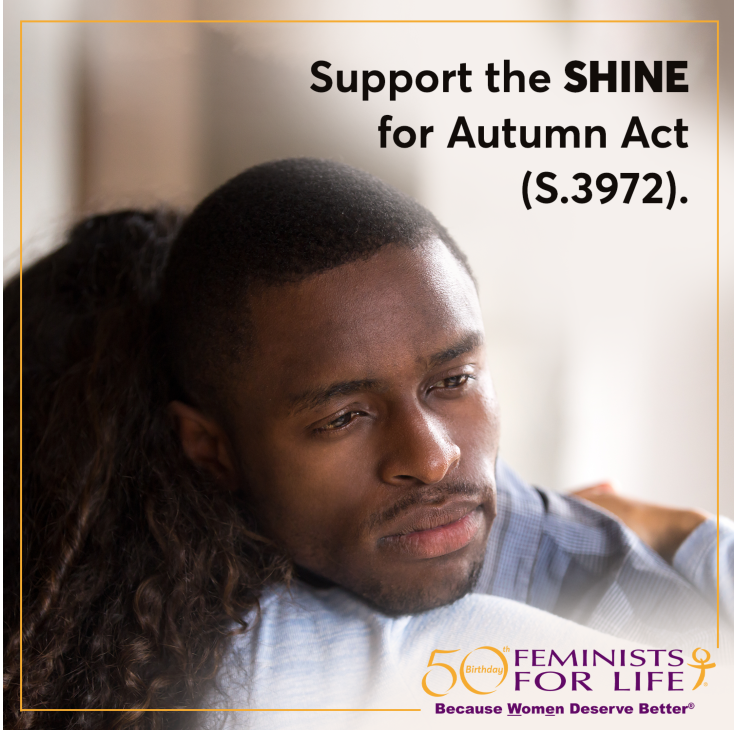 Stillbirth is typically distinguished from miscarriage in that it is the loss of an unborn baby during the latter half of pregnancy, when the child is far more likely to be viable outside of the womb. According to the CDC, stillbirth affects about one in 175 births, and each year, about 23,500 babies are stillborn in the United States. One recent study found that around a quarter of these deaths was preventable.
Despite great advancements in medicine in recent years, the stillbirth rate has remained roughly the same over time. In light of this, and to commemorate National Pregnancy and Infant Loss Awareness Month, Feminists for Life of America endorses the bipartisan SHINE for Autumn Act of 2022.
SHINE, short for Stillbirth Health Improvement and Education:
authorizes grants and establishes other programs to improve data collection on stillbirths,
allows the Department of Health and Human Services (HHS) to award grants for data collection on stillbirths,
directs HHS to issue guidelines for health departments and vital statistics units concerning the collection of stillbirth data,
has HHS develop educational awareness materials about stillbirths and make them publicly available,
instructs HHS to implement a fellowship program to provide training in perinatal autopsy pathology and otherwise support research on stillbirths and fetal autopsies,
and requires HHS to issue a report with educational guidelines on stillbirths and stillbirth risk factors.
The bill already passed the House of Representatives by an overwhelming margin last December as H.R.5487 and now awaits action in the Senate as S.3972. You can read more about this legislation here.
Please contact your U.S. senators TODAY, and tell them to support the SHINE Act (or thank them for their support; you can see all current co-sponsors here). Call the United States Capitol switchboard at 202-224-3121, or find them online at https://www.senate.gov/senators/senators-contact.htm.
If you or someone you know has suffered the loss of an unborn little one, know that you are in our hearts and our thoughts always. Please share the resources below, and let the healing begin.
Because women — and girls — deserve better,

Serrin M. Foster
President
Feminists for Life of America
Editor-in-Chief
Women Deserve Better
& The American Feminist
P.S. Our helpsite, WomenDeserveBetter.com, features multiple articles addressing reproductive loss, and we invite you to read and share them with anyone who may need to read them: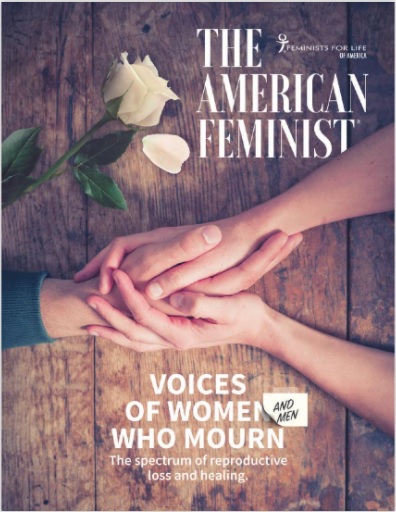 We also have an issue of our biannual magazine, The American Feminist, dedicated to the spectrum of reproductive loss and grief, including miscarriage, infertility, stillbirth, early infant loss, adoption, pregnancy from rape, and abortion — how to find hope and healing. You can purchase your copy or copies of "Voices of Women — and Men — Who Mourn" here.
P.P.S. We're already just about halfway through Respect Life Month! Please see below for upcoming events and contact us for virtual or in-person speaking engagements. And once again, if you have not already, please make your most generous gift in support of our fall campaign. We can't reach our future leaders — including pro-woman, pro-life elected officials — without you. Thank you!!