April 22, 2022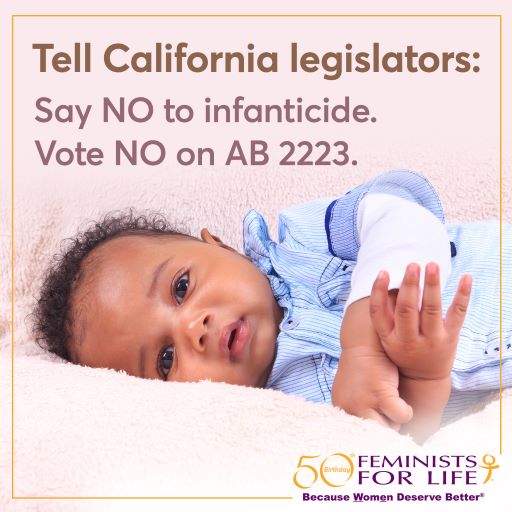 "Vague language hides the very real possibility of a bill in California to legalize the unthinkable: INFANTICIDE!" said FFL President Serrin M. Foster. AB 2223 could even allow people to sue the police for investigating the murder of a newborn.
"The pro-life movement, starting with our feminist foremothers, said there was no difference between abortion and infanticide. Elizabeth Cady Stanton, the Mother of the Women's Movement, condemned abortion as the 'murder of children.' The radical feminist newspaper The Revolution, which was owned by Susan B. Anthony and co-edited by Stanton, referred to abortifacients in flowery Victorian English, such as 'Foeticides and Infanticides.' California legislators are poised to make our point," Foster added.
It is imperative that everyone in California fight this before it spreads. The former governor of Virginia infamously advocated infanticide, and more recently, an attempt by Maryland legislators to legalize it failed, in part because of FFL supporters like you who spoke up.
On Tuesday, the bill passed the Assembly Health Committee. The next step is the Assembly Appropriations Committee. You can read the bill text here and track its progress here.
"Feminists for Life believes no baby should die by infanticide. Therefore, we oppose AB 2223 and urge assemblymembers to vote NO," Foster said.
If you live in California, take action NOW. If you know others of voting age in California, ask them to join us by contacting their legislators.
To find and contact your assemblymember, enter your address here.
Tell her or him: BABIES DESERVE BETTER THAN TO DIE BY INFANTICIDE. Vote NO on AB 2223.
Once you have done so, please let us know. Thank you, and thank you for raising your voice for the voiceless.
FFL is a nonsectarian and nonpartisan 501(c)(3) organization. If you or someone you know needs help now, contact your local pregnancy resource center and go to our helpsite, www.WomenDeserveBetter.com.