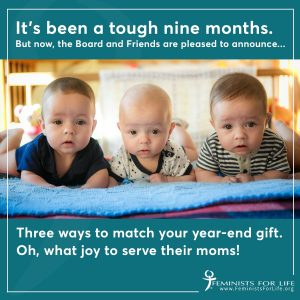 I write you with enormous gratitude for your sacrifice and support during one of the most challenging years for our country, for Feminists for Life, and for those we serve.
While some contacted us with real regret that they would need to suspend support despite their enthusiastic appreciation for our efforts, others stepped up. I was deeply moved.
The Board and staff, expert volunteer consultants, and interns came together to rapidly address the concerns of those who were newly needy and those at highest risk of abortion — including 125 THOUSAND unique visitors who found what they needed on our helpsite, WomenDeserveBetter.com — and college leaders.
Rather than retreat, we also made the decision to do more by reaching younger audiences in this coming year, and to find new ways to reach them where they are, before they are college bound, before they become entrenched in their support for abortion, and before they become victims of violence including, domestic abuse, statutory rape, and abortion.
I am especially pleased to share the highlights of our strategic efforts — made possible thanks to you and your sacrifice for those at highest risk of abortion. Finally, I ask you to make a gift that is significant to you as we close out this Centennial Celebration. It will be matched! (See details below.)
Here are the highlights from our annual President's Report, which follows: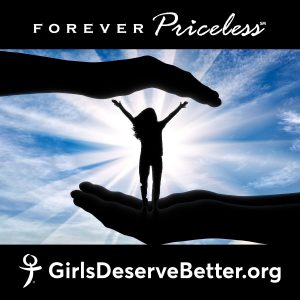 With significant input from the Board, staff, consultants, and interns, we began exploration of a program for teens. Girls Deserve Better projects were outlined in a mailing and email to supporters to protect our daughters. Our NEW social media campaign "Forever Priceless" theme will connect girls to resources on our GirlsDeserveBetter.org page. More information was included in the Fall/Winter 2020 issue of The American Feminist, "Perseverance."
Our dynamic pro-woman, pro-life FFL Speakers delivered addresses and moderated Pregnancy and Parenting Resource Forums(SM) across the country this past year. With the onset of the pandemic, FFL nimbly responded by expanding our virtual outreach. You can read more about our College Outreach Program and other events here.
On August 26, Women's Equality Day, FFL released a new video celebrating pro-life suffrage leader and author of the original Equal Rights Amendment Alice Paul, a collaborative effort by interns and staff!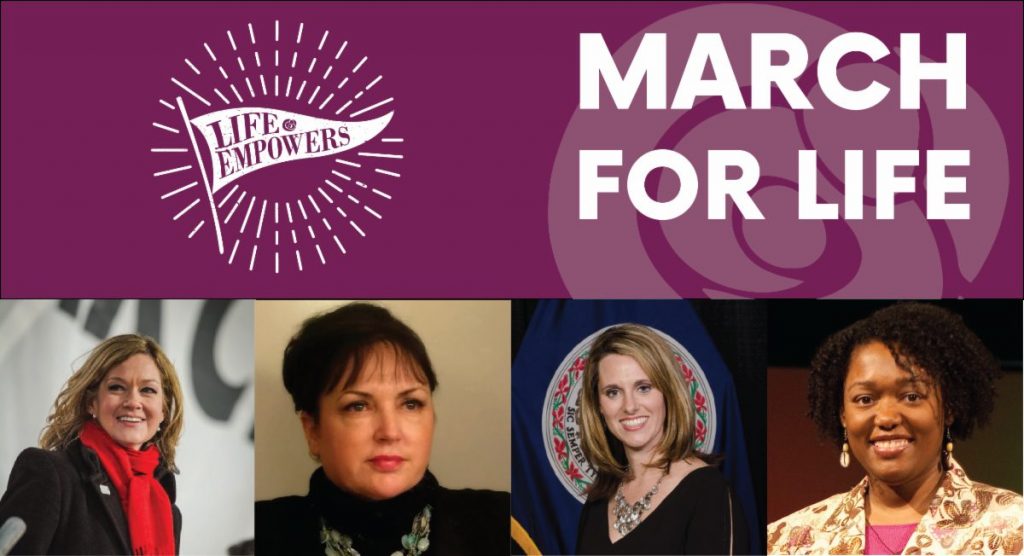 March for Life President Jeanne Mancini invited me to speak about our feminist history during the announcement of the theme of the 2020 March for Life, "Life Empowers: Pro-Life Is Pro-Woman," at a Capitol Hill briefing for staff and media. You can read more about our March for Life efforts during the Centennial Celebration here.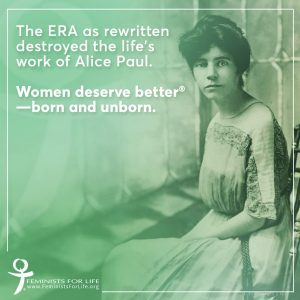 FFL continued to speak out on legislation affecting the most vulnerable, including our opposition to the fatally flawed Equal Rights Amendment. To read more about our policy positions — and victories — read here.
FFL had a banner year in media appearances, especially around Roe events and the 2020 Centennial Celebration. You can read a list of our op-eds (America magazine, the Washington Examiner), interviews (CBN News, Fox News, the National Catholic Register, Vice News, The Washington Post), and other numerous appearances here.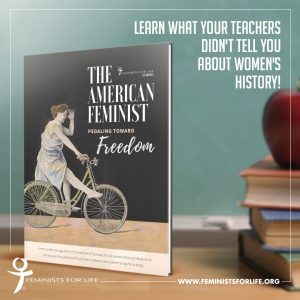 We followed our 2020 Suffrage Celebration calendar with two more issues of The American Feminist, "Pedaling Toward Freedom" and "Perseverance."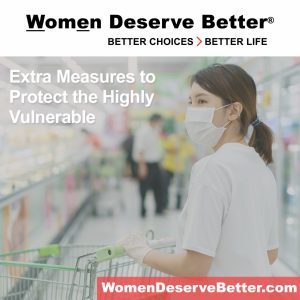 We are continuing to add articles to WomenDeserveBetter.com to help women Work, Learn, Live, and Love better. Our page grew in 2020 at an unprecedented clip: We now have more than 230 articles! Beginning in March 2020 and continuing through summer and into the fall, we focused on articles relevant to the COVID-19 pandemic. We had more than 125 THOUSAND unique visitors in the past year to our helpsite — and counting — thanks to you.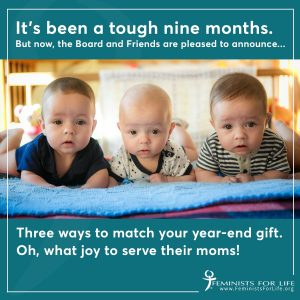 As we conclude our 2020 Suffrage Centennial year, the Board and Friends announce THREE WAYS TO MATCH YOUR TAX-DEDUCTIBLE YEAR-END GIFT!
In gratitude, the Board and staff wish you and yours a very happy Thanksgiving.
Because women deserve better,
Serrin M. Foster
President
Feminists for Life of America
Editor-in-Chief
Women Deserve Better
& The American Feminist
P.S. Please go right now to www.feministsforlife.org/support before the three-way match ends. Thank you again for your strategic support that makes our efforts possible!