Dear Feminist for Life,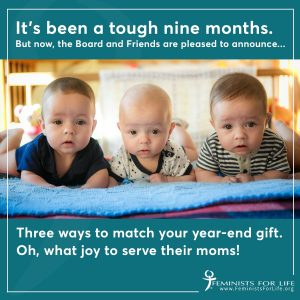 I write you with enormous gratitude for your sacrifice and support during one of the most challenging years for our country, for Feminists for Life, and for those we serve.
While some contacted us with real regret that they would need to suspend support despite their enthusiastic appreciation for our efforts, others stepped up. I was deeply moved.
The Board and staff, expert volunteer consultants, and interns came together to rapidly address the concerns of those who were newly needy and those at highest risk of abortion—including 125 THOUSAND unique visitors who found what they needed on our helpsite, WomenDeserveBetter.com—and college leaders.
Rather than retreat, we also made the decision to do more by reaching younger audiences in this coming year, and to find new ways to reach them where they are, before they are college bound, before they become entrenched in their support for abortion, and before they become victims of violence including, domestic abuse, statutory rape, and abortion.
I am especially pleased to share the highlights of our strategic efforts—made possible thanks to you and your sacrifice for those at highest risk of abortion. Finally, I ask you to make a gift that is significant to you as we close out this Centennial Celebration. It will be matched!
Because women deserve better,
Serrin M. Foster
President
ANNUAL PRESIDENT'S REPORT
NEW Teen Outreach Program:
With significant input from the Board, staff, consultants, and interns, Ms. Foster began exploration of a program for teens. Girls Deserve Better projects were outlined in a mailing and email to supporters to Protect Our Daughters. Our NEW social media campaign "Forever Priceless" theme will connect girls to resources on our GirlsDeserveBetter.org page. (You should have received our NEW bumper sticker!) More information was included in the Fall/Winter 2020 issue of The American Feminist, "Perseverance."
FFL is offering NEW kits for high school pro-life groups to reach college-bound and at-risk teens!!
College Outreach Program:
Ms. Foster presented "The Feminist Case Against Abortion" at Anna Maria College, in Paxton, MA; MIT, in Cambridge, MA; Harvard University, in Cambridge; Boston College, in Chestnut Hill, MA; and to Dayton Right to Life, in Dayton, OH, in light of sudden coronavirus cancellations at University of Dayton and Miami University. She also virtually presented her landmark speech to Loyola Chicago. She was a special guest at the Cardinal O'Connor Conference and has been invited again for the 2021 conference.
Ms. Foster returned to the College of William & Mary, in Williamsburg, VA, to moderate their first FFL Pregnancy and Parenting Resource ForumSM .
Ms. Foster delivered the keynote to Feminists Choosing Life of New York for their suffrage centennial dinner, "Inspiring Women: Celebrating Their Legacy."
Board Chair Kara Sorenson presented "The Cause for Life Is a Feminist Cause" at the University of Pittsburgh, in Pittsburgh, PA and took part in a discussion on abortion at St. Mary's Hall, a college preparatory school in San Antonio, TX, with those representing both sides of the debate.
FFL Speaker Cynthia Wood, J.D. presented "Speak Up & Speak Out About Sexual Harassment: Find Your Assertive Voice" at Ethos California's Theology of the Body Conference, in the San Francisco Bay Area and at the University of Oregon, in Eugene, OR.
FFL Speaker Joyce McCauley-Benner presented "Victory Over Violence" at Gonzaga University, in Spokane, WA and at Georgia Institute of Technology, in Atlanta, GA. She virtually presented "Slaves Among Us: Sex Trafficking in the U.S." at Providence College, Providence, RI.
November 13: FFL Editor Damian Geminder took part in a panel discussion on abortion at Orange Coast College in Costa Mesa, CA, explaining why men should be pro-life feminists.
March 11: FFL Speaker and Moderator Joyce McCauley-Benner moderated the fourth FFL Pregnancy and Parenting Resource Forum at Boston College, in Chestnut Hill, MA. She virtually participated in the 25th Pregnancy Resource ForumSM at Georgetown University, in Washington D.C.
Ms. Foster, Ms. McCauley-Benner, and Ms. Wood each presented their speeches to our nine remarkable interns from William & Mary, Providence College, Virginia Tech, Flagler College, and North Central College. Two high school graduates (our first!) are now attending Marquette University, and Hillsdale College.
New Video!
• On August 26, Women's Equality Day, FFL released a new video celebrating pro-life suffrage leader and author of the original Equal Rights Amendment Alice Paul, a collaborative effort by interns and staff!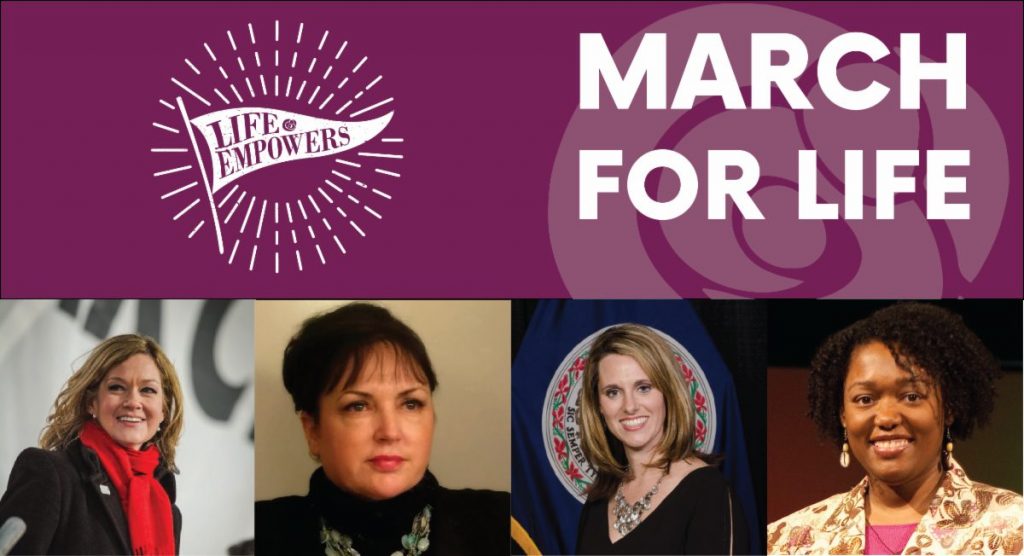 March for Life 2020/Suffrage Centennial:
March for Life President Jeanne Mancini invited Ms. Foster to speak about our feminist history during the announcement of the theme of the 2020 March for Life, "Life Empowers: Pro-Life Is Pro-Woman," at a Capitol Hill briefing for staff and media.
January 17: FFL Chair Kara Sorenson appeared in the March for Life's #WhyWeMarch video series.
January 19: Ms. McCauley-Benner presented "Victory Over Violence" at the Stand for Life Rally held at the Madonna Learning Center, just outside of Memphis, TN.
January 18: FFL was represented at Roe events in St. Augustine, FL; Montpelier, VT; Phoenix, AZ; and at OneLife LA. Indianapolis, IN; Gettysburg, PA; and St. Paul, MN, Baton Rouge, LA; Virginia March for Life, in Richmond, VA as well as the Walk for Life West Coast and March for Life, Washington, DC.
January 22-23: FFL had a booth at the March for Life Expo, in Washington D.C and FFL at the Info Faire before the Walk for Life West Coast, in San Francisco.
Public Policy and Legislation:
FFL endorsed the bipartisan bill, Sami's Law, named after Samantha "Sami" Josephson, a senior at the University of South Carolina who was kidnapped and brutally murdered in March 2019 by a predator pretending to be her Uber driver.
Louisiana Attorney General Jeff Landry acknowledged FFL's condemnation of state abortion clinics failing to report statutory rape. At least 66 abortions were performed on girls 11, 12, or 13 years old between 2013 and 2018, which indicate that the girls were survivors of rape.
Soon after the Louisiana Attorney General's office sent FFL a press release quoting Louisiana Solicitor General Liz Murrill: "Women deserve better than incompetent [abortion] providers who put profits over people."
FFL also spoke out repeatedly against the brutal treatment of Uighurs held in Chinese concentration camps—and other international victims.
FFL came out against the fatally flawed Equal Rights Amendment,which both pro-life and abortion legal experts agree would enshrine abortion in the Constitution as currently written and interpreted. ERA author and pro-life feminist, Alice Paul, said the linkage ruined her life's work.
We celebrated the 20th anniversary of the Trafficking Victims Protection Act, thanks in great part to author Rep. Chris Smith, who is also the Co-Chair of the Congressional Pro-Life Caucus.
VICTORY: Savanna's Act, was named after Savanna LaFontaine-Greywind, a 22-year-old member of the Spirit Lake tribe, who was eight months pregnant when she was murdered in 2017 in Fargo, ND. It was signed into law, after passing Congress unanimously. It will help combat the epidemic of missing and murdered Indigenous women. (The baby survived and is being raised by the father.)
Media:
FFL had a banner year in media appearances, especially around Roe events and the 2020 Centennial Celebration:
America magazine published a front-page article by FFL President Serrin M. Foster and Editor Damian J. Geminder about Planned Parenthood's lip service to vulnerable communities by scrubbing Margaret Sanger's name, but not her practices. Kathryn Jean Lopez again referenced our America article in her syndicated column, which ran in the Indiana Gazette, LifeNews.com, Lompoc Record, National Review Online, the Santa Maria Times, Townhall, and The Waterloo-Cedar Falls Courier. Our article was also linked in The New York Times' "The Morning" e-newsletter.
CBN News featured Ms. Foster both in print and on video in its coverage of the announcement of the 2020 March for Life theme.
Ms. Foster was featured in an article by FemCatholic about women pro-life leaders.
Fox News published an article about pro-life women leaders, including Ms. Foster. FFL provided extensive historical information for this article.
Issues, Etc. interviewed Ms. Foster to correct the record about false claims made in an op-ed in the Washington Post about the early American feminists position on abortion.They were pro-life!
Ms. Foster wrote an op-ed for the Washington Examiner urging opposition to the fatally flawed Equal Rights Amendment.
On February 19, Sue Ellen Browder quoted Ms. Foster in the National Catholic Register about why pro-life feminists oppose the long expired ERA.
On January 31, Vice News featured Ms. Foster and FFL in an article about pro-life feminism.
The Washington Examiner published Ms. Foster's op-ed, "First Feminist Physicians Opposed Abortion."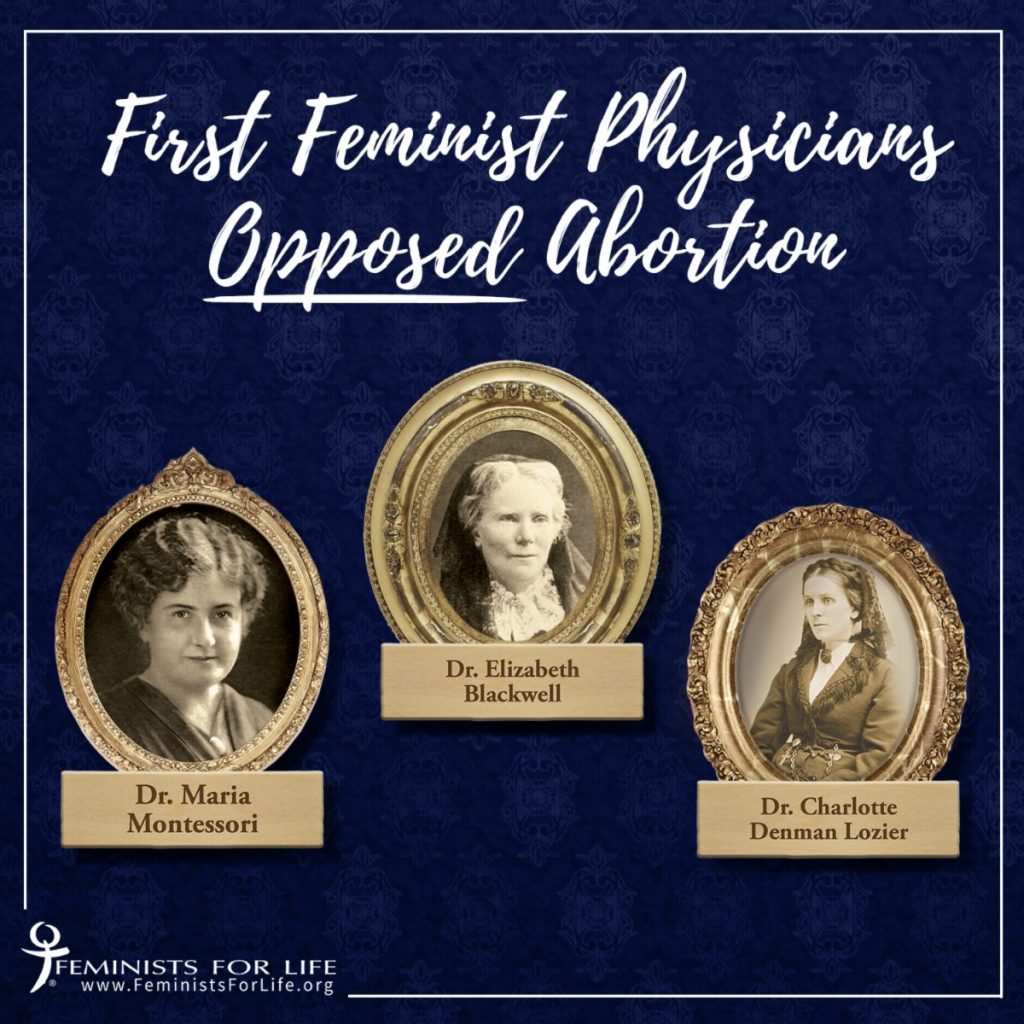 Ms. Foster made multiple appearances on Relevant Radio's A Closer Look as well as Respect Life Radio, Sacred Heart Radio.
More news about FFL: ABC News, ABC4 News, ACI Prensa, American Press (Lake Charles, CA), Angelus News (Los Angeles), The Berkshire Eagle, TheBlaze, The Boston Pilot, Breitbart News, Catholic Courier, Catholic Herald (London), Catholic News Agency (multiple mentions), Catholic News Service, The Catholic Spirit, The Catholic Telegraph, ChristianHeadlines.com, Christian Today, The Cleveland Plain Dealer (multiple mentions authored by Marilyn Kopp), CNSNews.com, Concord Monitor, Crux, The Daily Caller, Daily Messenger, The Daily Signal, Dailyhawker, The Federalist, Finger Lakes Times, First Things, GetReligion (multiple mentions), The Gettysburg Times, Gript, The Guardian, The Heights, The Human Life Review, Jezebel, The Lily, LifeNews (multiple mentions), Live Action News, (multiple posts covering articles from our magazine), Missourinet, MSN, National Catholic Reporter, National Review(print), National Review Online (multiple mentions), New Hampshire Union Leader, New York magazine's "The Intelligencer," The News Letter (Northern Ireland), Peace & Life Connections (multiple mentions), Rabble.ca, Rio Grande Sun (New Mexico), Scoop (New Zealand), Slate, The Tablet, The Torch (Boston College). The Washington Post, The Washington Times (multiple mentions), and Voxy (New Zealand).
Other Public Education:
Ms. Foster condemned all violence in the wake of George Floyd's death to our more than 60,000 followers on social media. The consistently pro-life response was extremely well-received.
Feminists for Life once again marked Juneteenth, the anniversary of when the last slaves were freed from the former Confederacy. In addition to releasing a statement across social media, we published an article on WomenDeserveBetter.com: "Teaching About Race—from the Inside Out."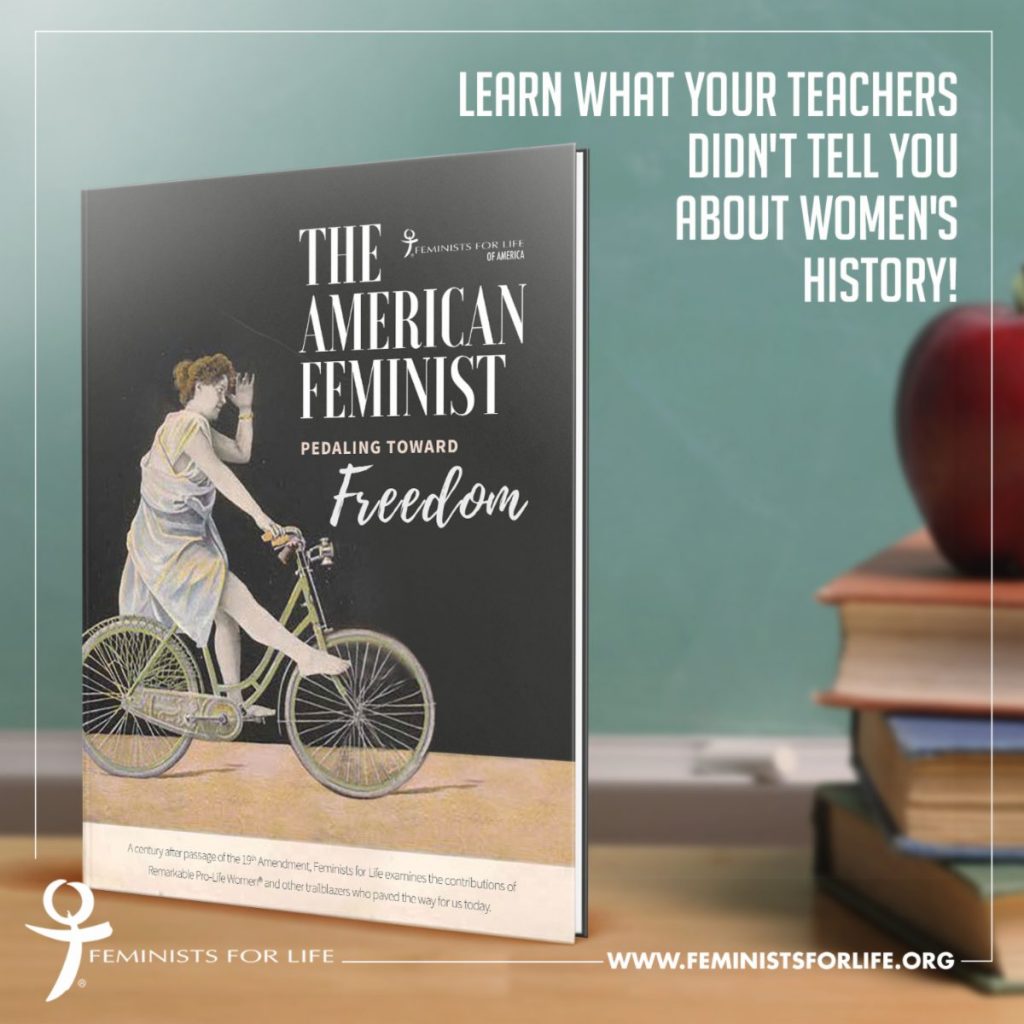 The American Feminist®:
Our 2020 Suffrage Celebration Calendar was followed by "Pedaling Toward Freedom." Most recently we published "PERSEVERANCE."
Social Media:
Our most popular posts were feminist history memes, which elaborated on the "herstory" noted in our 2020 Suffrage Calendar, reaching more than 60,000 people. They included lesser known women of color and "suffragents," pro-suffrage men in the movement.
Women Deserve Better website:
We are continuing to add articles to help women Work, Learn, Live, and Love better. Our page grew in 2020 at an unprecedented clip: We now have more than 230 articles!
Beginning in March 2020 and continuing through summer and into the fall, we focused on articles relevant to the COVID-19 pandemic.
We had more than 125,000 unique visitors in the past year to our helpsite—and counting—thanks to you.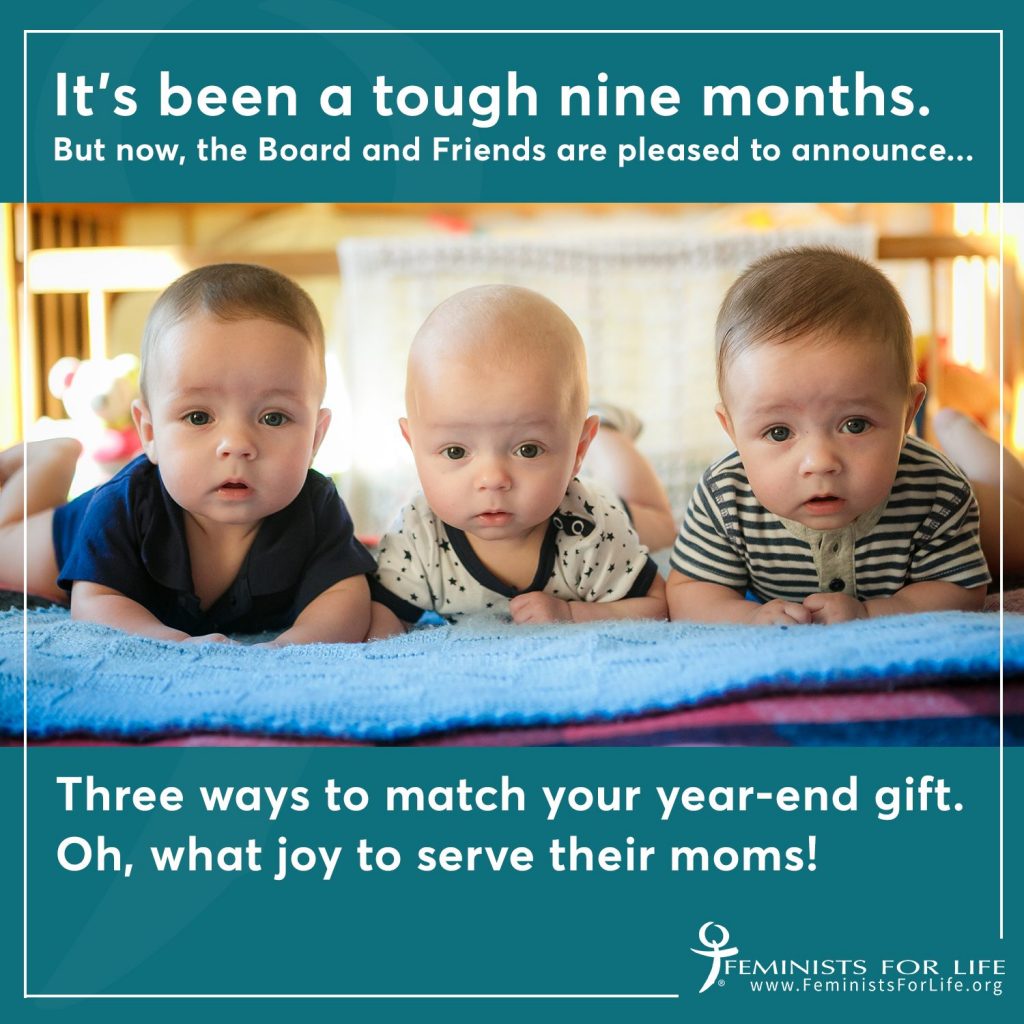 As we conclude our 2020 Suffrage Centennial year, the Board and Friends announce THREE WAYS TO MATCH YOUR TAX-DEDUCTIBLE YEAR-END GIFT!
Your single gift will be matched.
New and increased monthly gifts will be double-matched.
And a match from your employer will double your gift yet again!
May peace begin in the womb, and spread throughout the world.
The Board and staff wish you peace, prosperity, good health, and safety in 2021.
Please go right now to www.feministsforlife.org/support before the match ends.
Thank you again for your strategic support that makes our efforts possible!