Join us for the last March for Life to the U.S. Supreme Court before the justices determine if abortion laws return to the states.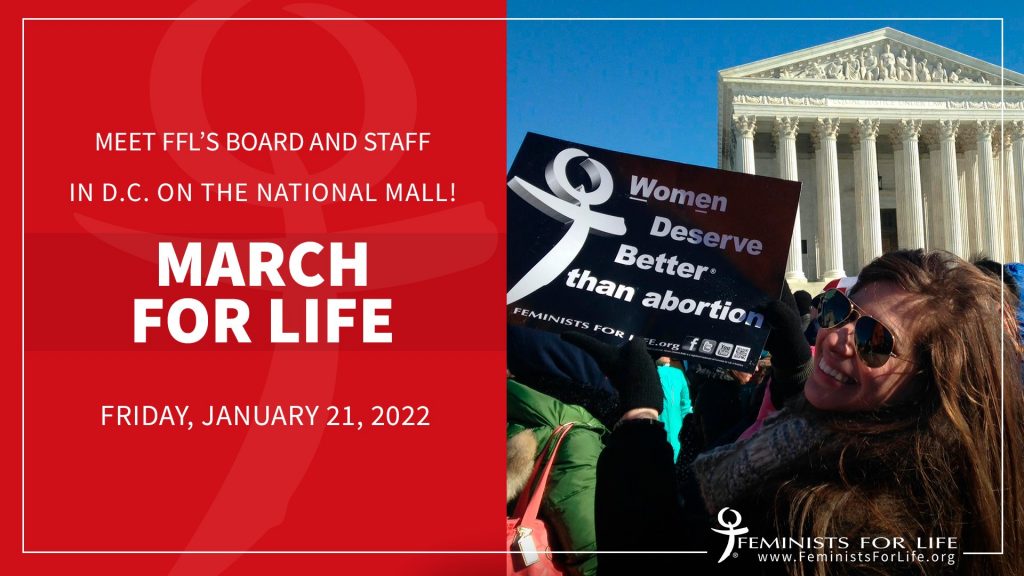 This Friday, January 21, we will march for life in D.C. We will meet up at the corner of 9th St. and Constitution Ave. NW, near the Smithsonian National Museum of Natural History. (This is the north side of the National Mall.) Look for us and our "Feminists for Life" banner!
We will be passing out placards, which you can bring to the 11 a.m. pre-rally concert and 12 p.m. rally itself, as well as to the March, which should start at about 1 p.m. If you want to help us in passing out the placards, email us and let us know: FFL Board and staff will need all of the help they can get!
Finally, bundle up with hats; hand, foot, and body warmers; and scarves!
The current forecast calls for below-freezing temperatures this Friday, and we are pro-your life, too.
And for those of you west of the Rockies who can't make it to D.C., we got you:
Join FFL Board Vice Chair Pat O'Kane this Saturday, January 22, at the Walk for Life West Coast! Pat will once again be staffing our booth at the Info Faire, and he has placards, too. Let us know if you can help him out. The faire starts 11 a.m. and will be held at Civic Center Plaza. (No need to bundle up, though. The forecast looks decidedly more pleasant than in D.C.!)
And if you are or will be in Austin this weekend and haven't registered already, it's not too late to see FFL Speaker Joyce McCauley-Benner deliver "Slaves Among Us: Sex Trafficking in the U.S."
You can get your ticket(s) here. Make sure to use discount code BACKTOSCHOOL to save $20!
Whether you will be joining us in D.C., San Francisco, Austin, or in spirit, we thank you for your continued support of us and those we serve. (And if you do attend one of these events, please be sure to send us your photos!)
Thank you so much again.

Because women — and girls — deserve better,
Serrin M. Foster
President
Feminists for Life of America
Editor-in-Chief
Women Deserve Better
& The American Feminist
P.S. Look for a BIG announcement on Saturday while teens and collegians meet for the Cardinal O'Connor Conference!