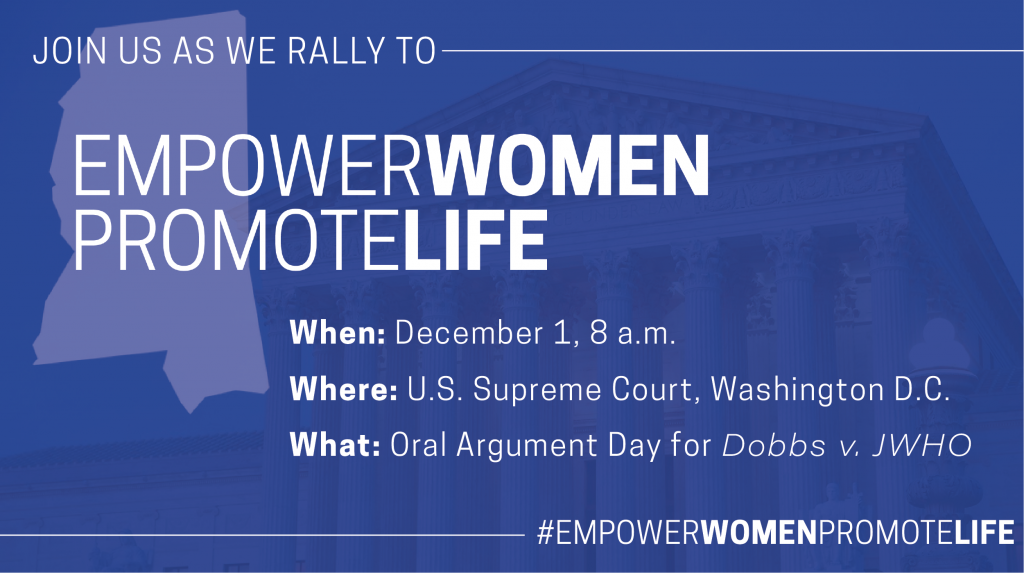 The next few months may well be the most consequential time for the pro-life movement in half a century. As Feminists for Life, we will not take a back seat to history, and we want you to join us in the driver's seat.
On Wednesday, December 1, the Supreme Court will hear the Dobbs v. Jackson Women's Health Organization case, the first direct challenge to Roe in nearly three decades.
We need you to be a part of the rally in front of the steps of the Supreme Court on the day of the hearing, especially if you live in the D.C. metro area.
As you may know, Mississippi passed a new law that makes abortions illegal after 15 weeks. If the court rules in favor of Mississippi, it could have the effect of overturning Roe v. Wade.
Abortion advocates are challenging this with every legal, political, and PR weapon in their arsenal.
FFL's special focus is to reject the decades of court decisions that reinforced the myth that women cannot handle having a child and working or going to school, as I explained in my Washington Examiner op-ed, "Don't Underestimate Women."
We are working directly with the Mississippi attorney general's office on this event. Their RSVP form is here. (And when you fill out the form, please put "Feminists for Life" under "Organization"!)
Attendees are asked to arrive by 8 a.m. Programming will start around 9 a.m.; at 10 a.m., the opening remarks will be livestreamed; and then speakers will be on stage until the attorney general comes out and addresses the crowd at 11. Finally, there will be a few more speakers until the rally wraps at 12 noon. You are asked to wear something blue, whether a scarf, a hat, gloves, etc.
While you're at it, please reply to info@feministsforlife.org so that we may bring enough of our "Women Deserve Better® than Abortion" placards — and tell you where we meet up.
Area high school and college leaders and advisers are encouraged to organize now to attend.
Additionally, the March for Life and Roe commemorations across the country are just months away. Plan NOW by ordering your pro-woman, pro-life FFL placards. You can purchase individual ones here.
Or, if you are willing to distribute placards at your local pro-life event, please email us to order FREE packets of 20 placards for your group. Just donate $30 to cover shipping, handling, and special packaging.
Finally, we have all-https://www.feministsforlife.org/covetable-stuff/new Covetable Stuff℠ just in time for the holiday season! Sport your pro-woman, pro-life creds with our three-quarter sleeve T-shirts, tumblers, mugs, and more.
Because women — and girls — deserve better,
Serrin M. Foster
President
Feminists for Life of America
Editor-in-Chief
Women Deserve Better
& The American Feminist
P.P.S. See our NEW events below! Contact info@feministsforlife.org to book yours today. Thank you!