Today, we celebrate the centennial anniversary of the ratification of the 19th Amendment, led by great pro-life feminists starting with the mother of the women's movement, Elizabeth Cady Stanton, and suffrage organizer and pro-life feminist publisher Susan B. Anthony, to Alice Paul, who lead the final years of a 72-year-long effort marked by magnificent suffrage parades — and brutal torture and imprisonment.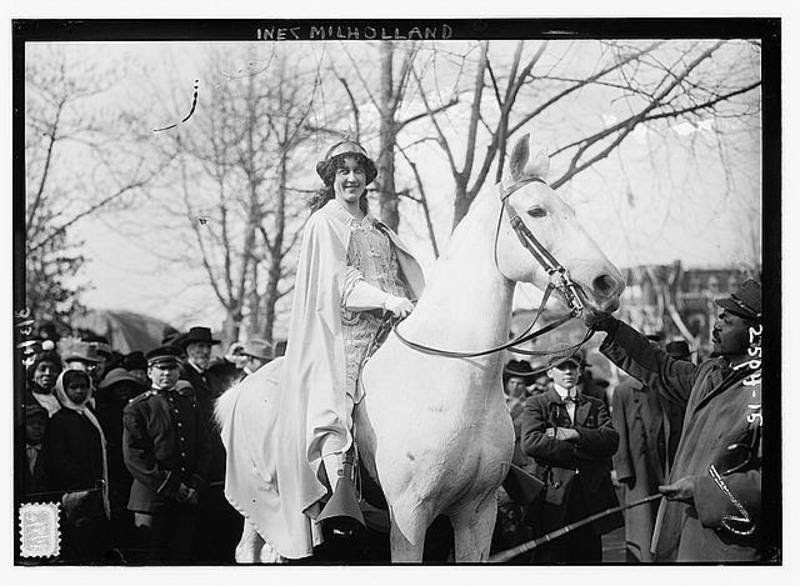 They suffered greatly for women's right to vote, most especially toward the end when Alice Paul led a magnificent parade featuring Inez Milholland Boissevain in a white cape atop a white horse, inspired by Joan of Arc. As protesters (who had come in early for Woodrow Wilson's inauguration) closed in on their path toward the White House, violence broke out. One hundred women were hospitalized.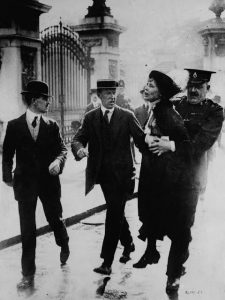 Afterward, Six Silent Sentinels led the first peaceful protest in front of the White House. Finally, that too became violent — but not by the suffragists. A woman's suffrage banner was torn off, along with her blouse. The women were strip-searched in front of male police. One was hung overnight by handcuffs and finally tossed headlong into her cell. Her cellmate had a heart attack. They lived in filth, were housed with rats, and were fed moldy and infested food. And then came the starvation diets. Alice Paul was held down and fed raw eggs.
Still, one woman after another took up the post in front of the White House. Word got out about their mistreatment as political prisoners.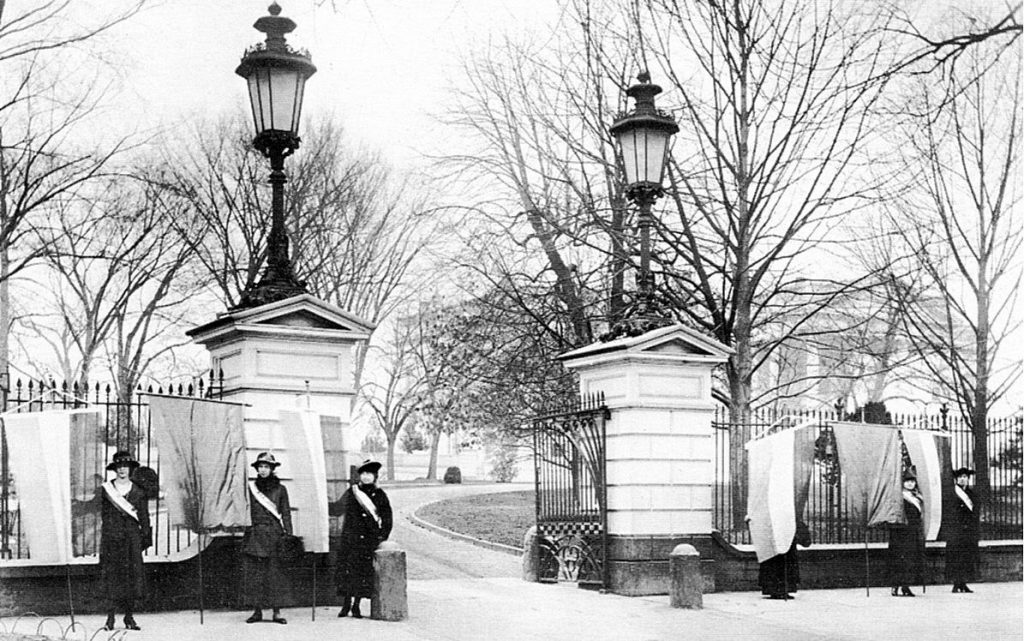 In the end, it was a mother and son who made the vital difference: Rep. Harry T. Burn was a Tennessee legislator fully prepared to vote against women's suffrage, sporting a red rose pinned to his lapel. (Yellow roses signified pro-suffrage as their colors were purple, gold, and white.)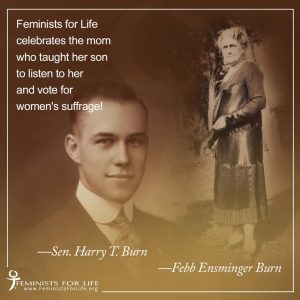 Harry's mother, Phoebe (known to family and friends as Miss Febb), penned a note that set the course of history: "Hurrah, and vote for suffrage! Don't keep them in doubt. I notice some of the speeches against. They were bitter. I have been watching to see how you stood, but have not noticed anything yet." She ended her note with an enthusiastic endorsement of the famous suffragist leader Carrie Chapman Catt, imploring her son to "be a good boy and help Mrs. Catt put the 'rat' in ratification."
Many years later, Alice Paul, who had gone on to write the original Equal Rights Amendment, learned that at the second meeting of the National Organization of Women, NOW had voted to support the ERA. Initially, she was ecstatic, only to learn that Betty Friedan brought in ringers who supported abortion. The pro-life feminists left before the vote, realizing they had been outmaneuvered. Friedan announced that women embraced abortion, but in fact, only 57 women supported it.
Alice Paul later told Feminists for Life of America's co-founder Pat Goltz that we were not the first feminists for life and that by linking abortion to the ERA, it had ruined her life's work. FFL researchers then worked to first reveal that, without known exception, the suffragists opposed abortion.
Alice Paul called abortion "the ultimate in the exploitation of women." She asked, "How can one help women by killing them as babies?"
As Feminists for Life, we have the answer. Women deserve better® than abortion, and every child deserves a chance at life. No exceptions.
I hope you have been following along this year using our Centennial Calendar and social media.
We invite you to learn more of our "herstory" by reading our original research.
In response to inquiries, including student researchers, doubters, and media challenges, we are happy to announce that we have posted many pages from the original suffrage documents, including those from The Revolution, Woodhull & Claflin's Weekly, and Sorosis, along with various writings about these remarkable women, on our website at feministsforlife.org.
But the most important thing we can do now is to fulfill their unrealized vision to address the root causes that drive women to abortion, primarily a lack of resources and support for women.

To end the feminization of poverty, we must focus on those at highest risk: the financially challenged, those in school, young women in the workplace, and those who are abused. Many of the solutions lie in support in schools and in the workplace and support from the fathers for their children.
As Feminists for Life, we are expanding our efforts to reach the next generation of leaders and those at high risk now in school, and through our helpsite, WomenDeserveBetter.com.
Look for more from us as the celebration — and our work — continues.
And please, make a 2020 Centennial gift so that their work, now ours, can continue for the next generation of feminists for life!
Because women deserve better,

Serrin M. Foster
President
Feminists for Life of America
Editor-in-Chief
Women Deserve Better
& The American Feminist
P.S. And listen to Miss Febb: Don't forget to vote!