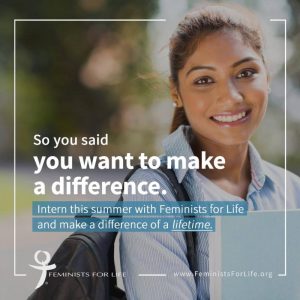 FFL spring, summer, and fall interns work on projects like our websites feministsforlife.org and  WomenDeserveBetter.com helpsite — and College Outreach Program; research, write, and edit, including for our biannual magazine, The American Feminist; as well as plan events on their campuses when they return to school. Summer interns also organize our Annual FFL Capitol Hill Intern Briefing. (No grabbing coffee for the boss and making copies or other boring stuff!)
Serious applicants for part-time or full-time volunteer positions — including law school interns, especially in the D.C. area — should send:
a cover letter explaining why you are pro-woman and pro-life; include any work in the movement, and tell us about your skills,
your résumé,
and a writing sample to info@feministsforlife.org.
Also, let us know if you are going to do this for school credit. (Following these directions is your first test!)
If you or someone you know is a graduating high school senior or current college student, please apply, and forward this email to any friends who might also be interested in interning with us. Thank you!