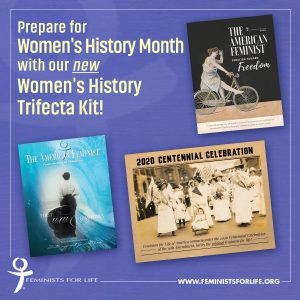 Next week is Women's History Month, and we have a NEW special Women's History Trifecta Kit available with your support as we continue our commemoration of the 2020 Centennial Celebration of the 19th Amendment, which granted American women the right to vote and was led to victory by the original feminists for life.
Kits include our latest issue of The American Feminist, "Pedaling Toward Freedom," as well as our 2020 Centennial Celebration calendar and "First Wave Feminists: Remarkable Pro-Life Women® and Other Suffragists You Should Know." Your $50 purchase also includes this year's annual subscription, so you will receive the Fall/Winter 2020 issue as a bonus. Order yours today!
You may also order this as a gift for someone else: a friend, a family member, a gender studies professor, etc.

Because women deserve better,
Damian J. Geminder
Communications Coordinator & Editor
Feminists for Life of America