One week from today, the Supreme Court will hear the Dobbs v. Jackson Women's Health Organization case, the first direct challenge to Roe in nearly three decades.
This is your LAST CALL to be a part of the rally in front of the steps of the Supreme Court on the day of the hearing, especially if you live in the D.C. metro area.
We are working directly with the Mississippi attorney general's office on this event. Their RSVP form is here. (When you fill out the form, please put "Feminists for Life" under "Organization"!)
Attendees are asked to arrive by 8 a.m. Programming will start around 9 a.m.; at 10 a.m., the opening remarks will be livestreamed; and then speakers will be on stage until the attorney general comes out and addresses the crowd at 11 a.m. Finally, there will be a few more speakers until the rally wraps at 12 noon. You are asked to wear something blue, whether a scarf, a hat, gloves, etc.
While you're at it, please reply to info@feministsforlife.org so that we may bring enough of our "Women Deserve Better® than Abortion" placards — and tell you where we meet up.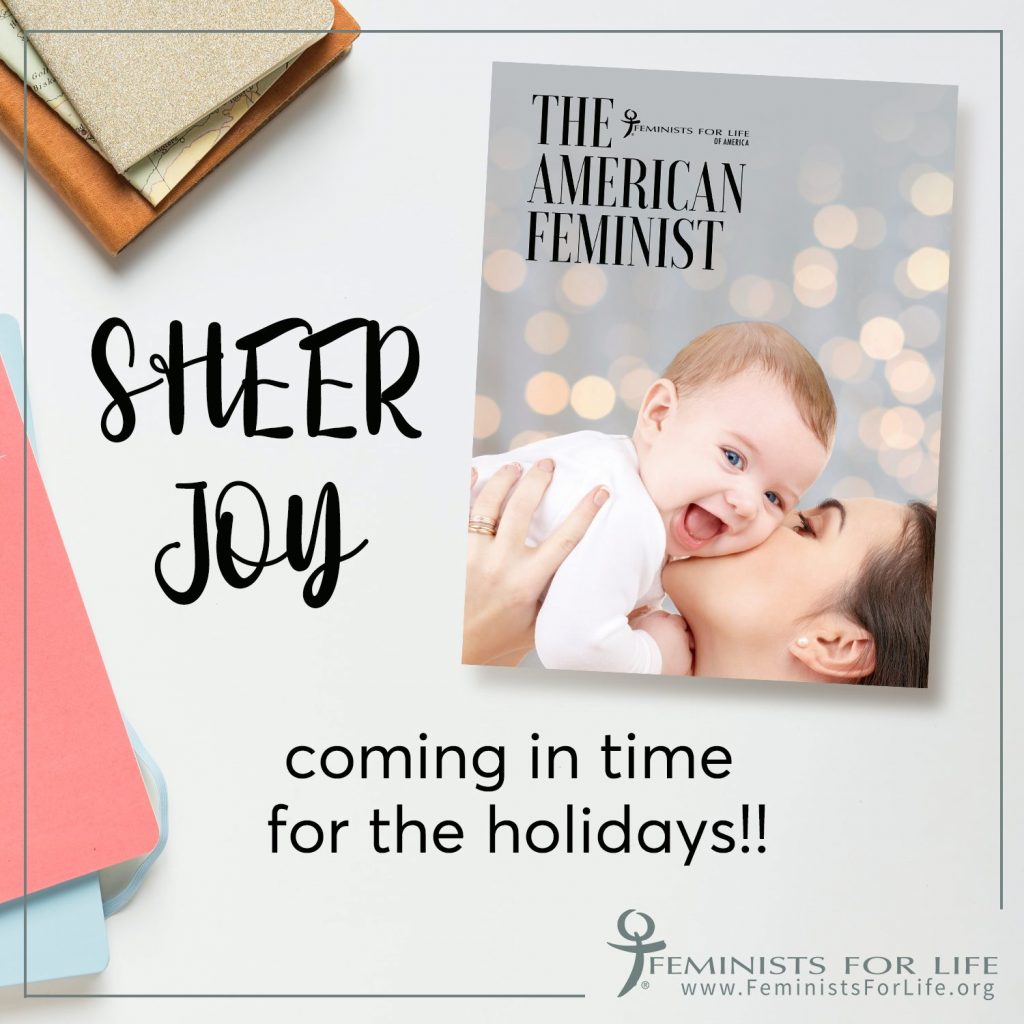 "I hope to get to tell you in real time, on a phone call, how much I love your new issue of The American Feminist! I had a little time to read our story and some others — it just made me cry! I think people will have to read this one piecemeal because it is so beautiful, your heart can only take so much…."
That is just one of the powerful responses elicited by our newest issue of The American Feminist, "Sheer Joy," which is all about the special children in our lives. Earlier this year, we invited you to share your funniest, sweetest, tenderest, and most precious memories, and right now, our FFL family album and keepsake is being delivered to homes across the country.
Want your copy? Support us now. Quantities of this remarkable edition are limited!
In addition to the demonstration in front of the Supreme Court next Wednesday, we have multiple events across the country next year, and our calendar is filling up! Our pro-woman, pro-life FFL Speakers are ready to come to your campus or other venue in person (but we still have virtual options, too!). Here is just some of the feedback we have received in the past year:
"Serrin truly knows her history (history most people don't!) and expresses it beautifully. She is also able to handle the hardest questions/situations with grace and compassion. FFL Speakers are wonderful at attracting different groups who normally wouldn't attend a pro-life event. Having a bipartisan, secular presence at Providence College is crucial to reaching ALL students at Providence College. FFL Speakers are also experts at what they do."
"It was a wonderful presentation. Viewers commented on the value of the information presented. Joyce is honest about her own story and confident in speaking on the difficult topic of sex trafficking."
"Cynthia was flexible and compassionate. Everyone was excited by her varied experiences and expertise. She demonstrates true knowledge and wisdom. Cynthia was an incredibly inspiring speaker and generated discussion in other groups, too (Women's Study). FFL Speakers are able to integrate multiple areas of concern beautifully. They have generated necessary conversation on campus, especially relating to women's empowerment and modern feminism."
Interested in inviting an FFL Speaker to your next event? Shoot us an email! We can't wait to work with you.
As we prepare to set our tables tomorrow to give thanks, we wish to remind you that there are three ways to increase your impact on behalf of the most vulnerable this holiday season.
This campaign will maximize your donation:
And finally, corporate gifts will be matched yet again!
With Giving Tuesday next week, now is the perfect time to multiply your impact for the most vulnerable as we head toward our 50th Anniversary.
Serrin and I have said it before, but it bears repeating: We are so, so thankful for generous supporters like you who allow us to assist the most vulnerable now, next month, next year, and beyond. On behalf of the FFL Board and staff, we wish the happiest of Thanksgivings to you and yours!

Because women — and girls — deserve better,
Damian J. Geminder
Editor
Feminists for Life of America