I miss handshakes, hugs, and the feel of kissing a tender baby's cheek.
I miss seeing smiles now hidden behind masks.
I miss meeting courageous students while speaking on campus — and working with administrators while moderating FFL Pregnancy and Parenting Resource Forums(SM).
And I miss road trips with friends and vacations with family.
Like you, I can't wait for this to be over.
I'm sick of the news — but can't get away from it as I eagerly await good news. I hate the "C" word and the daily counts of deaths and illnesses. But it is our terrible new reality — at least for now.
While death seems to be closing in all around us, Planned Parenthood and their surrogates fight to stay open. The death toll from this virus rises, but the countless number of children — as well as teens and women who died needlessly from abortion — never makes the news.
If only we had a bell to toll for them.
Yes, we need good news. And I have some for you. As you know, our agile, dedicated, and entrepreneurial staff quickly shifted our attention to meeting the needs of those at highest risk of abortion, especially women who are caregivers.
Thanks to people like you, traffic on our WomenDeserveBetter.com helpsite is through the roof. Women and their caregivers are provided real help and real hope.
The word is getting out that this is the go-to place for practical solutions that meet the needs in today's environment.
And our Board and staff are working hard to find new ways to serve during these challenging times. (Stay tuned for news about that!)
As we approach Mother's Day and Birthmother's Day (the day before), I need your help to honor those deserving of recognition on our Women Deserve Better website.
While we miss a lot this spring, there is one thing we can't afford to miss: That is your support. Please, give what you are able leading up to #GivingTuesday.
Consider converting to monthly support. We seriously can't wait for year-end gifts to make it through.
So again:
1. Please email us at info@womendeservebetter.com to submit your nomination of a worthy recipient for our Women Deserve Better Caring Heart Award by the end of next week.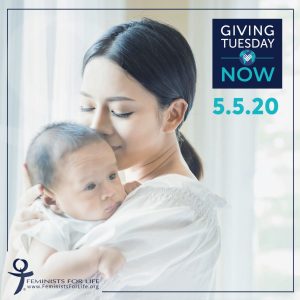 2. Make a one-time donation.
3. Or better yet, start or increase your monthly gift by May 5, 2020, which is #GivingTuesday, and it will be matched by a group of donors, who are making sacrifices, just like you.
Meanwhile, I ask you to do what you can to stay safe while we look forward to better times shared with those we have missed. They will certainly feel more precious, and we hopefully will never take a moment with them for granted again.

Because women deserve better,
Serrin M. Foster
President
Feminists for Life of America