I HAD BEEN ENGAGED to an extremely powerful man for two years when I became pregnant. I was ecstatic at the idea of having a child with my fiancé, a man I loved so and was finally about to marry. My joy was short-lived as I stood frozen in horror and disbelief at his unequivocal negative response to my "good news." In short, he promised that he would do everything in his power to emotionally and verbally coerce me into getting an abortion. If I ever insisted on carrying the baby, he swore he would take "his" baby away from me — and assured me, in a tone of voice I had never heard him use before, that he had the political clout, financial means, and industry power to annihilate me personally and professionally.
In the seventies, we were told a lie from the pit of hell (and it is still told today), that a pregnancy is just a blob of tissue in the uterus up until three months' gestation. We have no moral responsibility to a blob of tissue — that microscopic entity without a name or a face is no one. Everyone, including my mom and dad and my doctor, told me that abortion of the "tissue" prior to three months' maturity was "all right" — just an inconvenience.
Ignorance on my part is a weak excuse, but an accurate one. I now feel that, despite all the overwhelming outside pressure, I was pitiful in my inability to stand up against others' reasoning, no matter how powerful. I buckled under fear. I didn't know then where to find real strength, to find real truth. Deep down, I knew I was wrong to abort my baby, even when everyone was saying it was right. Nothing in the world could ever make me opt for that choice again.
---
Excerpt from From Fallen to Forgiven: A Spiritual Journey Into Wholeness and Healing, by Jennifer O'Neill, W Publishing Group, 2002, by permission of Jennifer O'Neill, actor, model, author, director, and spokesperson. O'Neill became a household name with her starring role in the classic film "Summer of '42" as well as being spokesperson for Cover Girl Cosmetics for an unprecedented 30 years. For more information, check out her bio at www.jenniferoneill.com.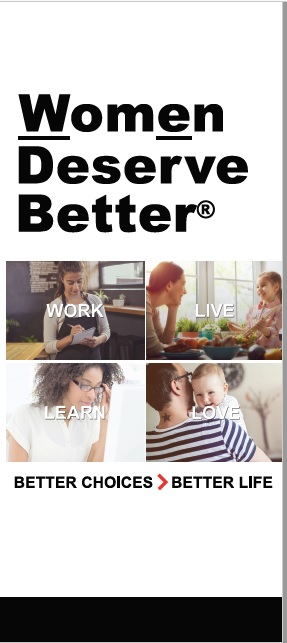 WomenDeserveBetter.com is our online resource for women in need. Help a woman Work, Learn, Live, and Love better throughout her adult life. Share this valuable resource in your community; in your workplace; on campus with service providers; and at women's and pregnancy resource centers, health providers offices, pharmacies, and elsewhere!
Sold in packs of 25 brochures. Order here!