It got me again tonight. It had been a while and took me by surprise, but it was bad. Grief. Agonizing, overwhelming grief. A pain so enormous it took my breath away, making it impossible to cry. Would I never get over it? Wasn't 25 years long enough to pray I could have my baby back?
I don't even know when I got pregnant. I don't remember the discussions that must have taken place between my mother and me. What I do remember is being taken to the finest hospital, rolled into the most sophisticated operating room, having my baby killed by one of the top doctors in the city. I also remember waking up and hearing women crying and screaming, including myself. I remember indescribable pain, blood — more blood than I had ever seen.
Several days later, I remember being rushed in the middle of the night to an emergency room. I was hemorrhaging and fading in and out of consciousness from a raging fever. My medical records say that I was in the hospital for six days, underwent 2 D&Cs, and was rolled back into the O.R. a final time for a complete hysterectomy. I don't know what stopped the surgeon, but he saved my life and my ability to have children. I had been saved from a septic therapeutic abortion. I was 15 years old.
Since those horrible days in 1973, this has never once been spoken of. I grew up to become a professional with a loving husband and seven beautiful, healthy children. A miracle indeed considering those are not the odds for someone like me. I also know that keeping my shame and guilt silent is killing my baby over and over again. Yes, it was a baby, not a tissue, a mass, a "condition" that needed correcting. She was alive and real and would be 25 years old if I had given her the opportunity to live.
My ignorance, fear, and youth were used against us. If anyone had told me of the secret shame, fear, pain, and lifelong regret, my baby would be alive today. If anyone had told me about the potential life-threatening or fatal medical complications, my baby would be alive today. If anyone had told me the truth, my baby would be alive today.
For more information about Rachel's Vineyard, please contact:
Rachel's Vineyard
P.O. Box 195
Bridgeport, PA 19405
1-877-HOPE-4-ME
www.rachelsvineyard.org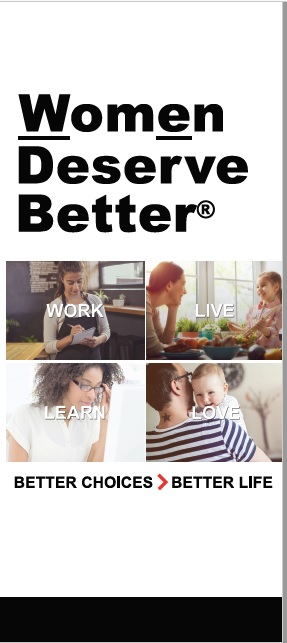 WomenDeserveBetter.com is our online resource for women in need. Help a woman Work, Learn, Live, and Love better throughout her adult life. Share this valuable resource in your community; in your workplace; on campus with service providers; and at women's and pregnancy resource centers, health providers offices, pharmacies, and elsewhere!
Sold in packs of 25 brochures. Order here!