Years ago when I was in college, I found myself pregnant and I was afraid I could not finish college and [would] ruin the rest of my life, the father was an abusive man, and my mother would forever judge me and smother my life if I had a child. Ten minutes after I found myself pregnant I confided in a "friend" my boyfriend had convinced me to move in with. She had had an abortion and immediately called to set up my appointment. Within 48 hours I had my abortion. That morning, I told myself, "After today, my life will never be the same again." I didn't realize the depth of that truth. My new roommate used my situation. She contacted her former boyfriend and convinced him to lend me $300 and drive us to the clinic. I turned to the wrong person for help. A few hours after my abortion, I attended class and took my finals. I must have been in complete denial. I was so afraid to admit to myself what I did, I set myself up for years of pain and suppressed anger. I spent years punishing myself.
Ten years ago, I was given an opportunity to make some good from my bad decision. A co-worker told me she was pregnant and was afraid to tell her parents so she was going to get [an] abortion and wanted me to take her. I told her I regretted my decision every day and I could almost not live with it. I persuaded her to tell her parents and take some time before she made her final decision. Her parents were upset but they supported her situation.
She decided to keep her baby. Several years later, she thanked me. And the picture of her beautiful little girl, Rachel, took away some of my guilt. She was a first step in my healing. And for the first time in 18 years, I think after today, "From today on, my life will never be the same."
– Excerpted with permission from RachelsVineyard.org.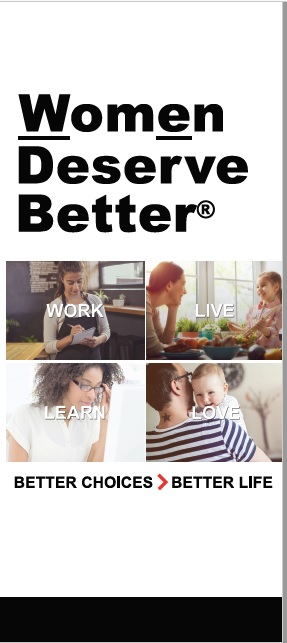 WomenDeserveBetter.com is our online resource for women in need. Help a woman Work, Learn, Live, and Love better throughout her adult life. Share this valuable resource in your community; in your workplace; on campus with service providers; and at women's and pregnancy resource centers, health providers offices, pharmacies, and elsewhere!
Sold in packs of 25 brochures. Order here!