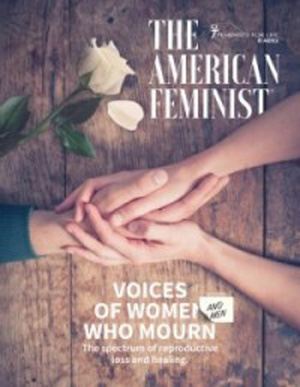 Feminists for Life is about to publish the next great issue of The American Feminist. You will hear "Voices of Women — and Men — Who Mourn."
The spectrum of reproductive loss is broad. From infertility to miscarriage, stillbirth, adoption, abortion, and the loss of a dream after rape.
Most important, you will hear their insights on healing from reproductive grief.
Those of us on the editorial board and team of editors concur: We are deeply moved by their experiences, and we have so much to learn from those who are willing to give their voice to their losses. I was stunned by many of the revelations as I turned each page.
Part of their healing is to tell you what they have to share. I hope you will listen, too.
Please be sure your support is current before we publish the next issue! Remember that if you start or increase your monthly donation — which includes membership — it will be DOUBLE-MATCHED by a group of devoted donors who share your vision.
Because women deserve better,
Serrin M. Foster
Editor-in-Chief
The American Feminist
PS: I hope you can feel how much we need your help, especially as we prepare for the school year ahead! We also know that many people are facing tough times and we recognize that your gift is a sacrifice — no matter if it is $1,000, $100, or $35. So please, carefully consider a new or increased monthly donation of $5, $7, $25, or more, and help provide core support year-round. Thank you.