"Safe, legal, and rare."
We all know the slogan. It has been embraced by many pro-choice advocates to strike a conciliatory tone in the decades-long, rancorous abortion debate. Abortion is a necessary evil, they say. Nobody is "pro-abortion," because abortion is not something worth cheering but rather, something to undergo after much thought, discussion, and if applicable, prayer. But above all, it must, must be available for those who need it.
Such words are cold comfort for the family of Jamie Lee Morales.
On July 9, 2016, Morales, a resident of Buffalo, New York, entered the now-shuttered Liberty Women's Health Care of Queens, an abortion clinic located in the New York City neighborhood of Flushing. She had just learned the week before that she was pregnant and had a troubled relationship with the child's father. Dr. Robert Rho maintained a practice there and proceeded to give her a second-trimester abortion. Morales was approximately 23 weeks pregnant, just short of the state's 24-week legal cutoff, after which there is only an exception to save the woman's life.
Like the vast majority of abortions, Morales' procedure was elective, and Rho was one of the few abortion providers in the state willing to end her pregnancy so close to the 24-week mark. Even Planned Parenthood's flagship Manhattan clinic, the Margaret Sanger Center, turned her away because she was past their self-imposed limit by one week. Abortions at this stage take two or even three days to complete safely—for the woman—but Rho cut corners and did the deed in under five hours, lacerating Morales' cervix and vaginal wall, perforating her uterine wall, and transecting her uterine artery. The cut in her uterine wall was over 7 inches long.
Morales began to hemorrhage and collapsed in the clinic bathroom, hitting her head as she fell, but instead of calling an ambulance, Rho attempted to cover his tracks and stitched her cervix closed to make it look as if she had stopped bleeding, instead of addressing the injuries themselves. Meanwhile, the blood continued to pool in her abdominal cavity. Rho did all of this without checking her vitals or even using anesthesia. Morales was released and lost consciousness in the car en route to her sister's Bronx home. Her sister brought her to a Bronx hospital where she collapsed again, was given six units of blood, and finally died.
Three months later, Rho was arrested and charged with second-degree manslaughter. He could have faced up to 15 years in prison. The jury deadlocked, however, and before they could hand in a verdict, Rho's attorney, Jeffrey Lichtman, reached a plea deal. The doctor admitted he was negligent, and on June 26, 2018, he was issued a prison sentence of between 16 months and four years. Lichtman bragged that his client might even be released in less than a year, calling the result a "monumental victory."
A monumental victory.
For whom? For Jamie Lee Morales? For her family? For her viable unborn child?
No. The "victory" is a Faustian bargain made by an oleaginous lawyer who saw fit to defend, in the words of 19th-century novelist and suffragist Eleanor Kirk, one of the many "physicians who have graduated from our first medical colleges, physicians with high-sounding diplomas, whose elegant equipages stand in front of Fifth Avenue mansions, who pocket a big fee and a little bundle of flesh at the same time, and nobody's the wiser!"
Kirk could well have been writing in the 21st century about Rho, who was trained at Columbia, renowned as a "designer vagina" specialist for his vaginal rejuvenation services, performed more than 40,000 abortions during his "prolific" career, and charged $6,000 for the botched operation that ended the lives of Jamie Lee Morales and her unborn child.
Rho had previously been sued three times for medical incidents and twice for sexual harassment. Of the surgery-related lawsuits, two were dismissed, but one was settled for $2 million after a woman claimed that Rho had performed a failed second-trimester abortion on her in 2008. She gave birth to a premature baby with severe, life-limiting brain damage.
During the trial, Lichtman had the gall to inject an unseemly racial element in defending his Asian-American client to the jury, a majority of whom were people of color: "America is a great country, and everyone deserves a fair trial. History has shown there have been ties of unfairness, like slavery…. It's a modern-day lynching!"
The comments are particularly sick in light of the fact that the majority of black women's pregnancies in New York City end in abortion, something that does not occur in any other racial or ethnic group. About four in 10 pregnancies in the city end in abortion, a statistic driven higher due in part to non-residents opting to travel to New York to terminate. In some neighborhoods, abortions actually outpace births.
Rho also attempted to influence the jury by making faces at and gesturing toward them during the prosecution's closing argument, in addition to shaking his head during certain statements, causing the judge to stop proceedings, call for a recess, and rebuke the defendant after the jury left the room. (Worth noting: Even though only pro-life media extensively reported on the trial, even Tonic, the pro-choice health and wellness site run by Vice Media, conceded that details were accurate.)
Ultimately, the entire tragedy could have been avoided. A forensic anthropologist would later confirm what Rho already knew: The pregnancy was probably already just past the legal limit, but he went ahead with the operation anyway.
And now, Jamie Lee Morales and her baby are dead, their convicted killer soon to be free, and there is nothing to show for it but tears of sorrow and anger. Perhaps cases like these are why some pro-choice advocates have abandoned "safe, legal, and rare" in favor of celebrating abortion as a moral good. Jamie Lee Morales and her baby deserved better.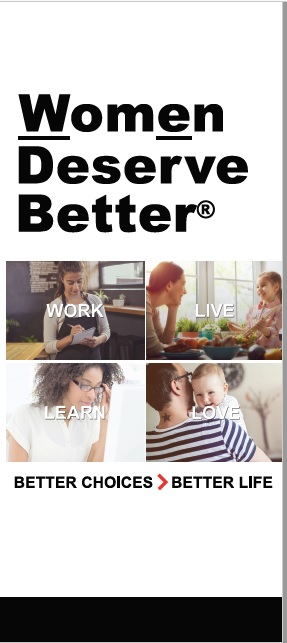 WomenDeserveBetter.com is our online resource for women in need. Help a woman Work, Learn, Live, and Love better throughout her adult life. Share this valuable resource in your community; in your workplace; on campus with service providers; and at women's and pregnancy resource centers, health providers offices, pharmacies, and elsewhere!
Sold in packs of 25 brochures. Order here!