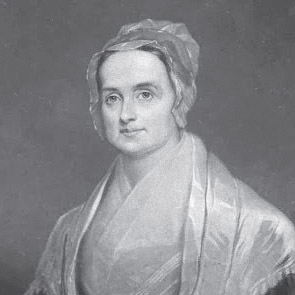 Lucretia Mott (1793-1880) became a Quaker minister in 1821. Like many of her faith, Mott embraced pacifism and condemned racism. She organized boycotts of slave-harvested goods like cotton and cane sugar, and worked for full integration within numerous groups, winning the trust of Blacks (including fugitive slaves) throughout her native Philadelphia. Mott's suffragist efforts began in earnest when she learned of vast discrepancies between local male and female teachers' salaries. In the 1840s, she labored to champion the causes of abolition and women's rights equally, but anti-slavery activists worried suffragists would muddle their efforts, and vice versa. Finally, in 1848, Mott and Elizabeth Cady Stanton organized the Seneca Falls Convention, where famous abolitionist Frederick Douglass helped lobby for pro-suffrage resolution. Mott is the author of Discourse on Woman, among other works. In the 1860s she helped establish the American Equal Rights Association and Swarthmore College.
"The world has never yet seen a truly great and virtuous nation, because in the degradation of women, the very fountains of life are poisoned at their source."

—Attributed
By Jen Hawkins
The next special issue of The American Feminist will be a 2020 calendar commemorating the Centennial Celebration of the 19th Amendment led by the original feminists for life.