The Fourth of July is a day when most Americans celebrate the birth of our country. This year, however, Tanya spent that day mourning her daughter's death instead.
On June 30, 2016, 24-year-old Cree Erwin received an abortion at the Planned Parenthood facility in Kalamazoo, Michigan. On July 2, Tanya took Cree to the emergency room at Bronson Battle Creek Hospital after she began complaining of abdominal pain. The young woman was given pain medication, instructed to see her personal physician, and discharged just after midnight on July 3. Cree spent the rest of the day sleeping in her mother's bed.
She would never wake up.
Tanya's mother discovered her daughter's body shortly after midnight on July 4 and frantically called 911. The dispatcher gave instructions for how to revive her. Tanya attempted to follow the directions, but she had difficulty rolling Cree onto her side to perform chest compressions.
"She's as cold as ice!" Tanya is heard crying on the call before the dispatcher says that medical assistance is on the way. Unfortunately, it was not enough.
Reporting Officer T.M. Wirebaugh said Cree may have been experiencing agonal breathing, a form of labored respiration that left untreated will progress to apnea and death. Causes of agonal breathing include cerebral ischemia (insufficient blood flow to the brain), hypoxia (inadequate supply of oxygen to the body or a region of the body), or anoxia (complete deprivation of oxygen to the body or a region of the body). The formal autopsy results have yet to be released.
Although it is not known who performed Cree's abortion, Dr. Laura D. Castleman did prescribe her pain medication, to be filled at a separate pharmacy. Castleman's Drug Control Location License for the Kalamazoo Planned Parenthood had lapsed on Jan. 31. In Michigan, medical providers must obtain a license for every facility where they routinely dispense drugs. According to Lynn Mills of Pro-Life Detroit, the clinic operated without proper facility licensing from September 2012 to January 2016.
The same facility was the site of another medical emergency last year. On Sept. 10, 2015, a 15-year-old girl was transported to a local hospital after experiencing breathing difficulties.
In addition, the same clinic currently employs Dr. Mandy Gittler, who was involved in the 2012 death of Tonya Reaves, another 24-year-old abortion patient, at Planned Parenthood's Loop Health Center, in Chicago. Reaves' death resulted in Planned Parenthood of Illinois paying a $2 million settlement, most of which will go to her son, Alvin Jones III, who was 1 at the time of her death. It is not immediately clear if Gittler herself performed Cree's abortion.
Cree, like 59 percent of women who have abortions, was already a mother. She died on her son's first birthday. The boy was given to his grandparents' custody.
Feminists for Life remembers Cree Brianne Erwin-Sheppard, and her unborn child, taken from us far too soon by legal but lethal abortion.
Additional reporting by Elise Huntley.
(Sources: Battle Creek Police Department, LifeNews, WWMT.com)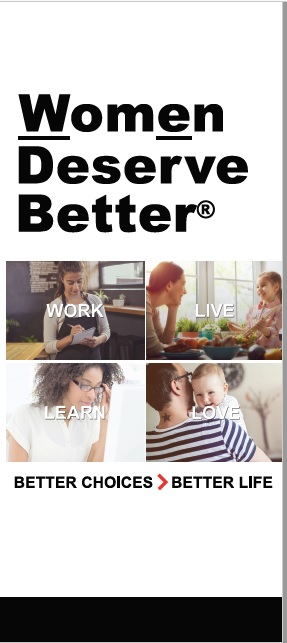 WomenDeserveBetter.com is our online resource for women in need. Help a woman Work, Learn, Live, and Love better throughout her adult life. Share this valuable resource in your community; in your workplace; on campus with service providers; and at women's and pregnancy resource centers, health providers offices, pharmacies, and elsewhere!
Sold in packs of 25 brochures. Order here!