Feminists for Life of America
Urges Passage of
Care for Her
FFL's top legislative priority is passage of Rep. Jeff Fortenberry's bill, Care for Her (H.R. 5163).
Care for Her will facilitate support and services to women who find themselves with an unexpected pregnancy, and seeks to meet the emotional, physical, social, financial, and other needs that a woman encounters during pregnancy, childbirth, and childrearing.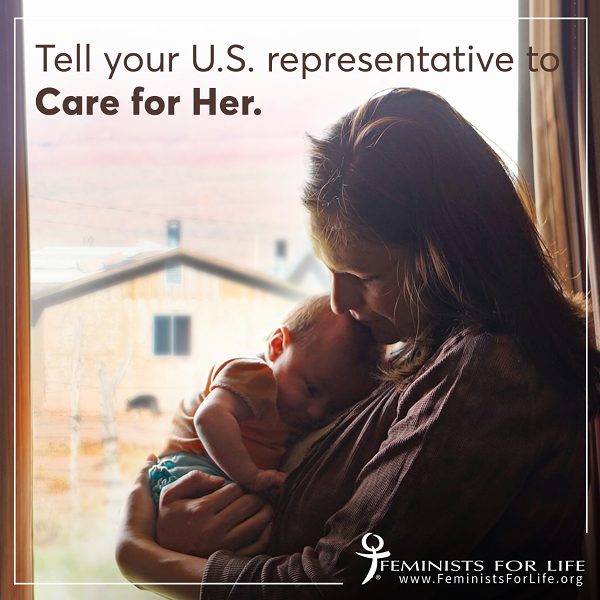 The bill addresses practical support for pregnant and parenting women's day-to-day needs, including health care and material support; mentorship and parenting resources during pregnancy and following the birth of a child; opportunities for completion of education and employment and job training; safe, affordable, and supportive housing during pregnancy; workplace and college campus accommodation, including child care and lactation support; and ease of awareness of available support and services.
Feminists for Life of America is dedicated to systematically eliminating the root causes that drive women to abortion — primarily lack of practical resources and support — through holistic, woman-centered solutions. Women deserve better® than abortion.
"This is our mission — and therefore, this is our priority," Foster said. See CALL TO ACTION below: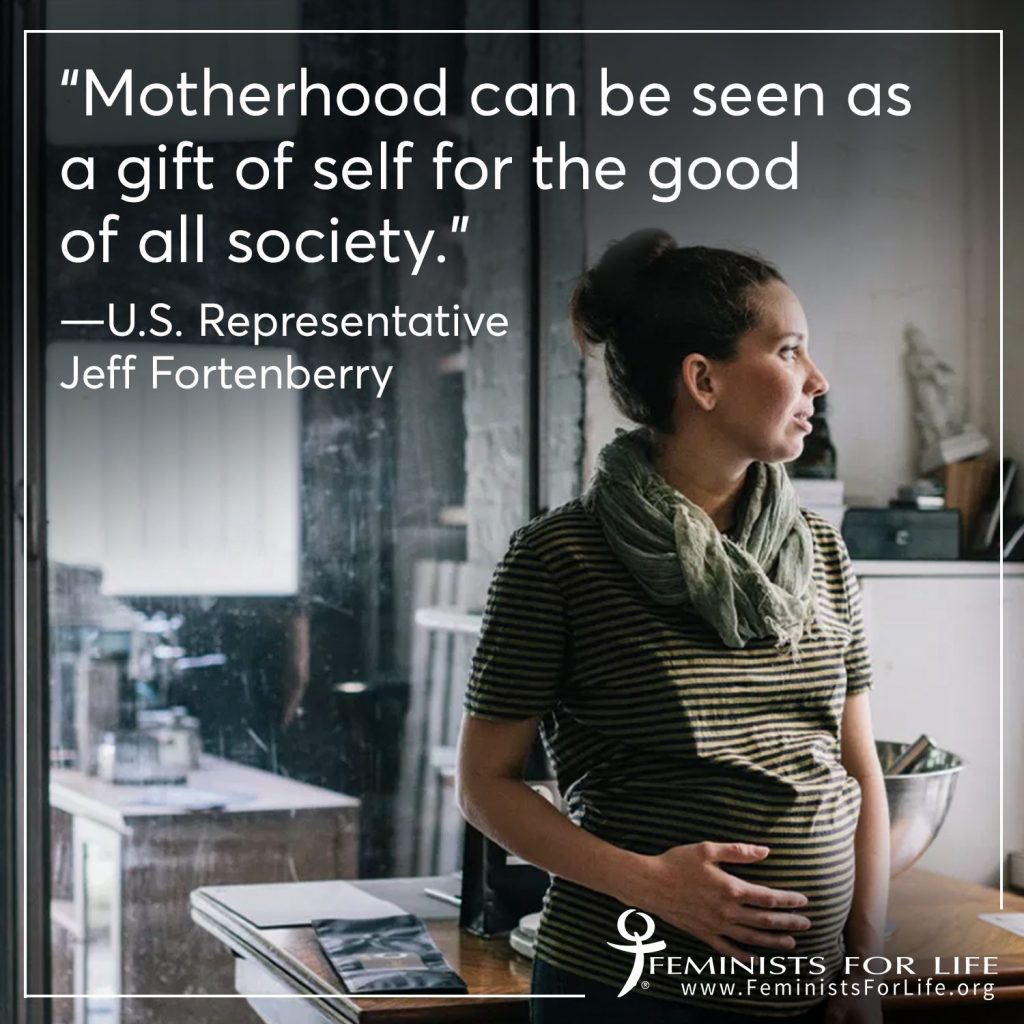 Urge your member of Congress to show that s/he wants to Care for Her by co-sponsoring H.R. 5163. Tell her or him: Pregnant and parenting women deserve better resources and support!
To ensure consistent access to information about available support and services for a woman with an unexpected pregnancy and to fill additional gaps that exist in support and services, Care for Her (H.R. 5163) proposes:
a pregnancy child tax credit (just think about how much is spent before the baby is born!);
an identification of existing pregnancy and parenting services and support in a clearinghouse;
input from women who have experienced available support services to understand what services are useful and gaps that exist in services and support;
assessment and sharing of best practices in local, state, and federal programs;
a new federal-state entity to assure all parties are satisfied with the context of support and services;
a website with geographically relevant programs for women seeking support during pregnancy;
a toll-free number to provide women with referrals for obtaining pregnancy and parenting support and services, including services to support;
provision of grants to support services, such as maternity housing, mentorship programs, job training programs, and child care;
an annual report from HHS on successes and opportunities for improvement;
and an establishment of a new incentive of supplemental funds to communities that demonstrate improved maternal and child outcomes.
We urge you to co-sponsor this bill. Thank you for your consideration.
Call the United States Capitol switchboard at 202-224-3121, or find her or him online at www.house.gov/representatives/find-your-representative to send an email.
Please note: This legislation does not replace pregnancy resource centers, many of which are faith-based. This bill has been written as something EVERYONE can support, regardless of one's stance on abortion.
Please reply into this email to let us know whom you contacted by phone, email, and/or in person. We thank you for your support of women and children in need.
Feminists for Life is nonpartisan and nonsectarian and works with people of all parties — and no party — who share in our mission of resources and support.