We proudly announce the publication of "Breaking Barriers," the latest issue of The American Feminist. In this insightful issue, you will read six unique perspectives addressing the needs of women as part of our mission to create a world where abortion is unthinkable. Based on our groundbreaking resources site, Women Deserve Better, this intriguing issue details the ways to best help women WORK, LEARN, LIVE, and LOVE better.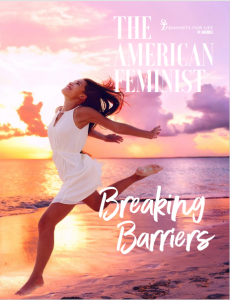 In celebration of Mother's Day, Foster Care Tuesday, and Birthmother's Day — and in anticipation of so many new graduates — we have lots of ways to help and honor them.Check out just a few of the more than 150 articles now available on WomenDeserveBetter.com:
• Have You Heard About Financial Abuse? — Learn the signs and learn how to recover if you or someone you care about is a victim.
• When You Can't Breastfeed — Some women can't or choose not to breastfeed. Here's what you need to know if that woman is you.
• What Is a Returnship and Why They are Awesome — Returnships are the latest tools companies can use to help women returning to the workforce, and they are awesome
• What to Expect When Raising a Multiracial Child — From a mother in the trenches.
• 9 Tips to Make Working from Home Work For You — Tips on how to work effectively from home from a work-at-home mom.
Check out WomenDeserveBetter.com now for more resources — and forward it along to a woman in need.
I urge you to spread the word yourself by promoting this new and growing resource in your community. It's so easy just to "like" a Facebook post. Please download this ad and post on your on community bulletin boards at grocery stores, libraries, doctor's offices, in your houses of worship, and on your campuses. More ideas are here.
In addition, if you have expertise or a unique perspective you can offer for our site, we would love to hear from you! Please send your résumé and a writing sample to info@womendeservebetter.com.
Finally, if you wish to make a tribute or memorial gift to your mother, grandmother, godmother, aunt, or someone who has been like a mother to you, please go to www.feministsforlife.org/donate right now. Donations of $35 come with our NEW Welcome Kit, featuring our latest issue of The American Feminist, "Breaking Barriers," which is focused on this vital resources site, "First Wave Feminists," and "Pro-Woman Answers to Pro-Choice Questions™."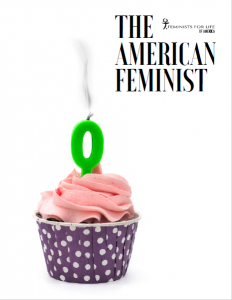 Returning members will receive "Breaking Barriers" as well as our topical issue, "Abortion: Nothing to Celebrate." Either way, it's a great way to celebrate Mother's Day, or any other special occasion.Thank you for helping to spread the good news — and by supporting our ongoing efforts to grow content and reach more women in need!