Warning, no graphic image, but graphic imagery: Feminists for Life remembers Karnamaya Mongar, a poor refugee, and her unborn child who died in 2009 after an abortion at the clinic owned by abortion provider Kermit Gosnell. We also remember countless other babies who were aborted at his West Philadelphia clinic.
Gosnell is on trial for third-degree murder of Mongar and first-degree murder in the deaths of seven babies. However, one staffer, Adrienne Moton, admitted under oath that she snipped the spines of at least ten babies whom Gosnell prematurely forced to be born. One infant was so big, he reportedly joked that it could walk to the bus stop on its own. Moton, a woman with no college education or medical training, administered anesthesia and assisted in abortions. For that, she earned about $10 an hour (which was off the books), to perform sonograms, administer drugs, and dispose of fetal remains. Workers reportedly received $20 bonuses for second-term abortions on Saturdays.
During the trial, another teen said she was given abortion drugs in Delaware then sent home for two days. When the pain became excruciating, she was directed to Gosnell's West Philadelphia clinic, but the pain only worsened. Her aunt paid Gosnell $1,300, but they still did not tell her mother. "I never felt pain like that, ever," she said, adding, "I couldn't talk to anybody and tell anybody." Now, she is testifying in open court that she ended up being hospitalized for two weeks for a large abscess and a blood clot near her heart. Prosecutors say she is one of many patients injured during botched abortions or due to unsanitary conditions.
"The unrepentant Gosnell evidently preyed upon desperately poor women, teens who were to ashamed to talk to their parents, and women who were abandoned," said FFL President Serrin Foster. "But let's remember a variation of this happens thousands of times a day across the country. The fact that most unborn children are younger and smaller doesn't mean that they — or their mothers — are less valuable. Either way, they don't have a chance without our help. We have to do more to reach those at highest risk, especially the poorest among us who are such easy targets."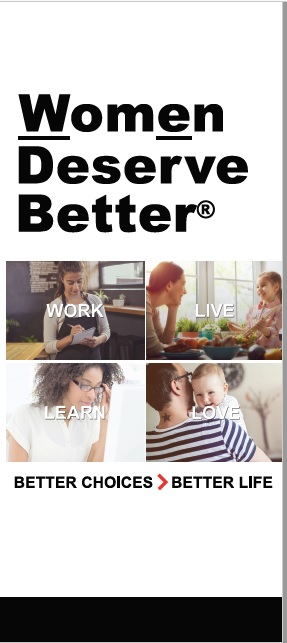 WomenDeserveBetter.com is our online resource for women in need. Help a woman Work, Learn, Live, and Love better throughout her adult life. Share this valuable resource in your community; in your workplace; on campus with service providers; and at women's and pregnancy resource centers, health providers offices, pharmacies, and elsewhere!
Sold in packs of 25 brochures. Order here!