As Feminists for Life, we believe in the worth of every human being and recognize that all people are not treated equally. We recognize their pain and cry out for justice for George Floyd and countless others who have lost their lives.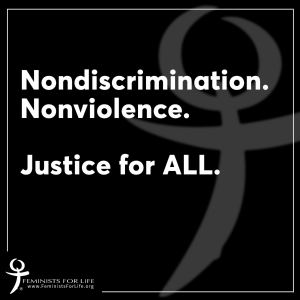 We also lament the violence against innocent bystanders who have lost their place of employment or business, thereby losing the ability to feed their families and oftentimes the people in their community who depend on them to be open.
We mourn those who have been injured or even killed in the aftermath of this grave injustice.
We also feel for those good police who truly want to serve and protect and are paying the price for those who violated their oath.
"As advocates of life, peace, and justice, as Feminists for Life, we will never trade one form of violence for another." (From "The Feminist Case Against Abortion")
May Peace Begin in the Womb® — and spread throughout the world.
Serrin M. Foster
President
Feminists for Life of America
Editor-in-Chief
Women Deserve Better
& The American Feminist