We Remember FFL Co-Founder Cathy Callaghan
It is with great sorrow and regret that I announce that one of our FFL co-founders, Cathy Callaghan, passed away on March 16, 2019. I first became worried when her spring mailing came back with no forwarding information. The staff could not find anything about her online for some time.

When I contacted Pat Goltz, our other FFL founder, to inform her of Cathy's passing, Pat shared with me how she met Cathy over a judo mat — and that Cathy went on to earn her black belt. They would then go on to co-found Feminists for Life of America in 1972, a year before Roe v. Wade and Doe v. Bolton were handed down by the U.S. Supreme Court.
Pat shared more about the founding of FFL with Cathy, which will be included in FFL's 50th Anniversary The American Feminist® issue in 2022. But I wanted to share this passage about Cathy from Pat with you now:
She told how rape was unthinkable among Native Americans because if a man raped a woman, the rest of the women in the village took him out of the village and took care of him (she left what that meant exactly to my imagination).
She would also say, "The right to choose? Choose what? Finish the sentence!"
And she told another story to explain why we should try everything to defeat abortion, and not just choose one solution. It goes like this: The family was meeting with the undertaker, and he asked them, "What should I do with the body? Cremate it, bury it, or send it back home?" And the relatives answered, "Take no chances. Do all three."
The one and only time I met our co-founders was in 1997 for FFL's 25th anniversary. Cathy is shown here below on the right with co-founder Pat Goltz on the left and then-Board President Rosemary Bottcher in the middle.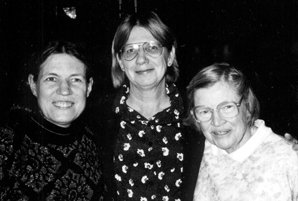 I talked to Cathy (who always asked about Pat) from time to time by phone, and I sent her frequent notes with our mailings, repeatedly thanking her and Pat for co-founding FFL, and telling her what an honor it is to work to fulfill their mission and vision of the first wave feminists.
Before contacting Pat with the news of Cathy's passing, I was also able to track down her dear friend, Brenda Crouthers, who was her roommate earlier in their lives and maintained a friendship. It was Brenda who confirmed it was "our" Cathy Callaghan who had passed. Brenda told me that after Cathy had a stroke and was put on a feeding tube, the doctors had wanted to let Cathy go, but Brenda knew that Cathy would have not wanted that. True to form, Cathy was a fighter. She got better and was taken off life support and began speech therapy. Eventually, Cathy left the hospital and went into assisted living where Brenda visited her. On March 15, in anticipation of St. Patrick's Day, Brenda brought Cathy a gift. The next day, Cathy passed.
Brenda has Cathy's papers and writings and agreed to send me any FFL related documents, news clippings, photos, etc., for the FFL's archives at the Arthur and Elizabeth Schlesinger Library on the History of Women in America, headquartered on the former campus of Radcliffe College. Now part of Harvard University, it is regarded as the most prestigious women's archive in the world. FFL was the first pro-life group invited to donate to the archives.
Cathy was a professor who taught linguistics at Ohio State University. Cathy's life's work was primarily documenting the native language of the Lake Miwok People, a branch of the Miwok, a Native American people in California. Her work to document the language, which is moribund or possibly now extinct, will be donated to the University of California at Berkeley.
You can watch an interview of Cathy discussing her work in the video below (from 1:09 on):
At 87, Cathy had outlived her family and died alone. There was no memorial service. But in so many ways, FFL was "her baby."
It is up to us to carry on the legacy begun by Cathy and Pat. Memorial tributes may be made in her name to Feminists for Life to help fulfill her vision.
P.S. While I wish Cathy could have been with us for the Centennial Celebration of the 19th Amendment in 2020, and Pat lamented that Cathy did not live to see FFL's 50th anniversary celebration, I encourage you to take a moment and read Rosemary Bottcher's interview with Cathy on the occasion of Feminists for Life's 25th anniversary.