Many people think "abortion liberates men." When I first came to FFL in 1994, I was the executive director in the new D.C. office and had inherited a brochure by that name.
It was the days before recycling and the first item to end up in the trash bin.
Soon after, a young man came without notice to my office. At first, he said he was there to volunteer. I told him I was rushing off to a meeting on the Hill and asked if we could meet about this later.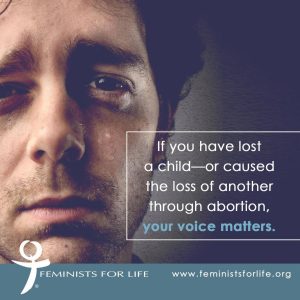 He burst into tears saying, "Today is the 10th anniversary of the death of my child." He was at a military college. His fiancée was at a women's college. His school forbade him to stay if he had a child. So his parents asked how could he support himself if he didn't graduate and become an officer. Her brother said they could have other children, as if siblings are identical to one who has died.
So she went to New York for an abortion at five months pregnant. "It was a boy," he told me through his tears. He called himself a coward.
This article does a great service to a subject that needs revealing: the impact of abortion on the teen or man who is afraid of the responsibilities, who may even coerce a woman or girl into an abortion, or who may desperately want his child. Like women, men have their own struggles and stories to tell, including those men who think their unborn child's remains might have been found among the remains of more than 2,200 hidden as trophies in an Illinois barn.
As Feminists for Life, we believe in equality. And men shall not be excluded from the discussion — and solutions.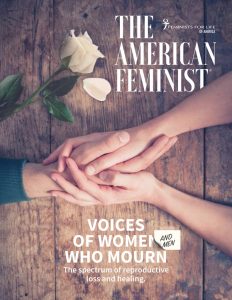 I invite you to hear the voices of men who mourn in this important article. You can also read "Voices of Women — and Men — Who Mourn," our powerful issue of The American Feminist, by going to our Covetable Stuff(SM) page.
Because men deserve better, too,
Serrin M. Foster
President
Feminists for Life of America
P.S. Check out WomenDeserveBetter.com for men's rights and responsibilities and other tips for dads. If you wish to support our advocacy for the most vulnerable, including honoring fathers, please consider donating.
P.P.S. See our many events across the country here. If you are interested in hosting an FFL Speaker for a pregnancy resource center, right-to-life, or diocesan respect life event, please contact us now, as our calendar is filling up quickly.