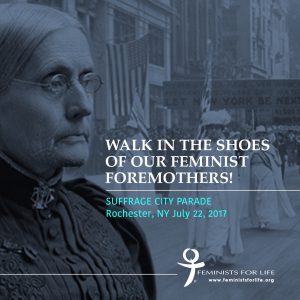 Feminists for Life of America has been invited to join the Suffrage City Parade — under the theme "Because of Women Like Her" — in Rochester, NY on July 22. You are invited to gather at 9 AM at the Riverside Convention site at the corner of Court Street and Exchange Boulevard. The parade starts at 10:30.
The Susan B. Anthony House and Museum is organizing this effort. Feminists Choosing Life Action will be carrying a banner: "Celebrating 100 Years of Pro-Life Feminism." Feminists for Life will be walking with them. Please RSVP with either Kelly or Caroline (see below).
Please come to celebrate this historic occasion (but please do not bring your own sign).
To RSVP, call:
Kelly- 585-747-5507
Caroline- 585-305-9547
Or via e-mail: FeministsChoosingLife@gmail.com