Molly Pannell is a former FFL staffer, past editor of The American Feminist, WomenDeserveBetter.com contributor, and mother. She and her husband, George, are the parents of six children, ages 3 to 17: three girls and three boys. Their 8-year-old daughter has a rare genetic condition that causes intellectual disabilities and serious medical conditions. Molly was kind enough to sit down with us to discuss her experience as the mother of a child with special needs:
Q. Learning that your child will have special needs can initially be quite a shock. What resources, including other parents of children with special needs, helped you to grow into your role as a parent so that you could best support your child?
A. Honestly, for us it wasn't too much of a shock. I have a sister with multiple disabilities so for me, having a family member with disabilities always seemed like a possibility.
And I must say that my daughter's needs are not "special." Her needs are the same as any other child's: education, food, clothing, medical care, friends, understanding, and love. She accesses these things in a variety of ways that are not always typical, and her medical care is definitely complex. But her needs are not special. The example of my parents and extended family definitely helped me develop as a parent of a child with disabilities. Growing up seeing them welcome and accept people as they are laid the foundation for me to welcome my daughter and other people with disabilities. As a parent, I've also found great support and resources from other parents of children with disabilities. These parents have been there, done that, and share information on a variety of topics from the mundane (where to find a specialized toothbrush for a sensory-sensitive kid) to the emotional (coping with a bad IEP [Individualized Education Program] meeting or being worn down from constantly having to advocate for basic services for your child).
Q. What resources help you now (e.g. assistive learning curricula, assistive devices, websites)?
A. We benefit greatly from a program in our city that provides loaner hearing aids for children. Most private insurance companies do not cover pediatric hearing aids. Hearing aids cost from $4,000 to $8,000 for a pair. The loaner program helps children have access to sound while giving parents time to complete the often lengthy process of applying for Medicaid for a child with disabilities. (Medicaid will cover hearing aids.)
We are also so very thankful for the excellent special education coordinator and teaching staff at the public charter school our daughter attends.
Q. What is a challenge you face as a parent that could be remedied by more outside awareness and support?
A. In a very broad way, I wish other people realized just how much parents of children with disabilities carry with us. Parents of children with disabilities and medical conditions carry what a friend and fellow parent of a medically complex child calls "The List." We carry The List with us in our heads and on our hearts at all times. It never goes away. The List contains the very possible medical emergencies that our kids could face, their allergies, their favorite foods, their medications, their physical limitations, their intellectual challenges, their favorite TV shows, worries about their future health, safety, and employment.
When parents of a typical child worry about their child falling on the playground, for example, they may worry about a skinned knee or, at worst, a broken arm. I worry about a skinned knee, a broken arm, a shunt knocked out of place (requiring a surgical replacement and long hospital stay), or an already severe brain malformation being aggravated by the fall. My fears are not dramatized or overblown. My daughter recently spent nearly two weeks hospitalized and had three surgeries all because of a tiny break in her skin that ended up exposing the tubing from her shunt.
So when a parent of a child with disabilities seems tired or overwhelmed, it's likely because in addition to all the ups and downs of parenthood, we also carry The List and all of its scary possibilities with us. And while other people can't do anything to alleviate The List, it would be helpful for them to acknowledge that we are carrying a lot.
On a more practical level, it would be wonderful if people reacted to my daughter's frequently unusual behavior with a smile, or a polite question, instead of staring. It seems like such a simple thing, but it really goes a long way.
Although my daughter does not have mobility challenges, I have heard from parents of children who use wheelchairs that they welcome and greatly appreciate other people speaking up against abuse of parking spots reserved for those with disabilities. Again, such a simple thing, but it makes a huge difference for parents.
Q. Have you seen any positive changes in how the world interacts with those who have special needs?
A. Yes, but there is still so much work to be done!
Q. What are the joys of having a child with special needs?
A. Oh, gosh! So many! My daughter brings joy everywhere she goes. She has given our entire family the gift of accepting and loving people as they are. Our daughter also has a zany sense of humor, which has led to many laughs around the dinner table.
Q. You are a caretaker of your child in a special way. What are some things your child has taught you in return?
My daughter is strong, resilient, and hard-working. She doesn't let challenges get in her way. Her unique perspective reminds me to be curious about the world.
Q. Many expectant parents, when they learn that they will have a child with special needs, are encouraged to abort and "try again." Do you have any encouragement for parents in such a situation?
A. I would encourage parents to remember that they do not have to make a decision immediately. I have heard many stories of doctors who give parents a prenatal diagnosis of disability and immediately offer to schedule an abortion. Parents, take time. This is huge news, and you do not need to make a decision immediately! If you can, meet some people who have the disability your baby has. Meet their parents, families, teachers, friends. These people can give you a more accurate picture of what their actual lives are like. If you can't meet in person, do it online.
Q. As pro-life people, we believe all life is precious. But what can the pro-life movement do to help better the lives of children with special needs and those who take care of them?
A. First, realize that Medicaid is not a dirty word. Seriously, so many families would be financially ruined by the costs of surgeries, hospitalizations, therapies, equipment, etc. without Medicaid and the Katie Beckett waiver program.
Hosting a pro-life speaker on your campus or in your community? Make sure ASL interpretation is available. Make sure the building and the event space are wheelchair accessible.
Respect the individuality of people with disabilities. Include them. Ask for their opinions.
Reach out to parents of children with disabilities and ask if they have specific needs you can help with.
Finally, lawmakers were able to work across party lines just last year to pass the RAISE Family Caregivers Act, which will require the federal government to develop a national strategy to address the needs of family caregivers, including those supporting people with developmental disabilities. We can do this at every level, starting in our own communities.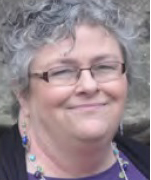 Cheryl Blake is a mother of four grown children and the grandmother of three girls and a boy. She is a retired high school teacher, an adjunct professor, and a published freelance writer with some experience on a small newspaper covering town council meetings. As a volunteer tutor, she has prepared adults for the high school equivalency test and is currently helping some Burmese refugees meet the challenges of the English language. She holds a master's in English from the University of Houston and master's of public administration from Southern Illinois University Edwardsville.
To find more help for parents and how you can help, purchase your copy of Breaking Barriers here.
What else can be found in Breaking Barriers?
Introduction- Serrin M. Foster
WORK: Life As a Student Parent to a Work-At-Home Mom- Bethanie Ryan
LEARN: Disabled on Campus- Tatiana Federoff
LIVE: How the Health Care Crisis Costs the Most Vulnerable- Kellan Monroe
LOVE: When Your Child Has Extra Needs- Cheryl Blake
Fostering Love- Alanna Morgan
ALL: Hear the Deaf- Joyce McCauley-Benner