Did you know that a single bumper sticker can reach hundreds of people every day, thousands of people every week, and perhaps even millions of people over years, depending on how many miles you drive your car, plus traffic density?
With that in mind, we wanted to help you kick off the new year in style and invite you to purchase one (or more!) of our pro-woman, pro-life bumper stickers today.
They are perfect for your car, laptop, locker…
…and one of our clever donors even put her "PEACE" sticker up in her front porch window!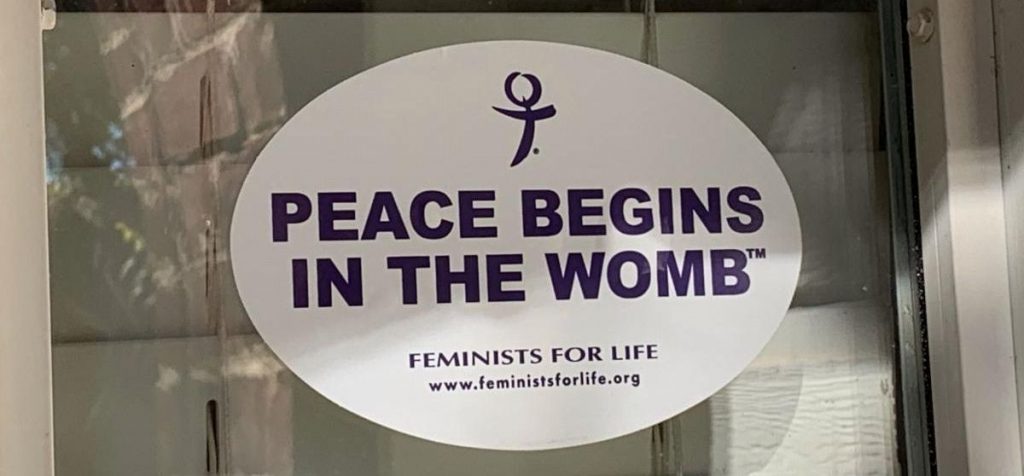 As we begin 2021, we also think about marching in the footsteps of our feminist foremothers, figuratively and literally, with Roe events underway nationwide.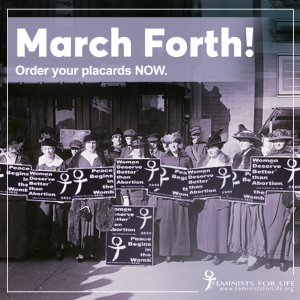 It's not too early to plan for Roe. It sneaks up on us very quickly after every New Year's, and we simply can't afford to rush shipments.
If you are planning to attend the D.C. March for Life on Friday, January 29, order your placards today so you can bring them with you to our nation's capital.
Please let us know if you're taking part in an event in your area. You can order placards individually here.
And if you are willing to distribute them in your area, we can provide 20 FREE placards if you would feel able to cover shipping and handling costs, which are $30 because of the weight. Please contact us for ordering and payment.
If you're recycling your placards from last year, please let us know!
Either way, please take a picture of your group with our placards — we'd love to see them!
Finally, if you are choosing to show your support for women and children at in-person demonstrations, we ask that you take precautions and stay safe. We are pro-your life, too!
And if you do not feel comfortable taking part in Roe events in person this year, you can still watch many pro-life events, including the D.C. March for Life — which will be livestreamed as well as air on EWTN — in addition to many other events across the country.
As we start what will be another challenging — but hopeful — year, I thank you.
Because women deserve better,

Serrin M. Foster
President
Feminists for Life of America
Editor-in-Chief
Women Deserve Better
& The American Feminist
P.S. In addition to bumper stickers and placards, check out our other Covetable Stuff(SM), much of which makes great gifts for friends and family, especially for those who are college-bound!