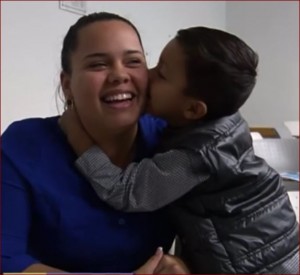 I want you to see for yourself what Feminists for Life has been able to do with support like yours for collegians at high risk of abortion.
Click here to see EWTN's coverage of the 20th anniversary FFL Pregnancy Resource ForumSM held at Georgetown University.
I want you to see for yourself how we've been able to help women choose life, graduate, become employed, and how truly happy and grateful these women are!
I want you to see for yourself a few of the precious children who are alive and supported because you invested strategically in our work.
It is only because of your sacrifice that we can send kits to campuses, provide speakers and moderate FFL Pregnancy Resource ForumsSM. It is because of you that we have a new website Raising Kids on a Shoestring to get moms, dads, birthmothers and children the help they need and deserve.
This is hard work — but joyous and rewarding work. Those we served decades ago now have college-age children. Please, help us make life better for those at high risk right now. We could really use your help, and mothers at risk can use ours.
Kids on a Shoestring was an earlier iteration of our helpsite Women Deserve Better. Learn more about Women Deserve Better at womendeservebetter.com