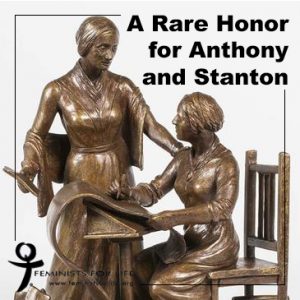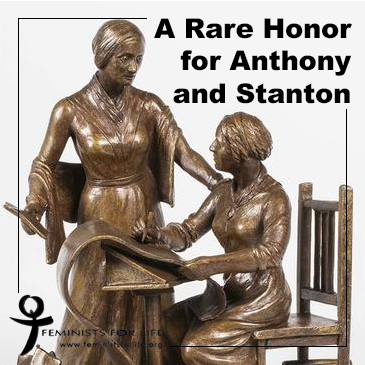 Alexandria, VA — Pro-life publisher Susan B. Anthony and Elizabeth Cady Stanton, the pro-life feminist known as "the mother of the women's movement," will be recognized for leading the first wave of the women's movement in a statue in New York City's Central Park. While Anthony was born in Adams, Massachusetts (and whose birthplace is now owned by Carol Crossed), both led the movement as adults in upstate New York.
"Feminists for Life is thrilled that these two women will be the first to be depicted in a Central Park statue. After nearly 150 men have been honored throughout the city, it is about time with the 2020 Centennial Celebration of the 19th Amendment," FFL President Serrin Foster said.
Foster had the privilege of speaking in Seneca Falls, New York on the 150th anniversary of the Seneca Falls Convention in 1998. She also had the honor to attend the rededication ceremony of the Portrait Monument in the rotunda of the U.S. Capitol, along with FFL Vice Presidents Jane Sullivan Roberts and Jeannie Pryor in 1997.
Feminists for Life of America is responsible for first revealing that our feminist foremothers were pro-life after our co-founder Pat Goltz learned from Alice Paul that FFL was not the first pro-life feminist movement — that the early American suffragists were pro-life, too.
Paul will grace the reverse side of the $10 bill, along with pro-life suffragists and abolitionists Susan B. Anthony, Lucretia Mott, Elizabeth Cady Stanton, and Sojourner Truth. Two years ago, FFL petitioned the U.S. Treasury to ensure that the bills will be in circulation in time for the Centennial Celebration of the 19th Amendment on August 18, 2020.
We appreciate your support as we work to reveal the unrealized vision of Susan B. Anthony to address the root causes that drive women to abortion. The school year is approaching. We must be ready. Abortion providers are.