Uncategorized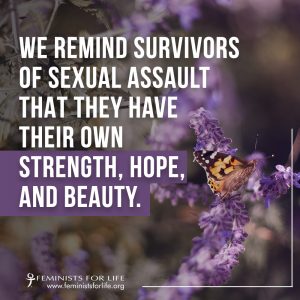 I recently was told the other day that I had changed dramatically since the day this person met me, many years ago. She noted that it was in the way I carried myself, how I presented myself, my style, and my confidence. She was genuinely curious what caused my transformation. I was genuinely floored by her comments. They were entirely complimentary, and I indeed thanked her, but I must admit I had to think hard about my answer.
As a victim and survivor of sexual assault, I spent many years working on my recovery and healing. I know I have done hard work, but it took her comments to stop me in my tracks and realize just how far I have come. The idea of transformation is often linked to the journey of the caterpillar to her destiny of becoming the butterfly. Often, we are victims first, dealing with the pain of the trauma. This is the most intense phase. We identify as victim, and often do more harm to ourselves because we don't see our beauty or worthiness, just our "damaged goods." Eventually, with healing and support, we move to survivor. I liken this to coming out of the cocoon. We start to see our wings, and that we are something beautiful. We rise above the injustice. I thought the journey ended there.
When my friend made the comment to me, I realized there is another transformation. Not only do I see my wings and beauty; I use them. I do not fear; I fly. I travel, hoping to drop whispers of this realization on the caterpillars still traveling.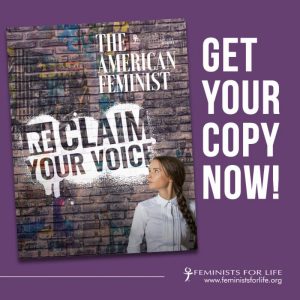 It is appropriate that Sexual Assault Awareness Month comes in spring every April. While it is about raising awareness of a horrendous injustice, it is also about rebirth from a wicked winter.
I told my friend that my transformation came from a deep place of appreciation. Appreciation of the darkness, which gave birth to my light. Appreciation of my scars that add beauty to my design.
There was a time when I would have scoffed at my own words here. It's important to recognize everyone's step in the journey. We are all in different places. What is most important is that:
• we recognize the injustice and everyday reality of sexual assault, that

• we seek full funding and availability of resources and support, that

• we call for justice and accountability for victims, and

• we remind survivors of their own strength, hope, and beauty.
Because we deserve better.
Joyce 
| | |
| --- | --- |
| | |
PS: Please join or renew your support now to get the next special issue of The American Feminist titled "reCLAIM YOUR VOICE." It is one of the most insightful, hopeful, and healing documents to come out of the #MeToo movement as we connect the dots in this culture of violence as only FFL can. Thank you for supporting our work for the most vulnerable.
Feminist for Life President Serrin Foster Will Make
THE FEMINIST CASE AGAINST ABORTION
at St. Thomas More Family Life Center on April 19, 2016
Serrin Foster, President of Feminists for Life of America, will deliver "The Feminist Case Against Abortion" at a wine and cheese reception on April 19th, 2016 at the Family Life Center adjacent to St. Thomas More Church in Pittsburgh, Pennsylvania. Her landmark speech has been recognized as one of the "great speeches in history" in an anthology called Women's Rights. Serrin is the creator of the Women Deserve Better® than Abortion campaign.
Founded in 1972, Feminists for Life is a national nonsectarian and nonpartisan pro-life organization that works to fulfill the unrealized goal of Susan B. Anthony and other early American feminists to systematically eliminate the root causes that drive women to abortion by facilitating practical solutions.                                                             
Serrin has led Feminists for Life since 1994. Under her leadership, FFL successfully advocated benefits for poor and pregnant women through the State Child Health Insurance Program, and helped to prevent poverty and coerced abortions due to threats to withhold child support through passage of the Enhanced Child Support Act. Most recently, FFL created a website, Raising Kids on a Shoestring, to help women at highest risk of abortion—including women with dependents—find free, frugal, and creative solutions.
Serrin served on the National Task Force to End Sexual Assault and Domestic Violence Against Women, which worked to pass the Violence Against Women Act, and she also testified before the U.S. House Judiciary Committee in support of the Unborn Victims of Violence Act, also known as "Laci and Conner's Law."
She has focused on developing on-campus resources and support for underserved pregnant and parenting students and is an outspoken opponent of pregnancy discrimination. In January 1997, Serrin moderated the first-ever FFL Pregnancy Resource ForumSM at Georgetown University, which became a model for the country, and in 2010 became the basis for Pregnancy Assistance Fund grants awarded by the U.S. Department of Health and Human Services.
Serrin's efforts earned her an honorary doctorate from Belmont Abbey College in 2008.
Serrin has been interviewed by ABC News, CBN, CNN, EWTN, and FOX News, Chicago Tribune, Los Angeles Times, The New York Times, NPR, The Washington Post, The Washington Times, and CNN International, RTÉ, and many other news outlets.
The wine and cheese reception is sponsored by the Women Deserve Better Committee of Pittsburgh. The event is free and open to the public. Minors must be accompanied by a parent or guardian. A free will offering will be taken. Please RSVP via e-mail to info@feministsforlife.org.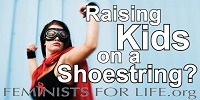 As you may know, women seeking abortions often cite lack of financial resources to raise a child. Feminists for Life is updating "Raising Kids on a Shoestring," a print and online resource that has helped thousands with innovative and time-tested ideas for raising children on a budget. This highly popular issue of The American Feminist offers suggestions, from sources for affordable clothing and school supplies to low-cost family outings and celebrations.
If you want to make a real impact as a volunteer, FFL is seeking exceptional writers able to work on assignments in the next few weeks. Qualified candidates will have outstanding research, interview, and writing skills. Authors need to support FFL's mission to systematically eliminate the reasons that drive women to abortion–primarily a lack of resources and support–and must approach the assignment as pro-life feminists. Published authors preferred. Ability to meet deadlines an absolute must. NOTE: This is a volunteer position.
Send resume and links to writing samples to editor@feministsforlife.org. If you are chosen, FFL's editor will contact you and send a writer's agreement which gives FFL copyright in all mediums. If you have a personal story, please include it in the cover letter, as it will help with assignments. If such personal information is confidential, please make that clear.
Thank you!

Thursday, October 24, 2013 – 7:00pm
St. Louis University – Busch Student Center, Wool Ballroom
FFL Vice President Sally A. Winn will present her lecture, "Refuse to Choose: Reclaiming Feminism."
St. Louis, MO