We Remember Nat Hentoff
June 10, 1925 – January 7, 2017
By many accounts, Nat Hentoff "should not" have been pro-life. He was, after all, an atheist civil libertarian whose social circle heavily overlapped with the urban crowd who saw his passionate defense of the unborn as quixotic at best and offensive at worst.
Needless to say, we as pro-life feminists had much empathy for his position.
Always eclectic and outspoken, Nat's original claim to fame was, of all things, jazz criticism. He wrote for The Village Voice for over five decades, departing the publication in 2009 and continuing his music column at The Wall Street Journal up until his final days. In 2004, Nat was the first non-musician to be named a Jazz Master by the National Endowment of the Arts. Nat's unapologetic advocacy for unborn children earned him the honor of receiving a Great Defender of Life award from the Human Life Foundation in 2005. In 2014, a documentary based on his life was released: The Pleasures of Being Out of Step: Notes on the Life of Nat Hentoff.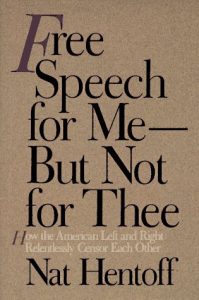 And being out of step was something in which Nat absolutely relished.
Nat's belief that personhood extended to children in the womb was part and parcel of his consistent life ethic philosophy. An ardent opponent of capital punishment, Nat embraced Feminists for Life's nonsectarian, nonpartisan ethos, repeatedly lavished praise on our work (including you, our "bold, witty, crisply intelligent members"), and noted our willingness to partner organizations with whom we disagreed on abortion to oppose penalties against women on welfare who had "too many" children.
"Nat Hentoff will long be celebrated as a unique voice for the unborn, but he should also be remembered as an advocate of pro-life groups like Feminists for Life when people tried to silence us," said FFL President Serrin Foster. "We hope that through his writings, he can inform and inspire future generations of journalists who refuse to fit into a ready-made box."
In the wake of so many prominent sudden deaths last year — including the loss of our beloved former Board member and art director Lisa Toscani — it may be tempting to mourn Nat as another wonderful soul taken far too soon. But this sentiment would undercut the full, rich, long life Nat lived. According to his son, Nick, Nat died surrounded by his family listening to Billie Holiday — the people and passion he held so dear to his heart. Nat's was truly a life well-lived, in no small part because he dedicated so much of it to the protection of the lives of others.
Damian J. Geminder
Editor