Hear what they're saying about Feminists for Life's dynamic pro-woman, pro-life speakers:
FFL President Serrin Foster, "The Feminist Case Against Abortion":
Serrin's landmark speech has been recognized as one of the "Great Speeches in History" in an anthology called Women's Rights.
"From the moment she walked through the auditorium doors, Foster immediately commanded the attention of all and presented herself as a warm, friendly person. She smiled and kindly greeted the first person she saw as she bustled into the room. Foster asked her what her name was, shook her hand, and proceeded to greet every person in the room and thanked them for being there. She then went around and asked why everyone decided to come to her talk tonight and showed genuinely interested in what each person had to say. This first impression Foster gave to the audience set the tone for the rest of the night...
"

After sharing about the accommodations that Georgetown and other schools like it have made, Foster then asked the audience if they knew of any resources Catholic University has for pregnant students. Everyone timidly looked around at each other and shook their heads. Foster then asked if anyone would be interested in having one of these forums here at Catholic. Immediately, every hand in the room went up.
"

Foster's talk differed from a typical pro-life talk because she pointed out the failing of the community to provide resources and support for women with unplanned pregnancies. This point is something that both pro choice and pro life supporters can both agree on and where they can come together to find solutions.
"
—Theresa Whitfield, Catholic University of America (March 2019)
"The lecture was awesome! Serrin did a great job of connecting with students, regardless of their views. Students who disagree with the pro-life message still enjoyed hearing about the origins of the feminist movement and expressed their excitement at the common ground they realized they have with the pro-life movement…. Serrin also reawakened passion for the pro-life cause in our group and provided a new perspective on the pro-life movement by focusing on the mother and her needs."
—Rebecca Boak, College of William & Mary, VA (March 2019)
"Serrin's lecture was the biggest turnout for an event our club has sponsored. I loved how friendly Serrin was with students before and after the lecture. Serrin is a dynamic speaker and makes a compelling argument."
—Maddie Davin, Wheeling Jesuit University, WV (November 2017; it was their largest event ever!)

"The lecture was an excellent opportunity for our students to hear a pro-life argument not based on religious principles, and therefore easier to present to non-religious students on campus…. [We most liked] her sincerity and passion, her ability to show clearly the real meaning of feminism, and her conviction balanced with compassion."
—John More, George Mason University, Fairfax, VA (October 2017)
"Serrin's talk is great for a feminist crowd and will definitely open conversation on your campus!"
—Cassidy Roderick, Franciscan University at Steubenville, OH (November 2017)
"FFL moves the discussion from generalities to specific, very human contexts. Linking the life movement to the civil rights saga was brilliant and informative. I would recommend her as a speaker to leaders at other venues without hesitation."
—Father Randolph Geminder, Saint Mary's Anglican Church, Amityville, NY (October 2017)
"The event was such a success! Your speech was stirring, and engaging, and was the absolute highlight of the event…. We are getting feedback from attendees about how much they loved your speech, and also how it was helpful for them practically. Thank you!!"
—Ifeoma Anunkor, One Spring Night, The Human Life Review, New York, NY (June 2017)
"Several people pointed out certain things that shocked them, that they never heard of before, and/or that really stuck with them, such as the pro-life stance of the first feminists and the fact that most women getting abortions already have kids. They were uplifted and inspired to do more!"
—Heather Gardner, Ladies for Life Brunch, Benefit for Central Texas Coalition for Life, Austin, TX (May 2017)

"Ms. Foster is really wonderful and interesting and can draw a crowd even on a campus that is not traditionally very actively pro-life. This is a great bridge between feminist groups and the pro-life groups."
—Katharine Britton, University of Virginia, Charlottesville, VA (April 2016; it was also their largest event ever!)
"Ms. Foster was very passionate about what she was talking about which made her presentation even more powerful…. I think [her speech] reaches all kinds of people and spreads the message that feminists are pro-life."
—Emily Hacker, St. Norbert College, De Pere, WI (April 2015, after Gloria Steinem spoke the prior week)
__________________________________________________________________
Speaker Joyce McCauley-Benner, "Pregnant by Rape? Victory Over Violence":
"Victory Over Violence" is Joyce's personal is story of being raped and discovering she was pregnant while working her way through college and not knowing if the father was her boyfriend or the man who assaulted her. See below for her other speech.

"Our Boots on the Ground [Conference] evaluation was rated with numbers, and Joyce had some of the highest ratings, for sure. She was most people's favorite. I think it helped to have her kind of talk be the very last talk, because her message is so hopeful."
—Veronica Arnold Smither, Boots on the Ground Conference, University of Texas at Austin (January 2017)
"Sometimes, it's hard to be both pro-life and pro-women. I think it was important for people to understand how we can be both."
—Emily Lambert, St. Mary's College, Notre Dame, IN (November 2016)
"The lecture helped us solidify our pro-life community here, as well as providing a space for people from all sides of the [abortion] issue to have civil dialogue about it."
—Caroline Priore, St. Olaf College, Northfield, MN (September 2016)
Speaker Joyce McCauley-Benner, "Slaves Among Us: Sex Trafficking in the U.S.": For the past 15-plus years, Joyce has worked as an advocate for vulnerable populations, including sex trafficking victims, domestic violence victims, and low-income families. While working with those populations, she was a case manager, researcher, and legal advocate. Joyce weaves her personal story of pregnancy after rape along with experiences from her advocacy efforts to help audiences understand the powerful connection between the exploitation of women and the exploitation of abortion.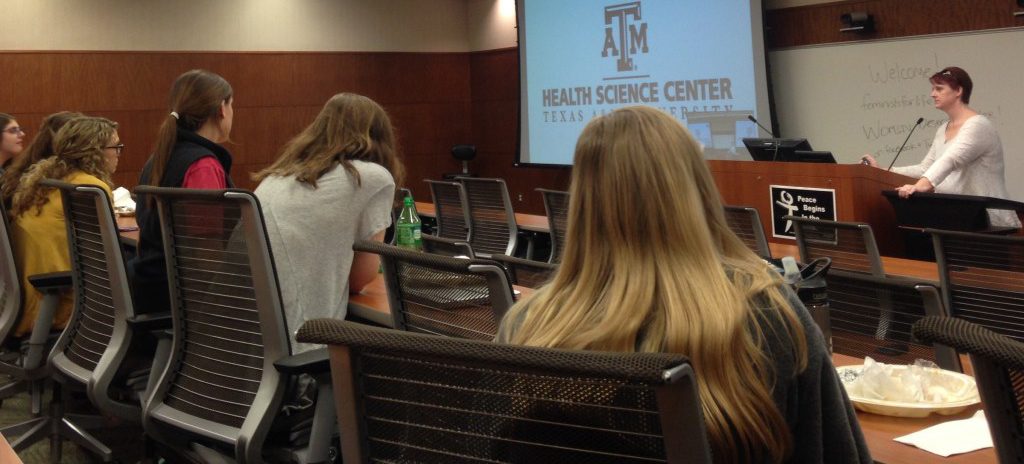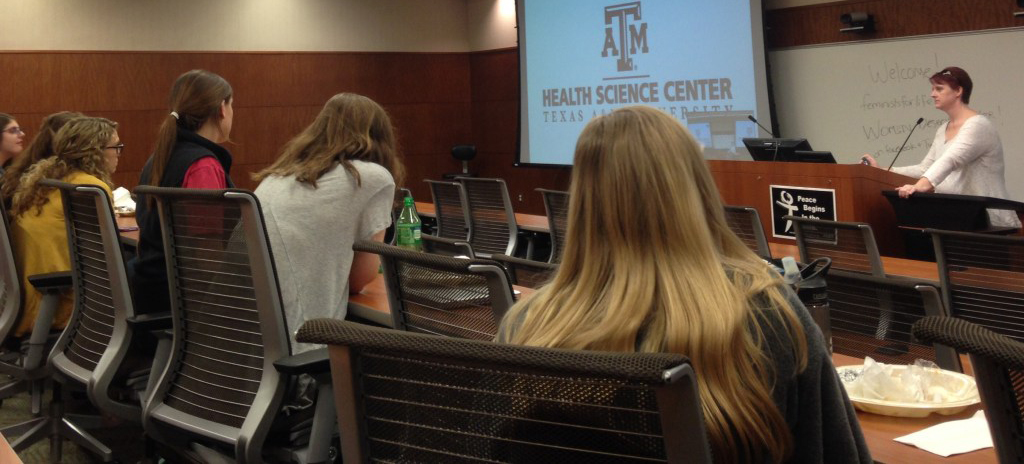 "The sex trafficking talk was EXCELLENT…. It's really great to have a feminist speak about respect life issues because it draws both pro-life and pro-choice students in…. I liked most the fact that pro-choice students who attended got to listen to a real feminist who is also pro-life!"
—Frances Dijeh, Texas Tech University (January 2017)