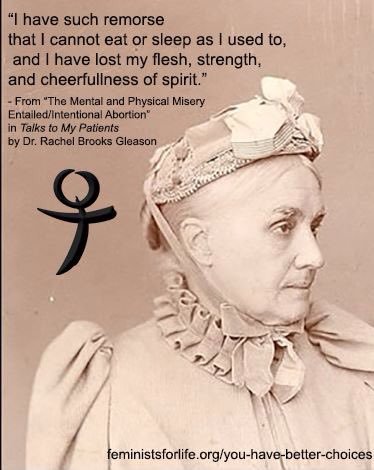 Dr. Rachel Brooks Gleason (1820-1905) was a largely self-taught physician who assisted her husband, Dr. Silas O. Gleason, in allopathic medicine. The couple successfully appealed for women's admission to Central Medical College, and, in 1851, Rachel became the fourth American female medical doctor; both her daughter and her sister would also become physicians. Gleason went on to pay tuition for at least 18 female medical students, fund schools for freed African Americans, and lecture publicly on health. Her book Talks to My Patients includes humane portraits of women suffering from what is now known as post-abortion syndrome (PAS).
"[A] young wife called; she had a sick face, and eyes expressive of great mental agony. 'I have done wrong,' she said … 'The doctor said he thought I was pregnant … and that he would use an instrument to bring me around all right, which would do no harm … I yielded, and have never been well since. I have had a bad leucorrhea, a weak back, pain and pressure in front, and I am so afraid that terrible instrument has done some harm which can never be cured … I have such remorse that I cannot eat or sleep as I used to, and have lost my flesh, strength, and cheerfulness of spirit.'… I have given you this instance to illustrate what I have so often seen, that the fear of injury done, and remorse for the deed, drives women almost or quite to despair. There is a peculiar look in the eye which I note, and dread the confessions of such patients when they come for consultation … I find myself the mother-confessor of many who … want to be absolved of the mental and physical misery entailed. Many are victims of a melancholy which amounts to monomania. When children die, or troubles come, they think they are being punished [for their abortion] …"

—From "The Mental and Physical Misery Entailed/Intentional Abortion" in Talks to My Patients, 1870.
By Jen Hawkins