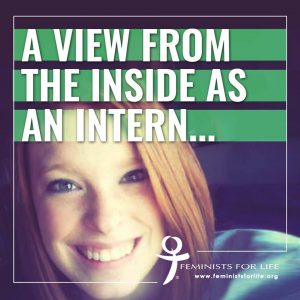 I chose to intern with Feminists for Life because I strongly believed in their mission and had a passion and desire to help those who are most vulnerable to abortion.
Over the course of the summer, I worked on:
• developing Facebook research and creating a radio media call list
• inviting students to the Capitol Hill Intern Briefing
• organizing all the interns' work for the intern briefing and all the RSVPs for the event
• going to offices on Capitol Hill and speaking with some congressional staff about FFL and their mission
• speaking about Clarion University's Pregnancy Resource Forum(SM) at the briefing
• editing The American Feminist magazine and writing articles for an upcoming project
• working on updating the college outreach program contact list
• attending and working the FFL information table at the first Annual Pro-Life Women's Conference in Dallas, Texas, and taking pictures for FFL at the conference and briefing
My favorite and most life-rewarding experiences were going to Dallas for the first ever Pro-Life Women's Conference and speaking at the FFL Capitol Hill Intern Briefing.
Whether you have been a pro-life advocate for your entire life, or just recently begun your journey helping women who are most vulnerable to abortion, Feminists for Life is the perfect place for you.
The team at FFL cares deeply about their interns and uses their knowledge, expertise, and time to help see FFL's mission become a reality through programs and resources, such as the College Outreach Program and The American Feminist. This internship will encourage you that change is possible and that help is there for women, mothers, families, and the unborn.
Thank you deeply for the opportunity to be part of such a wonderful and compassionate organization. I can't wait to see what you accomplish in the next four years leading up to 2020.
Best,
Kara
‪If you think you'd like to intern for FFL, contact us at info@feministsforlife besuchen sie diesen link.