FFL first led the revolution to identify resources (on and off campus) and to create on-campus support through policies, resources and communication strategies. Students, administrators, faculty, alums and donors can help us continue the revolution by using FFL's Tools for Schools to ensure pregnant women, expectant fathers, parents and birthparents won't be forced to choose between terminating there education to support their children.
Step 1: Assess & Plan
• Use Feminists for Life and Students for Life's joint Pregnancy Resources Guide and Survey, which has evolved over the past 20 years from FFL's original Pregnancy Resources and SurveyTM, to evaluate your campus for pregnant and parenting resources!
• Request your FREE Grow Your Group student kit—full of FREE posters, brochures, and materials, FFL's kits are perfect for back-to-school tabling.  Email coordinator@ffloncampus.org to get your kit!
Step 2:  Take Action
• Host an FFL Speaker – Our highly acclaimed speakers visit campuses across the country to share their stories and educate college audiences about our rich pro-life feminist history. They include:Birthmothers who believe that "adoption is an empowering option" for women facing unintended pregnancies
• A rape survivor who "didn't know who the father was, but knew who the mother was" and chose life for her child
• Women who faced unplanned pregnancies during college – and succeeded as both students and mothers
• FFL Pregnancy Resources ForumsSM—Take the ultimate step in transforming your campus with FFL's Pregnancy Resource Forum. FFL moderators bring together key campus policymakers and stakeholders to identify and develop resources for pregnant and parenting students. 
• Model Policies for you to share with your administrators
• Keeping Mommy on the Tenure Track – an article for faculty
• Use our proven communication strategies to raise awareness and connect pregnant and parenting students on campus, help advocate for their needs, and connect them to vital resources now.
Step 3:  Educate & Create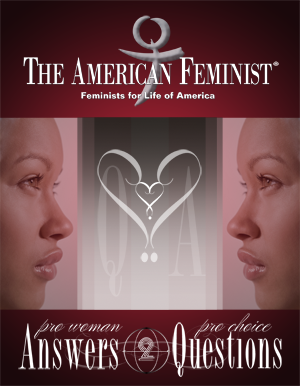 • Pro-Woman Answers to Pro-Choice QuestionsTM

• Our Feminist "Herstory" information as the original researchers of pro-life feminist history
• Exciting internships at the national office
• Striking Posters and Ads – download FREE FFL ads
• Brochures and kits for individuals and groups on campus*
• Online Student Kits with Year-Round Calendar to plan your school year*
• FFL's magazine, The American Feminist® theme issues include "Raising Kids on a Shoestring," and "Hard Cases, Exceptional Choices."
*Email FFL's College Outreach Program at coordinator@ffloncampus.org for access to these and all of FFL's FREE resources!