FFL first led the revolution to identify resources (on and off campus) and to create on-campus support through policies, resources and communication strategies. Students, administrators, faculty, alums and donors can help us continue the revolution by using FFL's Tools for Schools to ensure pregnant women, expectant fathers, parents and birthparents won't be forced to choose between terminating there education to support their children.
» Tools for Schools: Action Plan for Students and Administrators 
» History of our revolutionary work on campus:
› FFL Pregnancy Resource ForumsSM: Changing College Campuses Since 1997
› Praise for FFL Pregnancy Resource Forums and Historical Schedule of Pregnancy Resource Forums
» Perception IS Reality: Feminists for Life's nationwide study of student awareness of pregnancy and parenting resources on college campuses reveals that few students are aware that help is available on or off campus–or basic resources are yet to be developed.  › http://www.feministsforlife.org/perception-is-reality/
» Good News or Bad News? Pregnancy and Parenting Resources Make the Difference 
» "Honoring Birthparents' Choices: Support Needed for Birthparents on Campus"
» You Can Support Student Activities by Sending FFL to Campus!
» "Feminists for Life on Campus"
» Pregnancy Assistance Fund:
› Timeline: Seventeen years in the making!
› VICTORY for Pregnant and Parenting Students, Teens, and Victims of Violence
» Pregnancy Discrimination: VICTORY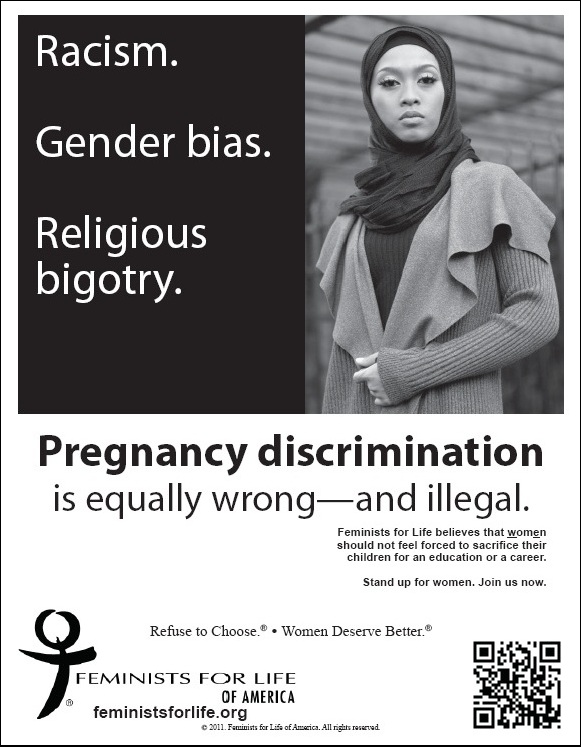 Click here to download this and the rest of FFL's striking ads!