FFL President's Report to Benefactors
Thanksgiving 2016 to Thanksgiving 2017
The following highlights our efforts in support of our mission to
systematically eliminate the root causes that drive women to abortion,
made possible — thanks to you.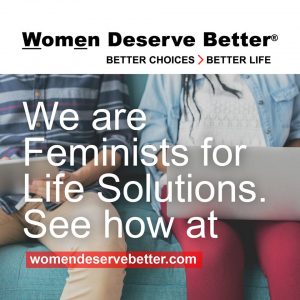 Women Deserve Better® Website:
FFL unveiled our NEW Women Deserve Better website with over a hundred articles to help women make better choices through better resources in the key areas of WORK, LEARN, LIVE and LOVE. More content is constantly being added to answer women's unmet needs and connect her to support with a uniquely feminist voice.
A new brochure for Women Deserve Better has been written and is included in the upcoming issue of The American Feminist, along with the new handout and new ad on the back cover that you are encouraged to share or download! Go to WomenDeserveBetter.com for more info and share with those in need.
College Outreach Program:
In January, FFL Editor Damian Geminder presented, "Why I Am a Pro-Life Feminist (and You Should Be, Too!) at the Cardinal O'Connor Conference at Georgetown University, in Washington, D.C. (COCC is the largest pro-life student-run conference in the country.)
During a tour of Texas in January and February sponsored by Texas Right to Life, FFL Speaker Joyce McCauley-Benner delivered "Pregnant by Rape? Victory Over Violence" at the Boots on the Ground conference held in Austin, followed by six more campus events at which she delivered "Slaves Among Us: Sex Trafficking in the U.S.": University of Texas at San Antonio, Texas Tech, Texas A&M, University of Houston, University of Texas Medical Branch, and McGovern Medical School.
Ms. Foster presented "The Feminist Case Against Abortion" at Liberty University Law School, VA, in March in the Supreme Court Room. In October, which is Domestic Violence Awareness and Respect Life Month, Ms. Foster spoke at George Mason University. FFL member and GMU graduate Johanna Young also shared her story of a coerced abortion due to extreme interpersonal violence to a packed house. In November, Ms. Foster was invited to speak at Wheeling Jesuit University, WV and Franciscan University of Steubenville, OH.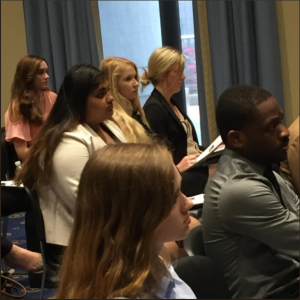 This summer, we had SEVEN amazing interns — including a law school student from Catholic University, Columbus School of Law — two from Georgetown, others from Franciscan, Christendom, Wheeling Jesuit (our first intern to return), and the University of California at Santa Barbara.
The Annual FFL Capitol Hill Intern Briefing was held

July 20

in the Rayburn Gold Room. Ms. Foster moderated the panel of six remarkable women, including a victim of domestic violence resulting in an abortion, rape victim, birthmother, student mother, student leader and Georgetown administrator.
Instead of a traditional Q&A, Ms. Foster asked for a show of hands from young women and men in attendance from across the country, political divide, and abortion debate. How many of their schools had family housing? Child care? Maternity coverage in their health plans? Few raised their hands. But when she asked how many would help us share our new website, www.WomenDeserveBetter.com; how many would take FFL's College Outreach program to campus; write about this issue; or take other action to create holistic change on campus, virtually all students raised their hands!!
Afterward, Rep. Chris Smith, who co-chairs the Bipartisan Congressional Pro-Life Caucus, privately briefed the staff, speakers, and interns on the status of numerous domestic and international issues.
This fall, Ms. Foster moderated the 22nd Annual Pregnancy Resource Forum at Georgetown University, making our efforts now generational!
FFL also sent kits across the country to student groups.
UPCOMING: On

January 20

(the day after the March for Life in Washington, D.C.), Ms. Foster will be a special guest speaker at the Cardinal O'Connor Conference at Georgetown University, where she will present "The Feminist Case Against Abortion."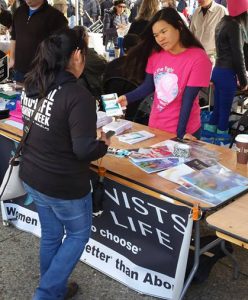 Other Public Education Events:
Staff supported events across the country, most notably the Walk for Life West Coast, providing materials to 40 bus captains, while Board Member Pat O'Kane and volunteers worked our booth at the Info Faire. At the March for Life in Washington, D.C., volunteers passed out hundreds of placards and oval peace bumper stickers.
This summer, Ms. Foster addressed the Ladies Brunch in Austin, an event hosted by the Coalition for Life on

May 5

. And on

June 1

, Ms. Foster spoke at the second annual "One Spring Night" event for collegians and young adults, hosted by Human Life Review in New York City.
She also kicked off Respect Life Month at Saint Mary's Church in Amityville, NY, on

October 1

.
Joyce McCauley-Benner presented "Slaves Among Us: Sex Trafficking in the U.S." at the second annual Pro-Life Women's Conference in Orlando, during the last weekend in June. Two of FFL's seven summer interns staffed FFL's exhibit booth. In August, she also spoke at the Consistent Life Network Conference at Eastern University in the Philadelphia area.
UPCOMING: Plan now to meet up with FFL at the March for Life and Walk for Life West Coast!
Also, Abby Johnson, founder of the group And Then There Were None, has invited Ms. Foster to present "End the Feminization of Poverty That Drives Women to Abortion!" at the third annual Pro-Life Women's Conference in St. Louis

June 22-24

!
The American Feminist®:
"MANIPULATION" revealed and analyzed Planned Parenthood's training documents and multimedia materials. We also shared the personal testimonials of former Planned Parenthood and other abortion clinic workers from And Then There Were None, Abby Johnson's outreach program to former abortion clinic workers.
"End the Feminization of Poverty" addressed ending the feminization of poverty through education, workplace initiatives, paternal support (legislation, WDB.com, child support, child care, etc.), and the poverty of spirit.
The current issue, "Beyond the Schism: Reclaiming Feminism," will explore the contemporary feminist movement from the beginning of the second wave, to the founding of FFL, to where we as the renaissance of pro-life feminism go from here (thanks to generous feedback from our supporters!), and includes a new handout, brochure, and ad for members to share.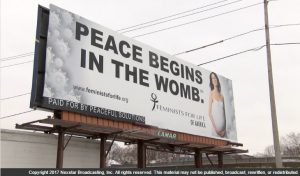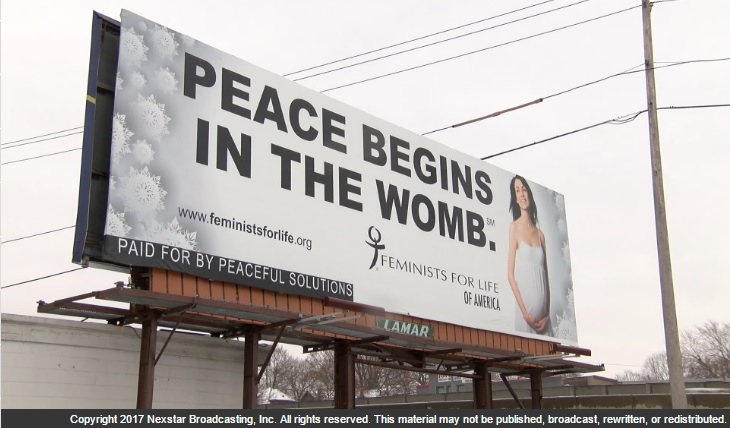 New Ads, Peace Truck, and Billboards:
We revealed our new Women Deserve Better ads in January, the first revision since the late Lisa Toscani originally designed them for the year leading up to the 30th anniversary of Roe.
Our Peace Begins in the Womb™ billboard sponsored by Peaceful Solutions displayed on a billboard in Rochester sparked controversy. Our Peace Begins in the Womb sign was also mounted and backlit on trucks that circled Long Island! And in response to "I'm grateful for my abortion" billboards by a clinic that performs abortions up to 20 weeks, three more Peace billboards were mounted in Cleveland, Ohio, thanks to former FFL-OH president Marilyn Kopp.
FFL Social Media:
In addition to pro-life feminism, topics included the petition project for women on the $10 bill, global issues, Women's History,Sexual Assault, Respect Life, Domestic Violence Awareness, Down Syndrome Awareness, National Adoption Awareness Months, and much more!
FFL in the News (Please see the news page on our website for links!)
• Ms. Foster was interviewed on EWTN's Morning Glory regarding her analysis of Planned Parenthood's internal training which was revealed in The American Feminist magazine titled "MANIPULATION."
• FFL Board member Sharon Serratore and Ms. Foster were interviewed live during the March for Life on EWTN and also by America for a video. They also did an interview with RealClearPolitics backstage.
• Channel 8 in Rochester, NY started a controversy by misrepresenting the PEACE BEGINS IN THE WOMB billboard and FFL's work. Shortly after, National Review Online noted the controversy about Susan B. Anthony's portrayal on

Saturday

Night Live. Ms. Foster was interviewed, and FFL also put out statements.
• Ms. Foster was interviewed on National Public Radio about abortion. She was the only pro-life feminist in the group of women who were interviewed.
• The March for Life republished Serrin's article about the parallels between the suffragists and today's pro-woman, pro-life activists at the March for Life.
• Ms. Foster's op-ed, encouraging women to work, not strike on International Women's Day was published by National Review Online, titled "A Way to Actually Help Women on International Women's Day."
• Ms. Foster was interviewed on Morning Glory regarding FFL's efforts to address sexual assault.

Two weeks later

, Ms. McCauley-Benner was interviewed about her experience.
• Ms. Foster was interviewed on Relevant Radio in advance of her speech at "One Spring Night," hosted by Human Life Review in Manhattan. It was also covered by National Review and Catholic News Agency and on 147 stations run by Relevant Radio.
• A letter to the editor written by Mr. Geminder was published in Newsday.
• Ms. Foster was interviewed on EWTN radio about our Hill briefing.
• Ms. Foster was interviewed for a feature story documenting the success of our College Outreach Program in CitizenMagazine, which reaches 70,000 homes.
• Ms. Kopp was published numerous times in the Cleveland Plain Dealer.
• Ms. Foster was interviewed on Morning Glory about the Harvey Weinstein scandal, as well as the broader problem of systemic abuse in • Hollywood. Ms. Foster also spoke with The Daily Caller about FFL's efforts to raise awareness about individuals with Down syndrome.
• In the wake of the tragic case of an undocumented teen whose abortion made headlines, Ms. Foster spoke to America magazine about getting her the help she needs.
• Ms. Foster's speech at Wheeling Jesuit University was previewed in WJU News.
• New Catholic Generation covered Ms. Foster's speech at Franciscan for YouTube.
• Dave Andrusko, editor of National Right to Life News and National Right to Life News Today, noted Feminists for Life's role in The Jewish Journal, and that "the movement's diversity is richer than ever."
• Feminists for Life was mentioned in Cosmopolitan and numerous other publications.
Media reports confirm: Women Deserve Better continues to be the catchphrase for the last 15 years and pro-life feminism remains a hot topic!
UPCOMING: Ms. Foster will have her updated landmark speech, "The Feminist Case Against Abortion," included in the next issue of Human Life Review. Also look for another featured article by Ms. Foster in advance of the Roe anniversary.
* * * * * * * * * * * * * * * * * * * * * * * * * * * * * * * * * * *
On behalf of the FFL Board and staff, we thank you for the sacrifice you made for women and their children — born and unborn — and our future leaders. As we prepare for the new year, please consider your year-end gift (which will be matched!), increased monthly gift (which will be doubled), and matched yet again through corporate matching gifts. We wish you and yours life filled with joy, health, peace, and prosperity in 2018.

Because women deserve better,
P.S. Donors making a year-end gift of $300 or more will receive an autographed copy of Subverted: How I Helped the Sexual Revolution Hijack the Women's Movement by Sue Ellen Browder. It is a riveting read about the schism between pro-life feminists and abortion activists, while we tell the rest of the untold story in our next issue of The American Feminist titled "Beyond the Schism: Reclaiming Feminism" and answer the question "Was Alice Paul there?" when the movement split?