I don't play the lottery, but during the recent lottery fever, I thought a lot about what I'd do if I won. Perhaps you did, too.
I fantasized about a new kitchen. Adding a bathroom. That's a lot to me, but wishing for much more. (A family member told me ages ago that the first half of your life you acquire things. The second half is all about getting rid of them!)
But beyond that, how much I wished I had a philanthropic foundation to give money away strategically to causes I believe in.
It would be a tremendous responsibility, but it would come with great joy knowing that staff like ours cheer with gratitude when we see funds come in to better serve future leaders and the most vulnerable. (Seriously, you should see us. Or maybe you heard us from afar!)
We each do what we can according to our ability through time and money because we know that it's not free to run a charity. As much as our staff sacrifices, they have families to support. We have vendors to pay for design, printing, postage for all those kits we ship to students. And so on.
I hope you can feel our appreciation when we send our acknowledgments. I never take your sacrifice for granted.
So what would you do? What COULD you do — according to your means:
to ensure that FFL closes out the year prepared with healthy reserves to kick off the next semester, and

as we approach the solemn Roe anniversary events that are unfunded by sponsors?
Here are three quick, tax-deductible ways to make the most of your investment in FFL to ensure women and children are the winners: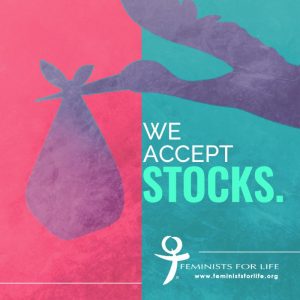 Gifts of stock are welcome as part of our year-end campaign. From now through December 31, new and increased monthly gifts will be DOUBLE-matched! Your monthly donations provide core support as FFL works to bring about positive, holistic change. To begin your monthly contribution, visit www.feministsforlife.org/support.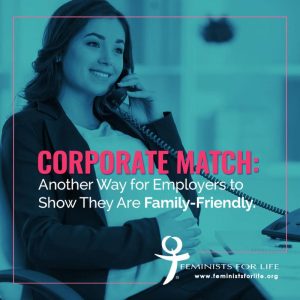 If your employer matches donations, please include a corporate matching form. Don't leave money on the table!
To begin your monthly contribution, visit www.feministsforlife.org/support.
Make a tax-deductible donation by December 31 that will qualify for our year-end match led by the FFL Board and Friends (including former Board members).
To begin your monthly contribution, visit www.feministsforlife.org/support.
Here is the bottom line: You are the one who determines the lottery of life for the most vulnerable. You are the winner because you made women and children winners.
On behalf of the Board and staff, please accept our heartfelt thanks and best wishes to you and yours for a healthy, happy, peaceful new year knowing that new lives will thrive because of you.

Because women deserve better,
Serrin M. Foster
President
Feminists for Life of America
P.S. Look forward to great new steps in the new year, because of you. Stay tuned!