We have some good and not-so-good news for you to use. Read on — and take action for the most vulnerable.
The good?
The Department of Health and Human Services may be rewriting the rules to let pregnancy resource centers compete with Planned Parenthood for federal dollars. On one hand, this is hopeful news for women who deserve the rest of EIGHT choices: marital, single, and partnered parenting; guardianship and kinship care; and open, closed, and semi-open adoption. Woman-centered, holistic resources and support make the difference of a lifetime.
But before rushing to apply for government money, pregnancy resource centers should be aware of all government requirements that may affect them. Be prepared for site visits from the government, regular reporting, an annual audit by the government, and much more — and the real possibility that staff overseeing your application and implementation may be hurting and even hostile to what you are doing. Most important, your center needs to become or remain a licensed medical center with doctors and other medical professionals and proper equipment — and that is good for every woman and unborn child served. And REAL health care is good for every woman and unborn child served.
Stay tuned to see if these changes are made!
The bad…
Savanna LaFontaine-Greywind, a 22-year-old member of the Spirit Lake tribe, was eight months pregnant when she was murdered in 2017 in Fargo, North Dakota. Feminists for Life of America supports Savanna's Act, a federal bill that would help combat the epidemic of missing and murdered Native American and Alaska Native women by improving the government's response to such cases.
"Violence against Native American and Alaska Native women is a dire issue, with murder being the third-leading cause of death of indigenous women, and the Savanna's Act is an essential first step in addressing the epidemic of missing and murdered indigenous women and girls," Sen. Lisa Murkowski (R-Alaska) wrote, announcing the act's passage.
Ashley Johnson-Barr, a 10-year-old Alaska Native girl, was raped and murdered just this past September.
"Native women go missing and experience violence at alarming rates but, too often, cases go uninvestigated and unresolved. Native women deserve better," wrote Sen. Tom Udall (D-New Mexico), a fellow co-sponsor, in a release. "Savanna's Act will improve data collection, enable information sharing, and facilitate coordination between federal, state, and tribal law enforcement agencies to better address the crisis of missing and murdered indigenous women."
We ask you to email or call your representative! Tell her or him you are a Feminist for Life, and urge passage of Savannah's Law.
(On a happier note: Savanna's baby survived and is being raised by the father. It's a girl! Her name is Haisley Jo.)
And now for the (really) ugly…
The latest in the failed efforts to make abortion "happy" and women "proud" is a book, Shout Your Abortion, by a post-abortive woman who casts abortion as something to be proud of. (Ugh.)
We understand the spectrum of reproductive loss — including abortion. We understand the lack of resources and support that drives many women to abortion. And we understand the gravity of an abortion. But this is one more twisted attempt to make aborting one's child something "brave and courageous." Something is really wrong here.
Most women report feeling relief immediately after an abortion so they don't have to go back to unsupportive fathers, employers, schools that won't accommodate the needs of mothers, or disappoint their parents. But after a while, many express regret for their abortions, wistfully wishing they had better circumstances. Like Susan B. Anthony, Feminists for Life has been advocating better circumstances since before Roe v. Wade handed down, shifting more responsibility of raising children to women.
The mother who wrote the book review goes on to add, "And that's an important point: Abortion isn't just part of women's health care. It allows women to live the rest of their lives. To complete educations, pursue careers, establish themselves and livelihoods so that when and if they choose to have children, they are prepared and capable." (Huh?)
Our College Outreach Program Coordinator, Bethanie Ryan (who is also a mother), responded to the claim that women need to be "prepared and capable": "It's just absurd to think anyone is ever prepared and capable for children. You can never be prepared and capable for children. News flash: All us parents are just making it up as we go along." Bethanie is one of many experts who contribute to our WomenDeserveBetter.com website to help women Work, Learn, Live, and Love better!
Feminists for Life believes that women shouldn't feel forced to choose between their children and their careers or their education. We believe that women are stronger than that. Women are smarter than that. Women deserve better than that. No woman should have to sacrifice her child to get out of poverty or to get out of an abusive relationship. That's what we are working for.
Another woman recently reported singing "a pretty little lullaby" to her unborn child before having an abortion, adding that she realized it's a "thin veil, or door, that separates the living from the other side." I could not bear to hear her sing her reenactment in front of an audience.
The woman performed a rendition at a "blessing" of an abortion clinic organized by the Religious Coalition for Reproductive Choice. The ceremony, "Holy Ground: Blessing the Sacred Space of Decision," was meant as a counter to the conclusion of the 40 Days for Life campaign.
These are more examples of sad and evil attempts to "normalize" abortion. Read the latest issue of The American Feminist[one_half_last][/one_half_last]® titled, "Abortion: Nothing to Celebrate," to learn about their latest marketing strategies — and how to respond to this increasing threat to the most vulnerable.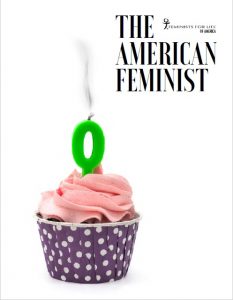 Give a minimum of $35 or more, $25 or more for students — including gift memberships (also comes with monthly donations). New and increased monthly gifts by credit card or Electric Fund Transfer (EFT) will be DOUBLE-matched now!
And I thank you for being a big part of our effort to replace LIES with LIVES.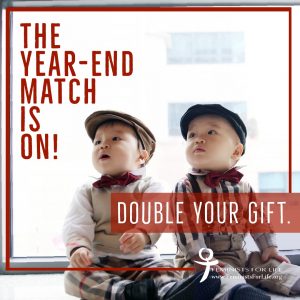 Because women deserve better,
Serrin Foster
President
Feminists for Life of America