I recently read a story that made my blood boil.
The Louisiana attorney general's office said the state's abortion clinics have a disturbing pattern of failing to report rapes and that a survey it conducted showed that between 2013 and 2018, at least 66 abortions were performed on girls 11, 12, or 13 years old. The ages indicate that the girls were survivors of rape.
Adult men in a power relationship with a child and who commit statutory rape have frequently used abortion to cover up the crime of having sex with a minor. Predators like them can't handle an adult relationship with a woman. They sink to manipulation and control over an 11-, 12-, or 13-year-old who is not capable of consent. These children are abused over and over again, and then they often bypass the girls' parents by taking them to the abortion clinic themselves.
Abortion clinics that hide the crime of statutory rape serve as co-conspirators for sex predators — and they profit off of these children's misery. What could be lower?
The Office of the Louisiana Attorney General has thanked us for sharing this information, and we hope you share it, too.
Meanwhile, Uber reported 2,936 sexual assaults in 2017, and that figure increased to 3,045 last year.
"Throughout its study, Uber emphasized that 99.9 percent of its trips were safe and that it was taking an unusual step by releasing the data in the first place. Sexual violence experts agreed that publishing the numbers was an important step in combating abuse across the industry."
"I agree that transparency is the first step in addressing the issue and applaud the report," said FFL Speaker and rape survivor Joyce McCauley-Benner. "However, we know there is no aspect of society where sexual assault does not occur. Our work must continue."
"The company has tripled the size of its safety team since 2017, to 300 employees, and plans to continue expanding it."
In light of this news, Feminists for Life of America is proud to endorse Sami's Law, bipartisan legislation named in honor of Samantha "Sami" Josephson, a senior at the University of South Carolina who was kidnapped and brutally murdered earlier this year by a predator pretending to be her Uber driver.
Sami's Law will require enhanced vehicle identification procedures to create a safer environment for ride-hailing drivers and customers and to make it harder for those with ill intent to impersonate drivers.
The bill is authored by Rep. Chris Smith (R-NJ) and co-sponsored by Rep. Tom Suozzi (D-NY) as H.R. 4686 in the House and has been introduced by Sen. Ben Cardin (D-MD) as S. 1871 in the Senate. We urge you to contact your representative and senators today and ask them to support Sami's Law, or call the U.S. Capitol switchboard at 202.224.3121.
Supporting legislation like Sami's Law is yet another part of our consistently pro-woman, pro-life mission. FFL successfully worked in coalition to pass the original Violence Against Women Act, and I testified personally before the House Judiciary Committee in support of the Unborn Victims of Violence Act, aka Laci and Conner's Law.
But we were not the first feminists for life, and to that end, we wish to remind you…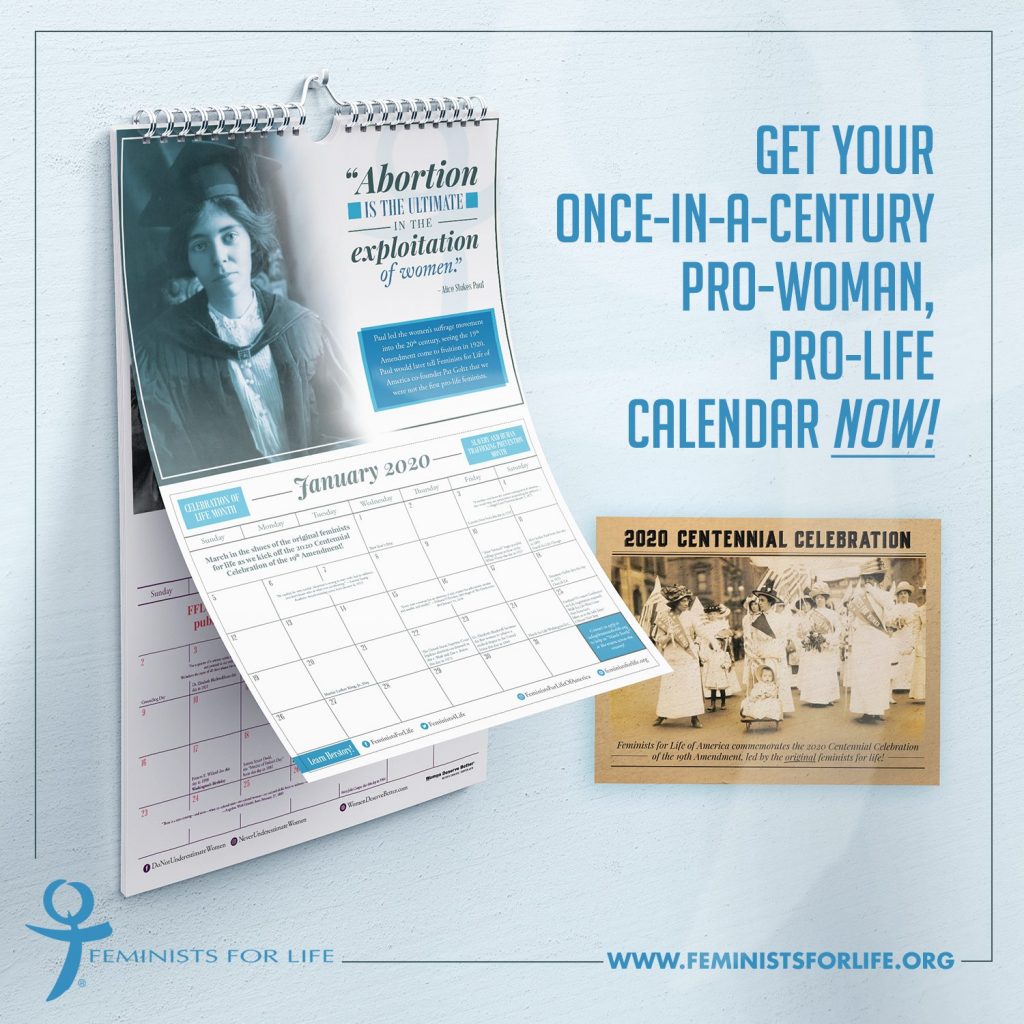 Every page of FFL's 2020 NEW Suffrage Centennial Calendar is unique and surprising. With pro-life quotes from the original feminists for life to more contemporary pro-woman heroes, you will want to share this with family and friends. Bulk orders available while quantities last. This special edition of The American Feminist is included in the Welcome and Welcome Back Kits. Special discount pricing for our supporters so that they can fill many stockings in anticipation of the new year! And friendly reminder: The Board-led match is on!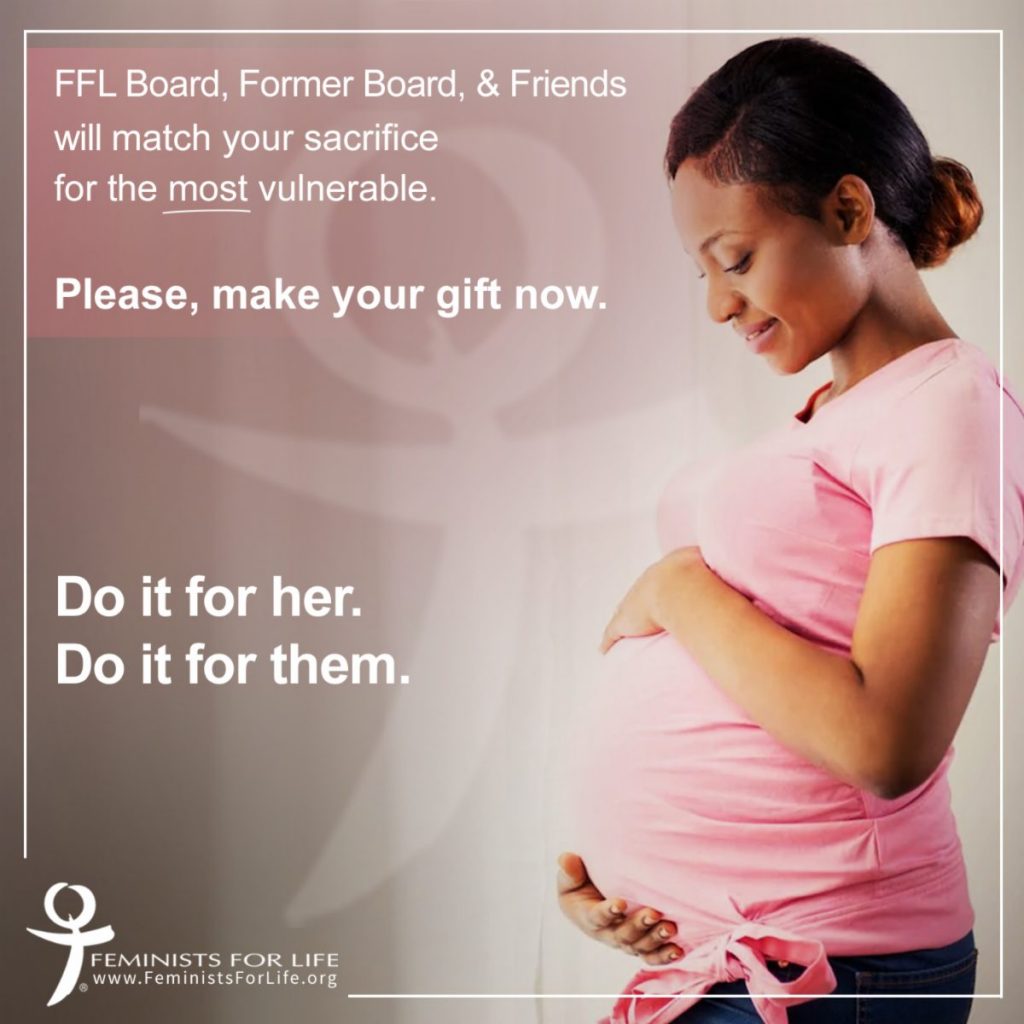 Make a tax-deductible donation by December 31 that will qualify for our year-end match led by the FFL Board and Friends, including former Board members.
Even better, new and increased monthly gifts will be double-matched, ensuring core year-round support.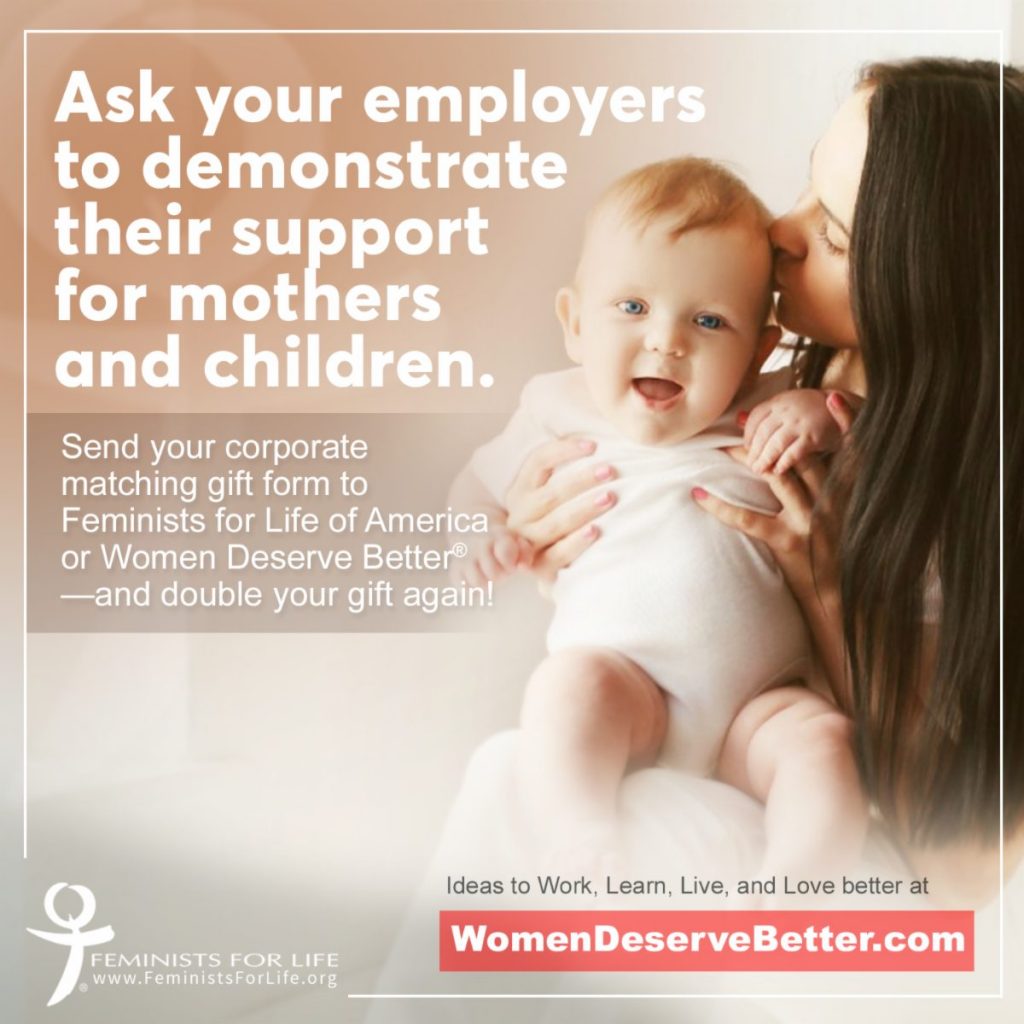 In addition, if your employer matches donations, please include a corporate matching form. Don't leave money on the table! Double your gift again.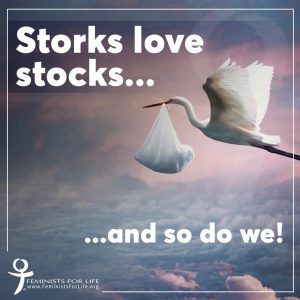 Gifts of stock are also welcome as part of our year-end campaign. Please contact us today.
Please also note that if you prefer to donate via snail mail, you can send in your donation along with this form.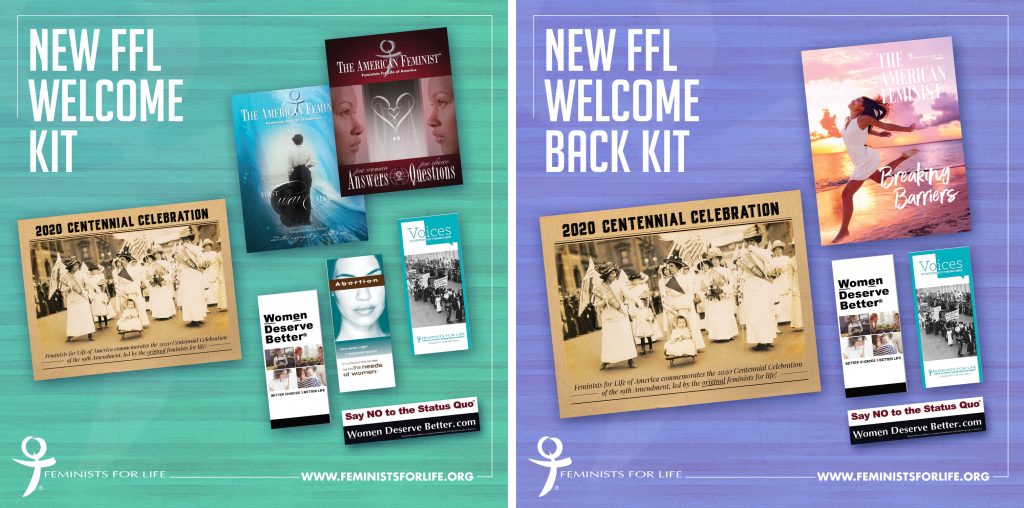 Finally, your support ensures that you — and your gift recipients — will receive our once-in-a-century suffrage calendar.
On behalf of all of us and those we serve, thank you.

Because women deserve better,
Serrin M. Foster
President
Feminists for Life of America
P.S. Roe events are just around the corner! Please contact us to book your next FFL Speaker or Pregnancy and Parenting Resource ForumSM Moderator for your campus, pregnancy resource center, right-to-life, or diocesan respect life event. Thank you again!