The reports are coming in left and right about Tuesday's announcement of the 2020 March for Life theme, Life Empowers: Pro-Life is Pro-Woman. Feminists for Life President Serrin Foster had the honor of serving as a panelist at the event, where she addressed the original feminists' for life history.
Check out our news round-up below!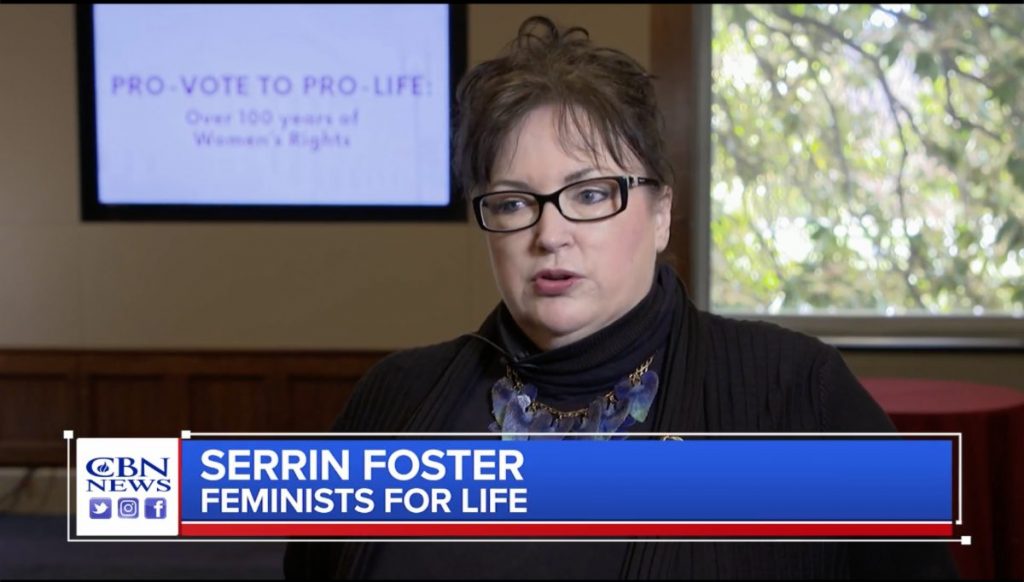 Watch Serrin's interview with CBN News!
Serrin and our pro-woman, pro-life philosophy were featured in:
Finally, check out this great article in Boston College's student newspaper, The Heights, about Serrin's recent address there during her Revolution on Campus Tour, organized by our fabulous FFL Summer 2019 intern Annemarie Arnold, whose parents came all the way from California to show their support!!
Feminists for Life President Serrin Foster gave a lecture on Oct. 3 titled "The Feminist Case Against Abortion," hosted by the the Boston College Pro-Life Club. Unlike the previous anti-abortion event the club hosted in March, Foster's talk was met with neither protests nor tense exchanges between the speaker and the audience members.

Although the talks themselves were different in tone, the Pro-Life Club anticipated "residual anger" from its previous event—"Lies Feminists Tell with Kristan Hawkins"—to carry over into this year's talk, according to Annemarie Arnold, president of the Pro-Life Club and MCAS '21.

The club took precautions similar to those it took for last year's event, which included enlisting support from the BC Police Department and Robsham Theater Arts Center.

"At the end of the day, these measures weren't necessary: we didn't encounter any resistance to the talk and attendance was good," Arnold said in an email to The Heights.
As you may know, many student pro-life groups have had their funding cut by school administrations in recent years, and it can be difficult for them to bring an FFL Speaker or Pregnancy and Parenting Resource Forum(SM) Moderator to campus. Serrin was so grateful to be able to speak at Anna Maria College, MIT, Harvard, and Boston College, and recently moderated the 24th Annual Pregnancy Resource Forum(SM) at Georgetown University, but it would not have been possible without your generous support.
Please give today, so that we can bring our core feminist values of justice, nondiscrimination, and nonviolence to the next generation of leaders.
Thank you.

Because women deserve better,
Damian Geminder
Communications Coordinator & Editor
Feminists for Life of America
P.S. Please contact me to book your next FFL Speaker or Pregnancy and Parenting Resource Forum Moderator for your campus, pregnancy resource center, right-to-life, or diocesan respect life event. See our events below; we are getting booked up fast!