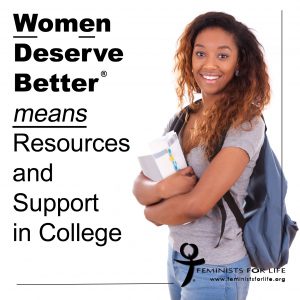 I thank you in advance for reading about one BIG success and some legislative action items:
First the good news: When California legislators recently voted to support the distribution of RU-486 on campus, it was frankly pretty demoralizing. As you know, Feminists for Life had researched and reported available resources (often pricey!) and support (or lack thereof) for pregnant women, parents, and birthmothers attending the UC colleges and universities.
We urged them to redirect their efforts toward on-campus resources and support for pregnant women, especially for women of color, who leave school when they have their babies, often returning to poverty along with school debt. I wrote Recommendations for Best Practices based on 24 years of experience on campuses.
Instead of paying to train school staff to distribute the abortion pill, I also called for further exploration of Gov. Jerry Brown's concept for an affordable online UC school system. Most important, we also offered our expertise to help administrators.
To our delight, Gov. Jerry Brown vetoed SB-320!
No, sadly he has not suddenly become pro-life. But he reasonably concluded that with abortion clinics five to seven miles away, California taxpayers should not facilitate what Planned Parenthood and for-profit clinics already do.
So now we must refocus and expand our efforts to get resources and support a new generation to campus. I am pleased to moderate the 23rd Annual Pregnancy and Parenting Resource Forum(SM) at Georgetown University, and the first at James Madison University this fall.
1. Meanwhile, we continue to support the Survivors' Access to Supportive Care Act (SASCA).
Read more about this from rape survivor, FFL Speaker, and frequent contributor to The American Feminist, Joyce McCauley-Benner's op-ed at DailyClout. As the only pro-life group active in the taskforce to pass the Violence Against Women Act, and as the only feminist group to testify in support of the Unborn Victims of Violence Act (aka Laci and Conner's Law), I can see how our long-term strategic efforts pay off for women and children!
2. You may have read the horrific stories of pregnant women who have lost their babies while incarcerated. After carefully considering the needs of pregnant women in prison as well as the safety of medical workers, police, and correctional officers, FFL is supporting a bipartisan effort to protect pregnant women in custody, the Pregnant Women in Custody Act.
The law would would ban the use of restraints and restrictive housing on female inmates during pregnancy, during labor, and postpartum and also set standards of care for pregnant female inmates. One police officer told us, "As an officer, it's my responsibility to keep a person safe while she is handcuffed. If someone were to get hurt while in my custody, the blame would be on me."
Please contact your U.S. representative and both of your senators to support SASCA and the Pregnant Women In Custody Act NOW.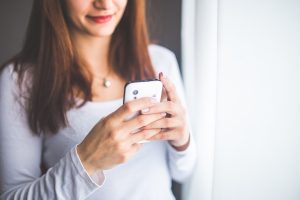 3. Finally, thanks to visionary supporters like you, Feminists for Life of America is offering FREE kits for campus pro-life groups and behind the scenes technical assistance for any administrator or student—as well as speakers and moderators for campus events.
For instance, every collegiate group in Michigan will get their kit at the Protect Life Michigan Annual Student Conference (formerly Students for Life of Michigan). We can only do this because of you! So please, sponsor a student gift membership ($25), a kit ($75), or a Forum or lecture ($1,000-3,000 depending on the event, and other expenses).
So please support our efforts on campus, and legislative efforts, especially during Respect Life and Domestic Violence Awareness Month.
Thank you for your activism and support. We celebrate our victory in California. Again, please make three calls and/or emails to Congress, and make a tax-deductible gift today to FFL!
Because women deserve better,
Serrin M. Foster
President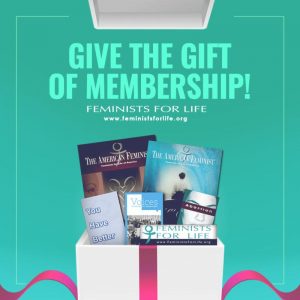 P.S. If your support isn't current, please renew it now—because the next great issue of The American Feminist is with the designers now! And it is also the perfect time to purchase a gift membership ($35 regular/$25 students). Thank you.