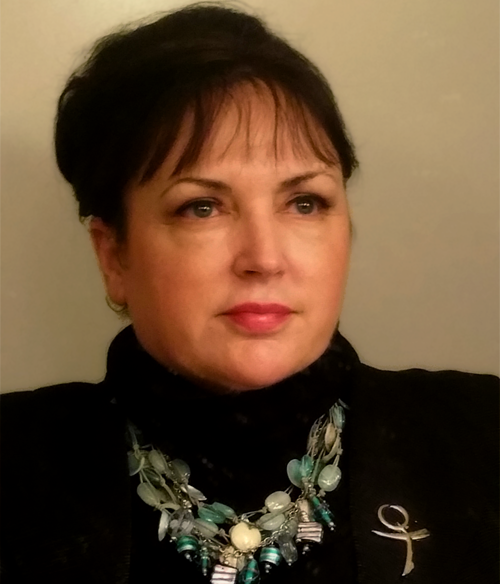 PRESIDENT'S REPORT
Serrin M. Foster
Thanksgiving 2018-2019
The following highlights of our work were made possible—thanks to you!
Legislation:
FFL endorsed Savanna's Act, a federal bill that would help combat the epidemic of missing and murdered Native American and Alaska Native women.
VICTORY: The Frederick Douglass Trafficking Victims Prevention and Protection Act, the latest version of Trafficking Victims Protection Act, led by Rep. Chris Smith, was passed and signed into law.
FFL endorsed the Child Tax Credit for Pregnant Moms Act, a federal bill that builds on the Child Tax Credit provisions included in the Tax Cuts and Jobs Act.
We have kept our FFL supporters informed about state issues relating to ending the backlog of rape kits and a tracking system started in Idaho and other states.
Feminists for Life of America was instrumental to a unanimous victory in the California legislature with the passage of AB-809, which greatly enhances support for pregnant and parenting students, especially for those attending graduate school. Research provided by Ms. Foster and intern Kellan Monroe and also Ms. Foster's "Recommendations for Best Practices on Campus for Pregnant and Parenting Students" provided the inspiration and was used in the fact sheet to promote the bill. The governor signed it into law! Ms. Foster declared, "If we can do it in California, we can do this everywhere!"
Public Education:
Ms. Foster took part in a panel discussion as part of the Dahlgren Dialogue series at Georgetown University, "Stand for Life, All Life, Every Life: Resisting the Throwaway Culture," as part of the run-up to the D.C. March for Life.
FFL Board, staff, and volunteers participated in 40 Roe v. Wade rallies, marches, and walks. Board Chair Kara Sorenson and Ms. Foster went on stage in D.C. Rep. Chris Smith reminded the massive crowd, "So, why is this so important? Because as Feminists for Life have told us so often, women and children deserve better than the violence of abortion!" Ms. Sorenson presented the final speech at the Erie March for Life in Pennsylvania. FFL Board Member and Past Chair of the Board Pat O'Kane along with volunteers staffed FFL's booth at the 2019 Walk for Life West Coast in San Francisco,
Ms. Foster spoke out against infanticide and late-term abortion via social media after Virginia Gov. Ralph Northam defended it. She urged him to resign in the wake of both his comments and revelations of his past racist actions—including surrendering his medical license.
Ms. Foster moderated the FFL Annual Capitol Hill Intern Briefing. Domestic violence victim Johanna Young and rape survivor Joyce McCauley-Benner shared their personal experiences. Georgetown Director of Health Services Carol Day and Board Chair Kara Sorenson informed the audience how they can change their campus in support of pregnant and parenting students, including birthmothers and expectant fathers.
The Board led a celebration of Ms. Foster's Silver Anniversary as FFL's President.
March for Life President Jeanne Monahan invited Ms. Foster to announce the theme of the 2020 March for Life, "Life Empowers: Pro-Life Is Pro-Woman," during a briefing to Hill staffers and the media.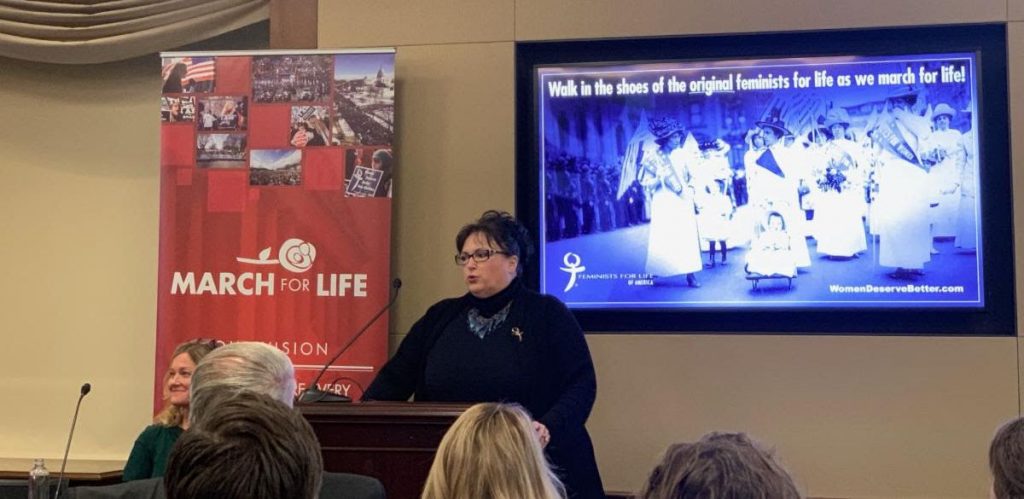 College Outreach
Program:
Ms. Foster presented "End the Feminization of Poverty That Drives Women to Abortion!" at the 20th Annual Cardinal O'Connor Conference on Life at Georgetown University in Washington D.C.
After a former intern brought Ms. Foster to Boston College to deliver "The Feminist Case Against Abortion": "At the end of the day, [security] measures weren't necessary: We didn't encounter any resistance to the talk and attendance was good. To me, the fact that students who were unsure about their own views on abortion were there made this event a success," said Annemarie Arnold.
Ms. Foster presented "The Feminist Case Against Abortion" at the College of William and Mary (Law School and undergrads), VA, Catholic University of America, DC, Northern Kentucky University in Highland Heights, KY (Ms. McCauley-Benner joined Ms. Foster for Q&A.), the University of Kentucky, Lexington, KY, Berea College, Berea, KY, Anna Maria College, Paxton, MA, MIT, Boston, MA, Harvard, Boston, MA, and Boston College, MA.
Ms. Foster returned to moderate the first-ever FFL Pregnancy and Parenting Resource Forum at James Madison University in Harrisonburg, VA.
Ms. Foster returned for the 24th Forum at Georgetown University. To think, children born because of our early work could have graduated by now!!
FFL Speaker Cynthia Wood presented "Speak Up & Speak Out About Sexual Harassment: Find Your Assertive Voice" at Wofford College and Converse University in Spartanburg, SC, the Pro-Life Women's Conference in New Orleans, LA, Ethos California's Theology of the Body Conference in Walnut Creek, CA (San Francisco Bay Area), and the University of Oregon, in Eugene, OR.
Ms. McCauley-Benner presented "Victory Over Violence" at Wheaton College in Wheaton, IL, Augustana College in Rock Island, IL, and Gonzaga University, in Spokane, WA.

Ms. Foster received the first Legacy Award at the Pro-Life Women's Conference "in recognition of your persistence and determination to empower women and future generations."
FFL Editor Damian Geminder presented "Why Men Should be Feminists for Life" at Orange Coast College, in Costa Mesa, CA.
Media:
FFL had a banner year in media appearances—too many to detail this year—hence the list!
ACI Prensa (en español)
Angelus News
Aleteia
Around the Diocese blog (Joliet, IL)
Arlington Catholic Herald
Boston Pilot
Catholic Herald of London
Catholic News Agency
Catholic News Service
Catholic New York
CatholicPhilly.com
Catholic Spirit
Finger Lakes Times
GetReligion
Life News
Live Action and Live Action News (Numerous posts)
National Catholic Register
National Catholic Reporter
Peace & Life Connections
The Atlantic
The Catholic Telegraph
The Daily Caller
The Daily Signal
The Flat Hat (William and Mary)
Catholic Standard
Catholic Universe
CBN News
ChristianHeadlines.com
Christianity Today
Crux
CNSNews.com
EWTN (TV)
EWTN Morning Glory Radio Show
The Heights (Boston College)
The Hoya (Georgetown University)
The Indianapolis Star
The Plain Dealer (Numerous letters to the editor by Marilyn Kopp, Cleveland, OH)
The Tablet
The Torch (Boston College)
The Tower (Catholic University of America)
Madison Catholic Herald
National Review
New York Times
Washington Examiner (op-ed by Ms. Foster on the occasion of the 99th Anniversary of the 19th Amendment, as well as another by Ms. Kopp.)
Washington Times
Townhall
Vox
Vox Nova, a Patheos Catholic blog
NewBostonPost, Los Angeles Times' HS Insider, Herald and News (Oregon) Knoxville News Sentinel, The Catholic Telegraph (a syndicated columnist Terry Mattingly for the Scripps Howard News Service, all took note of FFL's presence, placards and message during the 2019 Roe events. The Guardian, The Northern Star, and 10 Daily News also reported on Women Deserve Better® signage at Australian pro-life demonstrations.
The Dayton Daily News featured a photograph of an FFL "Women Deserve Better than Abortion" sign alongside a pro-choice sign as part of an article about the Ohio Supreme Court supporting the shutting down of an abortion clinic which employed Martin Haskell, who infamously popularized partial-birth abortion (a fact the article neglects to mention).
Breitbart included a captioned picture of Ms. Foster in its coverage of the announcement of the 2020 March for Life theme.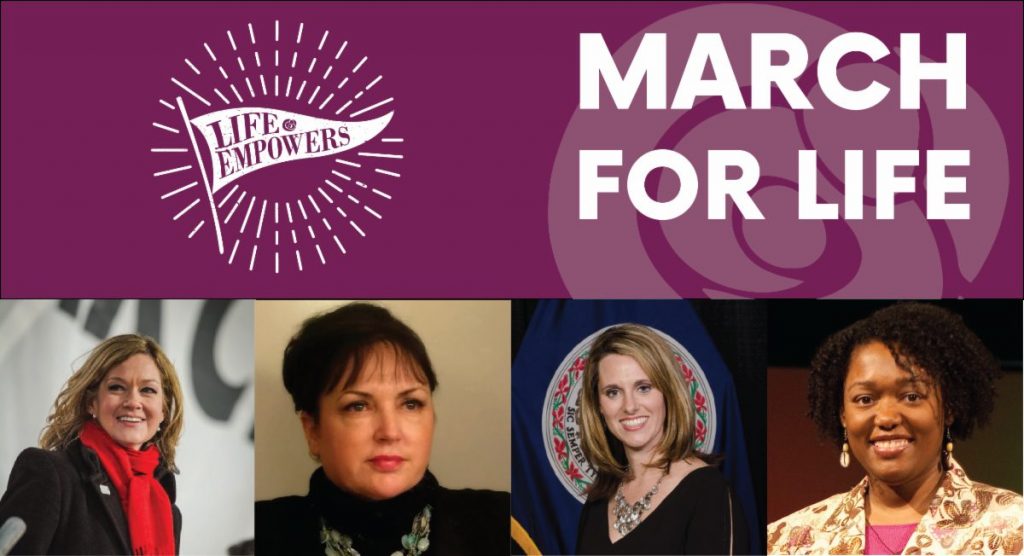 Upcoming: Mary Meehan wrote an article for The Human Life Review's Winter 2019 issue about women leaders in the pro-life movement, including Ms. Foster.
Women Deserve Better
website:
FFL created new Women
Deserve Better brochures to direct
women in need to help.
OUR WEBSITE SAVED A WOMAN AND HER CHILD FROM ABORTION! Thanks to intervention by Ms. Foster's sister, a desperate young college student was so reassured by the "LEARN" section of WomenDeserveBetter.com and our work on campus, including an FFL Pregnancy and Parenting Resource Forum moderated by Ms. Foster, that she chose life!
There are more than 180 articles
now live on WomenDeserveBetter.com reaching thousands of women and those who
support them to Work. Learn, Live, and Love better.
NEW FFL Website:
We publicly launched the new website in advance of the 2020 Centennial
Celebration of the 19th Amendment on Constitution Day! Visit www.feministsforlife.org.
The American Feminist®:
Our Fall/Winter 2018 issue of The American Feminist titled "Abortion: Nothing to Celebrate" examined the attempt by abortion activists to not only normalize but to treat abortion as a moral good.
Our Spring/Summer 2019 issue, "Breaking Barriers," addressed women overcoming obstacles in their daily lives.
Our Fall/Winter 2019 issue was a 2020 Calendar celebrating our pro-life feminist foremothers. (Go to our website and order extras for family and friends!)

Social Media:
Year-round posts educate and inspire thousands on FFL's Facebook, Twitter, and Instagram and Women Deserve Better's Facebook and Instagram.
Follow the 2020 Suffrage Calendar next year to learn much more of "Herstory!"
We Remember:
Upon the passing of our co-founder Cathy
Callaghan, a heartfelt tribute was posted on our website.
We thank you for your sacrifice and support that made these efforts possible, and look forward to more progress in 2020, the Centennial Celebration of the 19th Amendment led by the original feminists for life!
Please go now to feministsforlife.org and
give generously now.
Thank you.