Feminists for Life "PEACE BEGINS IN THE WOMB" Billboard Sparks Battle over Susan B. Anthony
Susan B. Anthony Birthplace Museum President Also Responds
WROC TV (Channel 8) in Rochester, NY, reported that "A billboard in Rochester above [Interstate] 490 that proclaims 'peace begins in the womb' — and invokes Susan B. Anthony — has been turning heads."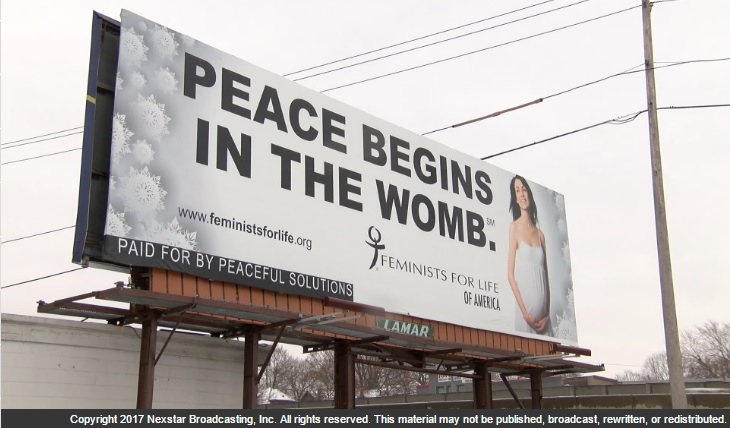 "We are really pleased that our thought-provoking message that PEACE BEGINS IN THE WOMB is drawing attention," said Feminists for Life President Serrin Foster. "Although the billboard didn't actually mention the pro-life feminist leader Susan B. Anthony, we are very happy to have that conversation, especially as we count down to the Centennial Celebration of the 19th Amendment." The 19th Amendment, also known as the Susan B. Anthony Amendment, gave American adult women the right to vote.
"FFL invokes many of our feminist foremothers who, without known exception, spoke out against abortion during the first wave — including Susan B. Anthony," Foster added. Susan B. Anthony, the abolitionist and most famous suffragist leader, was also the publisher and co-editor of The Revolution. "As owner of The Revolution, it is Anthony who provided a megaphone for suffragists to condemn abortion and propose solutions. We still hear their voices today."
In response to FFL's message of peace, Deborah Hughes, president of the Susan B. Anthony House in Rochester, told Channel 8 News, "Anthony did not support the criminalization of women." "Neither, overwhelmingly, does today's pro-life movement," said Carol Crossed, who is president of the Susan B. Anthony Birthplace Museum in Adams, Massachusetts.
It is not easy to refute Deborah Hughes' commentary during the report in a brief statement, especially since Foster accepted an interview, but it was canceled — twice. Crossed, who is also a Rochester resident, took the opportunity to call Channel 8 management to correct the record.
Crossed backs up FFL claims that the early American feminists opposed abortion: "We have an exhibit titled Opposition to Restellism, which is opposition to abortion. We own one of largest collections of the newspaper Susan B. Anthony owned and published, The Revolution. It is from this primary resource that the exhibit is curated."
Anthony published over 100 articles against abortion — often called Restellism after Madame Restelle, who openly performed abortions in the Northeast and cost the life of a young woman who was brutally killed during the procedure. It is the third most discussed subject in Anthony's paper. "Anthony's newspaper supported the criminalization of doctors. This was clever wordsmithing on Hughes' part," Crossed said.
Here are some of the facts contributed by Crossed to Channel 8:
Most suffragists supported voluntary motherhood. This propelled their opposition to liquor consumption, which they believed led to male promiscuity. In Anthony's social purity speech on temperance in Chicago in 1875, Anthony equated abortion and wife murder.
Early women's rights leaders did not oppose abortion on the grounds of safety, since childbirth in the mid-19th century was even more unsafe.
Their language indicated they knew abortion took the life of a child, calling it a "crime against humanity," "feticide," and "child murder." They used infanticide and abortion interchangeably.
In addition, the policy of Anthony's newspaper, as stated in the inaugural edition of The Revolution, was to refuse ads for abortion or abortion medicines. This, despite that these ads were lucrative profit-makers for other newspapers of the time.
Co-editor of The Revolution Parker Pillsbury explained the ban on advertising: "Foeticides and Infanticides should be classed together and regarded with shuddering horror by the whole human race."
"Rather than accepting the most common advertisement of women's magazines of the day and betraying the principles set forth, The Revolution went bankrupt," Foster noted.
In addition to The Revolution, Anthony also predicted her sister-in-law would regret her abortion, writing in her diary that she will "rue the day when she forced nature."
"But it is in response to a compliment that she would have made a wonderful mother and in context of a discussion about the lack of women's rights over their own children during custody issues, that we hear Anthony at her best," Foster said. The Quaker teacher turned suffragist leader answered, "Sweeter even than to have had the joy of caring for children of my own has it been for me to help bring about a better state of things for mothers generally, so that their unborn little ones could not be willed away from them."
Foster, who had the privilege of presenting "The Feminist Case Against Abortion" at a luncheon at the Susan B. Anthony House in Rochester in 2005 and who later attended the ribbon-cutting ceremony of the Susan B. Anthony Birthplace Museum in Adams, Massachusetts, concluded, "While women and men plan to march on Washington in support of abortion and pro-lifers plan to attend events across the country to commemorate Roe v. Wade, it is an opportunity to instruct both sides about our rich, pro-life feminist history. It begins with the women who fought for the rights of slaves to be free and for women to vote, and who also argued to protect women and children from abortion. Women deserve better than abortion — and so do all children. We seek to fulfill the unrealized vision of the first wave feminists. May peace begin in the womb."
More documentation is available at www.feministsforlife.org. Copies of "Voices of Our Feminist Foremothers" brochures and an issue of The American Feminist titled "First Wave Feminists: Remarkable Pro-Life Women and Other Suffragists You Should Know" are included with membership and also available in bulk quantities at www.feministsforlife.org/covetable-stuff.
For information about upcoming events and visiting hours at the Birthplace Museum, go to: http://www.susanbanthonybirthplace.com.