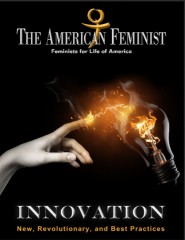 After experiencing the quickening (the first detectable flutter of movement informing women  that they were pregnant), the 18th-century pro-life feminist Mary Wollstonecraft wrote to her husband that her unborn child "took it into his head to frisk a little at being informed of your remembrance. I begin to love this little creature, and to anticipate his birth as a fresh twist to a knot, which I do not wish to untie." 
The child was actually a girl, and she was named after her mother who died shortly after giving birth to her daughter. 
As the author of Frankenstein, Mary Wollstonecraft Shelley echoed her mother's warning in her book, A Vindication of the Rights of Woman:"Nature in everything deserves respect, and those who violate her laws seldom violate them with impunity." 
These women called for best practices by condemning the worst. 
In the latest issue of The American Feminist, Feminists for Life offers our insights on many — but not all — of the best practices offering support to those facing many of life's most challenging moments. 
We appreciate the nominations provided by many of our supporters who responded enthusiastically to our call-out on social media. We hope you will take and build on these best practices and innovative ideas. Check on our Facebook page every day this week (and like us if you haven't already!) to see the many organizations and schools we recognized in this issue. 
Because women deserve better,
Serrin M. Foster
President 
P.S. On behalf of the FFL Board of Directors and staff, please accept my heartfelt thanks to  each of you for supporting FFL as we set the bar in a few areas of our own — especially our support for those at highest risk of abortion through our latest endeavor, "Raising Kids on a Shoestring," and our College Outreach Program, which continues to inspire others to do more and better for those whose need is most urgent.