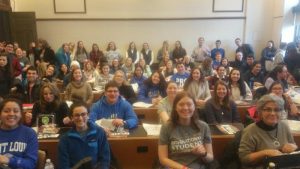 It has been an exhilarating (and exhausting!) three weeks.
This year marked Feminists for Life's largest presence ever at pro-life demonstrations across the country, from Chicago, to D.C., to San Francisco, and (almost) everywhere in between.
In addition to taking our pro-woman, pro-life message to the streets of Madison, St. Paul, Trenton, and LA, we have also taken it to the airwaves and to the pages of some of the most prominent publications in the country:
Thank you so much to all of the donors and volunteers who pitched in to make this month an unprecedented success. Now it is time to refill our coffers to take the next steps as we walk in the footsteps of our feminist foremothers. March forth.
Because women deserve better,


Serrin M. Foster
President
PS: Between the extremes of the Antifa and anti-fem movements on campus, there are courageous students like former FFL intern Tatiana Federoff, who was instrumental in bringing me to Franciscan University of Steubenville. Watch as she leads a panel discussion to analyze the impact of FFL's message and solutions on campus. Now is the time to contact info@feministsforlife.org to bring a pro-life feminist speaker to your campus (and get your FREE kit!).