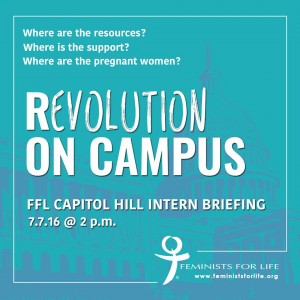 Did you know…
75% of the women having abortions are the poor and working poor (including those in college who have little or no income),
66% are pursuing post-secondary degrees (which could lift them out of poverty),
59% are already mothers (including those who had children in high school and during college).
Feminists for Life, the leading advocate inspiring pro-woman, pro-parent resources on campus, invites student activists to hear from women who know firsthand the lack of choices on campus. Come and be a part of the revolution to give women the resources and choices they are missing! 
Join the creator of the Women Deserve Better® campaign FFL President Serrin M. Foster, rape survivor, student parent, and FFL speaker Joyce McCauley-Benner,and FFL member Johanna Young, a victim of domestic violence who was coerced into an abortion while in college.
We will also have an administrator from a major university talk about developing on-campus resources and support.
And Kara Sorenson will share remarkable results after hosting the most recent FFL Pregnancy Resource Forum at Clarion University.
We look forward to working with you and providing you with the latest tools, so you, too, can be part of our Revolution ON CAMPUS!
Seating is limited for this intern briefing. College and university press journalists are also welcome, but let us know that you're coming, too! RSVP now to info@feministsforlife.org.Refreshments will be served!
Not a college student? We really need your support for this event. Please give right now! Thank you for making this event possible.
Not in the Washington, D.C. area? Share this event on Facebook! And while you are there, ask to join our NEW Feminists for Life on Campus group. It's a closed group for college student activists only so we can discuss ideas and share free materials.
Because women deserve better,
Bethanie Ryan
College Outreach Coordinator
PS: Fall telecommuting internships and other volunteer opportunities are available!